on Saturday February 22, 2020
What is the Sustainability Movement?
As a sustainability marketing agency, Orange Bird Agency unites people who are concerned about climate change and serves companies that foster the transition to a carbon-free economy. To find out how we can help you achieve your commercial and environmental goals, drop us a line today.
In another post, we traced the origins of the modern understanding of sustainability, provided some useful resources, and recommended events to make your business more sustainable. In this post, we'd like to focus on the sustainability movement and the people who inspire and lead others to protect the environment. The scope of environmental problems is so huge that sometimes it's hard to believe that a single person can change anything. Well, we are going to prove that it is possible.
We hope this blogpost will help you understand the importance of the sustainability movement today and get to know its leaders. All of these people inspire us at Orange Bird to continue working towards creating a sustainable future. Who knows, maybe they will inspire you as well!
Sustainability Movement: the Term
Let's start with the definition of sustainability movement. Broadly speaking, this movement includes everyone who is vocal about their concern for the environment and the need for its protection. It's not tied to any particular environmental problem, so different people can spread the word about different things. In a more narrow understanding, the sustainability movement includes the environmental movement that has been slowly forming since the Renaissance. It became more visible in the mid-20th century and was based on advocacy and work toward protecting the environment from destruction or pollution. The sustainability movement has several synonyms, including environmental movement and green movement, but differs from them in the following way: the sustainability movement aims to not only protect the environment but also to reconcile the activity of current human generations with the needs of future generations and other species.
Let's dive into the ups and downs of the sustainability movement throughout history in order to better understand the essence and the objectives of the movement.
Origins of the Sustainability Movement
When asked about the origins of the sustainability movement, most people assume that the first activities in this field started somewhere in the 1950s. It's not quite true. Several Enlightenment political economists as well as representatives of the Romantic movement of the 1800s, got concerned about the environmental and the social impacts of heavy industry. The concerns were closely related to the Industrial Revolution and the unprecedented amount of air pollution and untreated human waste that appeared due to it. Nevertheless, the environmental movement became more active in the 20th century, as more research was conducted on the topic. This is also when the scale of negative human influence on the environment became more evident.
So who were the sustainability leaders at that time?
Aldo Leopold and "A Sand County Almanac" (1949)
Aldo Leopold was a father of land ethics, the concept of a responsible relationship between people and the land they live on and use. He was also influential in the wilderness conservation movement. One of his most famous quotes is:
"A thing is right when it tends to preserve the integrity, stability, and beauty of the biotic community. It is wrong when it tends otherwise."
Rachel Carson and "Silent Spring" (1962)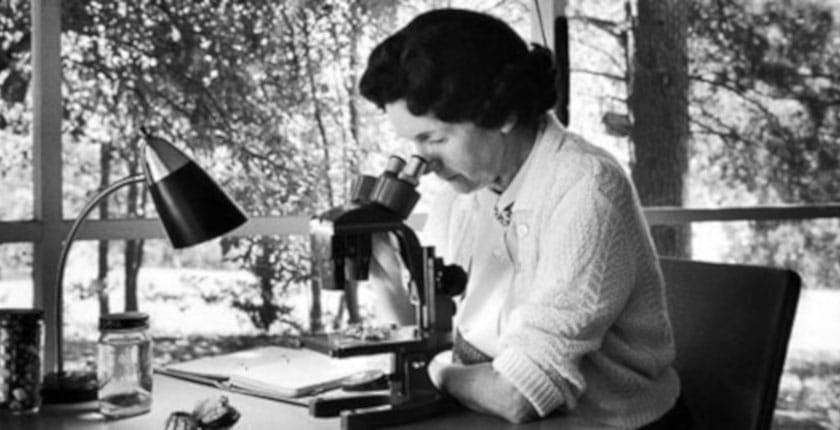 "Silent Spring" is a rare example of an environment-related book that sold 2 million copies and changed the world. Rachel Carson was an American marine biologist who researched and described the connection between declining bird populations and DDT/other synthetic substances people had used in an attempt to control nature. It also inspired a grassroots environmental movement that led to the creation of the U.S. Environmental Protection Agency. Along with that, Rachel Carson is credited by many within the modern environmental movement with inspiring Earth Day, an international day of environmental awareness.
John Muir and the Conservation Movement
The conservation movement is such an extensive topic that it probably deserves a separate post. For now, we want to tell you about John Muir, one of the most famous U.S. naturalists. His landmark articles on wilderness preservation pushed the U.S. government to create Yosemite National Park. His biographer cites Muir as:
"one of the patron saints of twentieth-century American environmental activity."
Although the people we've mentioned above are of European/American descent, it's important to note that the sustainability movement is not only a Western phenomenon. Yes, this is where it has gained more popularity, but people all over the world were and remain interested in keeping our planet safe. The conservation movement we mentioned above originated in the forests of India, for example. So, we advise you to explore more about the regions you're interested in and find out how the sustainability movement developed around the world.
The Sustainability Movement Today
In the 21st century, the sustainability movement has many more resources and tools at its disposal. The widespread use of social media and the availability of more scientific evidence on climate change have made it easier to spread the ideas and calls for action. As a result, more people are getting involved in climate action in a variety of ways: from online activism to voting for political parties with distinctive green agendas.
Although the increasing complexity of the modern world often leads to environmental concerns being sidelined in favour of more urgent political or economical issues, more and more people are taking sustainability seriously, and using their knowledge, expertise and passion to ring the clarion bell and to help all of us preserve our habitat.
Here, we want to tell you about both the renowned leaders of the sustainability movement and the people who raise concerns about the environment locally, showing that taking action is very important at all levels. We also want to highlight people from different professions, from CEOs to artists, and the variety of ways they express their concern about the environment, showing us that the environmental problems we all face today need to be studied from different angles.
Prominent business figures
1. Al Gore
Ex-U.S. Vice President, Al Gore, became a well-known advocate for climate change policy with the release of his 2006 documentary, "An Inconvenient Truth," even though he has been involved with environmental issues since 1976. This film has been praised for raising international public awareness of global warming and putting new energy into the environmental movement.
2. Paul Hawken
Paul Hawken has written several books, including: The Next Economy (1983) and The Ecology of Commerce (1993), that have been cited by presidents, as well as used at business schools. He is also the Executive Director of Project Drawdown which is working towards the drawdown of greenhouse gases to reduce climate change.
3. CEOs: Paul Polman, Lee Scott, and Yvon Chouinard
In the 21st century many CEOs have spoken out on environmental issues. A lot of business leaders supported the Paris Agreement; and CEOs of major US companies like Disney, Tesla, JP Morgan and Walmart have taken a stand on the urgent need for climate action. Even major companies have started to express their concerns about the environment.
Walmart's CEO Lee Scott decided the company needs to pursue three goals: to be supplied with 100% renewable energy to create zero waste and to sell products that sustain people and the environment.
The CEO of The Unilever Group, Paul Polman, has set a very ambitious goal for his company. Since 2010 it's been aiming to double its business while enacting its three-point Sustainable Living Plan: to help more than a billion people improve their health and well-being, halve the environmental footprint of its products, and to sustainably source 100% of its agricultural raw materials.
Last but not least, Patagonia's CEO Yvon Chouinard has a very clear vision for his company: "Patagonia is in business to save our home planet." And these are not just empty words: Patagonia gives out approximately 900 grants a year to different activist organisations, invests in sustainable startups, and even launched an activist hub to connect their customers with grassroots environmental organizations.
4. Joyce van Os de Man
As Manager Benelux at OrangeGas, Joyce van Os de Man is committed to promoting the sustainability movement through her work and protecting the environment. Currently, she is committed to making eco-friendly travel a reality. Dedicated to creating a network of clean filling points throughout Europe, she wants to reduce our reliance on fossil fuels: 'What is especially important is that people don't wait but start today. Because now, a lot is already possible'.
5. Maurits Groen
Dutch advocate, consultant and entrepreneur, Maurits Groen, has dedicated his professional life to promoting sustainability in business. Widely considered to be one of the most influential Europeans in the field of sustainable development, Groen has co-founded numerous sustainable companies, including Off-Grid Solutions, DoTheBrightThing and Greenem. His success in making the 2010 FIFA World Cup climate neutral raised the issue of sustainability on a global scale and inspired millions to assess their own impact on the environment.
6. You?
No matter what industry you operate in, your organisation can be a force for change in the world. With you at the helm, your start-up, SME or enterprise can be a sustainable business that changes the world, dominates industries and leaves a legacy that lasts for generations. As a sustainability marketing agency, we will be excited to help you achieve your goals.
If you want to become a sustainable business leader, contact us at Orange Bird and find out how we can help you.
Technology pioneers
Bertrand Piccard (Solar Impulse)
A round-the-world flight seems hard to perform, but Swiss explorer, Bertrand Piccard, and entrepreneur, André Borschberg, did just that in the most sustainable way possible: they conducted the first-ever round-the-world solar flight, proving that travel (including aviation), is possible without fossil fuels (as he put it: "People will tell you it's impossible, and it's exactly why we try to do it"). And it didn't stop there: they have also created the International Committee of Clean Technologies and the Solar Impulse Foundation that select CleanTech solutions that protect the environment in a profitable way and award them with the Solar Impulse Efficient Solution Label.
Artists and their take on the environment
Bernice Notenboom
Bernice Notenboom is a climate journalist, filmmaker and… a famous polar explorer! She is the first woman to reach the North, South, and Cold Pole. In her movie SEA BLIND she takes us to the North Pole, where we can witness the disastrous consequences of climate change.
Sarah Robertson
Sarah Robertson is a Canadian documentary producer, director and writer who specialises in wildlife, science and history production. She has 25 years experience making films about the Arctic and other topics, most notably Planet Earth, National Geographic's Great Migrations series and BBC's Frozen Planet. During her work she has seen and reported a lot of evidence of global climate change.
Dr. Renée Lertzman
Dr. Renée Lertzman combines knowledge of psychological research and sustainability. She uses research and insights from the social sciences and creates clear tools that organisations around the world can use to connect with diverse communities. She is also regularly asked to teach and present research for institutions like the World Wildlife Fund, the White House Social and Behavioral Sciences Team (SBST), the National Center for Atmospheric Research, as well as for several universities (i.e, Columbia University, Radboud University in the Netherlands, Lanzhou University in China).
Naomi Klein
Her 2015 book, This Changes Everything, highlights the role of global capitalism in promoting actions that fight climate change, and shows how the era of neoliberal market fundamentalism we now live in makes it hard to protect nature.
Acclaimed writer, NASA engineer and climate scientist, Peter Kalmus, has published a variety of articles to raise awareness of the sustainability movement and the need for action. In addition to highlighting climate-related issues in his award-winning book, 'Being the Change: Live Well and Spark a Climate Revolution', Kalmus is also a supporter of the #FlyingLess movement and co-founder of the pro-sustainability app, Earth Hero.
Recognised as a 'Great American Novelist', Jonathan Franzen's 2019 article on climate change, entitled, 'What If We Stopped Pretending?', was one of The New Yorker's most read articles of the year. While the infamous essay may have been controversial and noted for its pessimistic approach to the possibility of change, there's no doubt it garnered plenty of publicity and inspired people to continue talking about climate change.
Youth is taking action, too
The urgency to act on environmental challenges is obvious, especially for the youngest people out there. No wonder the leaders of the sustainability movement are getting younger and younger. Recently, thousands of schoolchildren and young people all over Europe skipped school in order to attend climate change marches.
Greta Thunberg
You've probably heard about Greta Thunberg, a 16-year old Swedish schoolgirl who started the first 'school strike for climate' in 2018. Since then, she has attended numerous high-level events to demand climate action and launched various projects for the same purpose. Her actions have inspired thousands of other young people across the world to join the sustainability movement. Greta has proved that nobody is too young to make a difference.
Boyan Slat
Here's another example of a young climate action advocate. When he was 16, Boyan Slat decided to fix the problem of plastic in the ocean. He created The Ocean Cleanup, an NGO that develops technology to extract plastic pollution from the oceans.
What's Next for the Sustainability Movement?
The examples above show that many people were aware of the negative influence human activity has on nature even several centuries ago. Although people didn't have all the technological advantages we have today, they still found a way to promote environmental consciousness and highlight the necessity to act on environmental issues. The sustainability movement has the power to connect like-minded people who want to change the world we live in and to redirect us to a more eco-friendly path.
We understand environmental problems are not easy ones to solve. They are very complex, and the amount of work that needs to be done to tackle them can be overwhelming. But we believe in something that is more powerful than the billions of dollars non-sustainable corporations have. We believe in the power of people. If every Homo Sapiens steps in and turns into Homo Sustainabilitus, we can preserve our habitat and the habitat of other animal and plant species. Before it is too late.
Resources
Some extra reading to inspire you to make your mark and protect the environment:
How to follow the paths of sustainability trailblazers
All the sustainable ladies: 10 women who will inspire you
Ray Anderson: The business logic of sustainability
Sustainability in business = 51% to 81% more profit (CSR)
How we can make the world a better place by 2030 | Michael Green | TED Talks
Previous post
Next post