on Friday February 21, 2020
We Live in an Outdated System
5 main takeaways from the ChangeNOW speech of Bertrand Piccard – the man who flew around the world using just solar energy
At the onset of the Industrial Revolution (right when humanity started to emit CO2 at a climate affecting scale), the French started to organise international expositions to showcase the advances of industrialisation. Now, 150 years later, at the onset of a social and environmental revolution, Paris reclaims its leadership position to reverse the negative effects of industrialisation and holds the first World Expo of Solutions for the Planet.
At ChangeNOW, tech pioneers, business figures, and thought leaders share ideas and demonstrate solutions to mitigate climate change and light the path to a clean economy.
Bertrand Piccard, the Solar Impulse Foundation leader, whose solar-energy powered flight around the world demonstrated how even aviation can be a clean industry, expressed his view on what we need to do to live in a better world.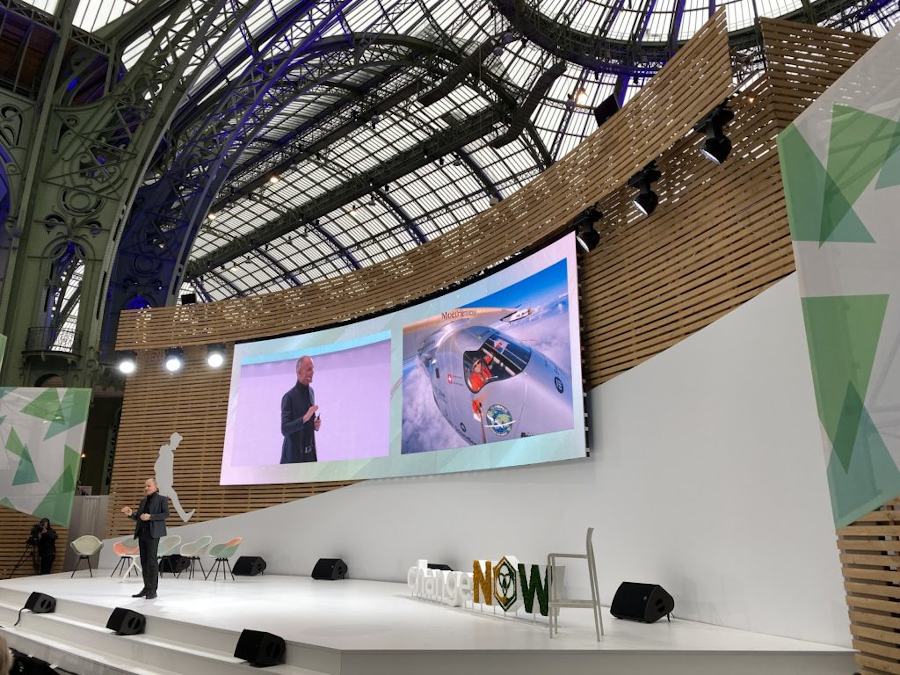 Photo taken by Orange Bird Agency at ChangeNOW
Orange Bird – Agile Marketing Agency – publishes 5 main takeaways from Bertrand's speech to inspire and let you feel the vibes of ChangeNOW.
"Can you imagine the situation? You are in a small cockpit of an experimental airplane. You look at the sun and you know that it's the source of energy that makes you fly day and night. No noise, no pollution, and no fuel…
It's not the future. That's what the technologies of today allow us to do today. At this moment I understood how much the rest of the world is in the past."
1. We live in an outdated system
We are proud of our smartphones, but everything else we use today was invented back in the 19th century. We drive cars that pollute relentlessly, live and work in properties that are poorly insulated, and use outdated industrial processes and infrastructure.
It's usually at this point the two overused choices are stated, either you continue unlimited economic growth and destroy the environment or you limit your comfort and sacrifice your modern lifestyle.
However, the choice is not limited to just these 2 options, there's a third way – to update the infrastructure of the system we live in.
"The problem is not so much that we live well. The problem is that in order to live well, we're using outdated technologies."
2. It is time for a technological leap from the past to the present
The goal of today is to reconcile the economy, technologies, and the environment. The way to switch to a new sustainable world is to start living today with the technologies of "today".
We already have the solutions to start the process of renovation. There are thousands of startups that are profitable, clean, and efficient.
However, replacing outdated infrastructures with modern alternatives often encounters limiting laws and regulations.
The regulation is so outdated, it is still allowed to pollute.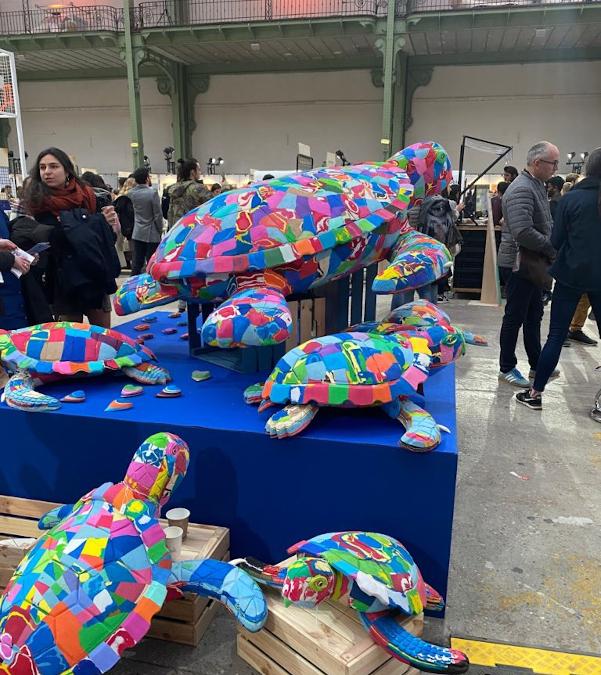 Photo taken by Orange Bird Agency at ChangeNOW
3. Sustainability requires a modern legal framework
We have regulations for everything, (health, education, security) but we need these regulations to be brought up to date when it comes to the environment. We need regulations to pull clean technologies to the market by creating a necessity. Progressive initiatives are seeking support from authorities.
It's important to develop solutions, but it's also crucial to ensure the political world takes action that moves us in the direction of sustainable development.
"Public authorities and regulators, we have tools that can only work with the right regulations in place."
4. Speak the language of profit and efficiency
Even though we are on the cusp of an ecological catastrophe, there is still plenty of scepticism and disinformation. The environmental alarm bells obviously aren't enough to wake up the whole world.
In order to involve everybody, to motivate people to jump into change, we have to prove that clean technologies are efficient, and more importantly, profitable. We can attract the political world and even people who don't care about the environment, by talking about profit.
"We have to prove that even if there were no climate change it would be as logical, as much as ecological, to use clean technologies"
5. Last chance to catch the fantastic moment
In the early days of aviation, most were laughing at the Wright brothers, saying the plane had no future. In 2001, we were told by some, "Don't invest in the Internet, it has no future." Today we hear people saying the same about clean technologies.
Thus, however daunting the climate crisis is, it is also awesomely inspiring to tackle this challenge and transform our world. The only issue is that the time for change is running out.
Let's rise to the challenge. Let's show that clean technologies work and it is possible to save the environment in a profitable way.
"We have a fantastic opportunity to raise pioneering spirits, to develop new technologies, and to become a better world."
Conclusion
Bertrand has accomplished the solar trip around the world to demonstrate how clean technologies and renewable energy can achieve the seemingly impossible. The Solar Impulse Foundation awards the "Efficient Solution" label to the companies that prove the environment can be protected in a profitable way and at the same time improve our quality of life. The World Expo of Solutions for the Planet is gathering people who are ready to Change Now.
But we all want to live in a better world, which is already possible if we upgrade our habits and beliefs in line with what is possible today, rather than remain trapped in an outdated world.
Additional Thoughts from Orange Bird
Chirp! It's not only the infrastructure and legal framework that need an overhaul. To live in a better world, all of us need to make our own contribution: while governments work out better policies for sustainable development and businesses develop sustainable products, consumers can use their power of choice and influence both politicians and producers by consuming wisely. Aviation can turn into e-viation, designers and engineers can switch to circular design, supermarkets can ditch plastic packaging, etc.
Being a marketing agency, we are convinced that sustainability also calls for new marketing. If you are a marketer, a PR specialist, a market research specialist or a marketing project manager, read our blog post about the need for new marketing and get in touch with us so that we can join forces and help more companies which offer sustainable products or services and need support with professional and modern marketing.
Previous post
Next post