Our design approach for eco-friendly brands
SERVICES
Orange Bird is a sustainable design agency offering a range of services for creating and launching new sustainable brands, as well as redesigning and promoting existing brands with a focus on climate solutions. Our marketing agency has vast experience having helped diverse companies to enter new markets and grow in existing markets.
STRATEGY
Orange Bird's strategy for brand development is an integrated approach that incorporates research, messaging and design. Professional graphic design is integrated into the brand strategy and subordinated to your overall marketing goals and objectives.
SOLUTION
Branding design solutions are tailored to resonate with your target audience, take into account the current market situation and outlook, and build on your brand identity. Your design will be beautiful and modern, while solving specific tasks and helping your audience to understand your brand's value proposition.
Market research for branding and re-branding
At Orange Bird Sustainable Creative Agency, we create marketing designs that are not only beautiful but are also effective tools to communicate your brand's value and achieve your business goals.
We start brand development projects with market research to design marketing materials with the right message for the right audience. Whether you need to launch a new brand for your startup, rebrand your organization, or just update your brand, Orange Bird can help you through the process to develop or evolve your corporate identity.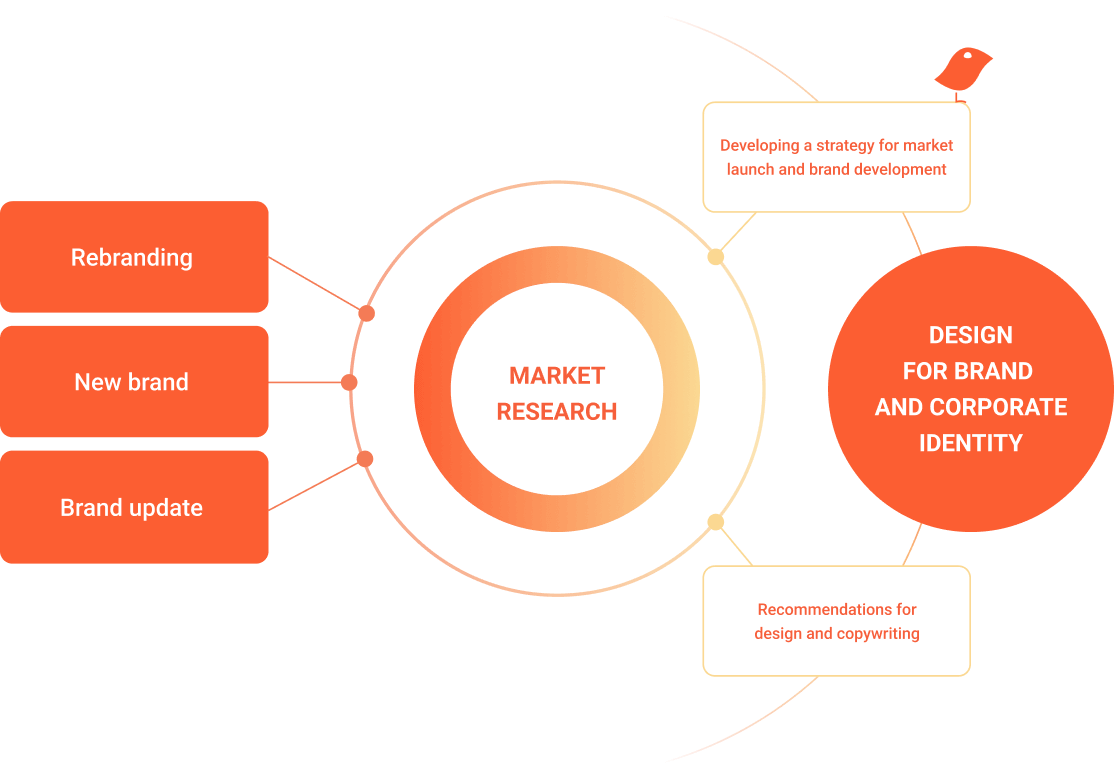 Branding and design services
Each brand is unique and requires its own set of design elements. Some brand assets — such as a logo, color palette and font selection — are needed in the first stages of brand development.  Others such as presentation templates, asset libraries, icon sets and infographics may be needed at later stages.
Orange Bird can support you at any stage with logo creation, digital marketing,  print materials and beautiful designs to build your corporate identity and present a cohesive brand across all of your communication channels.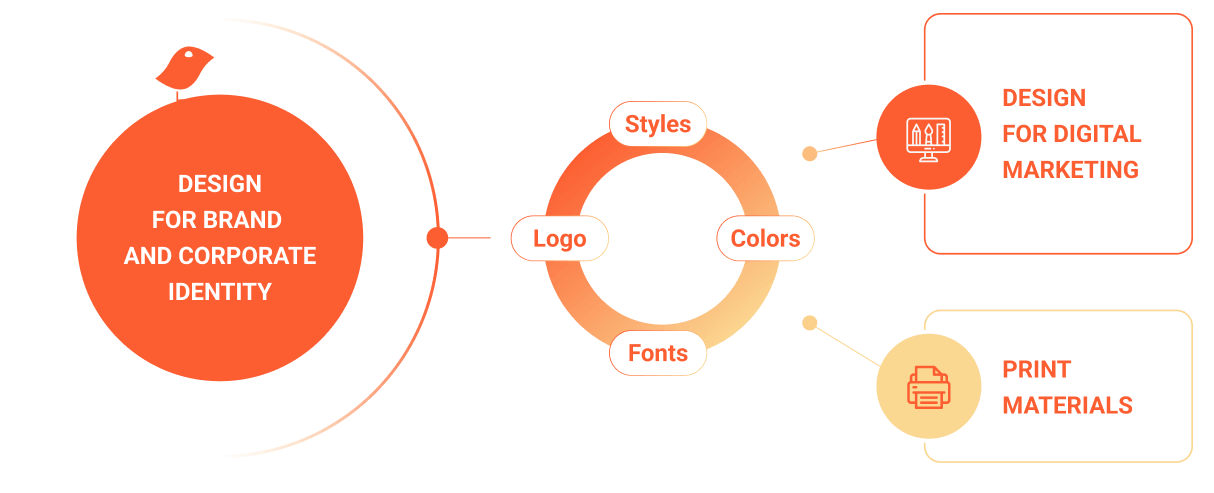 Design for digital marketing
Orange Bird's talented and experienced designers create compelling visuals for social media, web design, digital ads, email newsletters, and many other online channels to communicate your message in an elegant and effective way.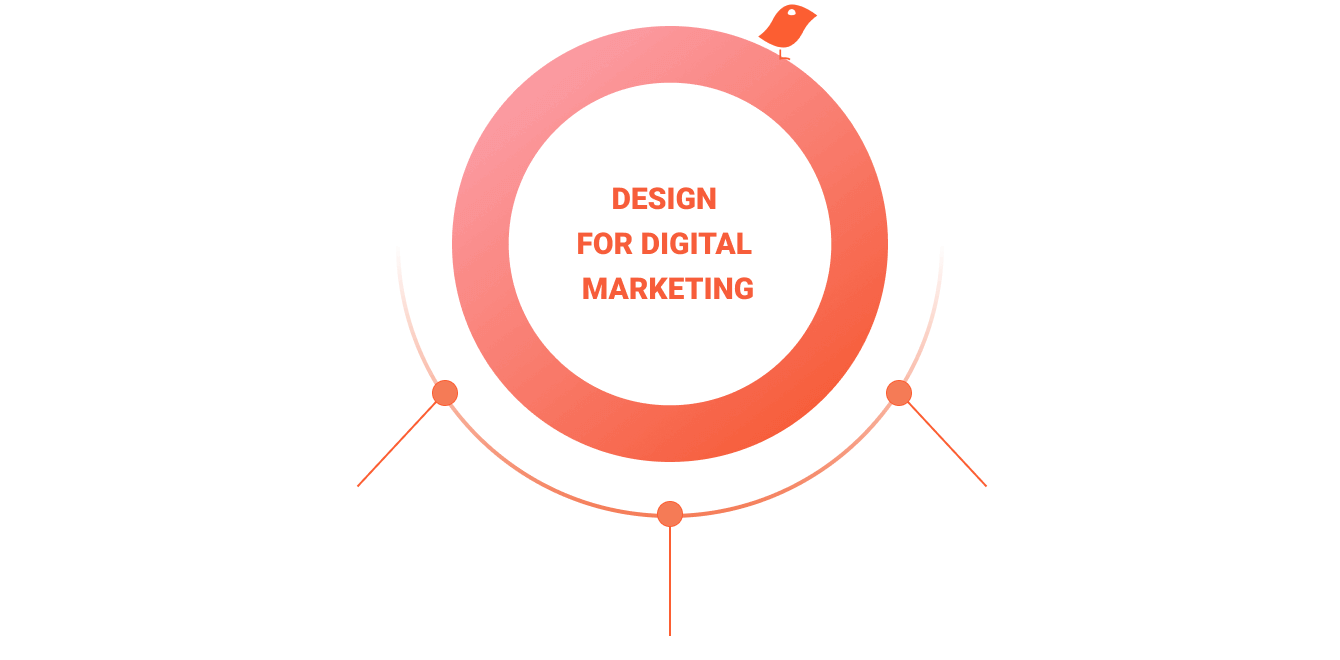 Design for social media
We can help you grow your community (Facebook, Instagram, Twitter, etc.) and run effective ad campaigns in social media with unique design for images, slideshows, videos, cover photos, etc.
Web design
We can design and develop a modern and appealing website that is responsive to all devices, from mobile phones and desktop computers, to wearables and bots. We make designs for landing pages, corporate websites and e-commerse websites.
Design for other online channels
We love working with all online channels and can provide great design for banners, email newsletters, presentations, case studies, blueprints and whitepapers, as well as illustrations for articles and blog posts.
Design Portfolio
View samples of Orange Bird's sustainable branding and graphic design work for cleantech, circular, and climate action organisations.
SurfCleaner
SurfCleaner wanted a clean website design to showcase their cleantech solution. Orange Bird delivered a highly customized and flexible multilingual website for SurfCleaner that embodies their brand and mission for clean water.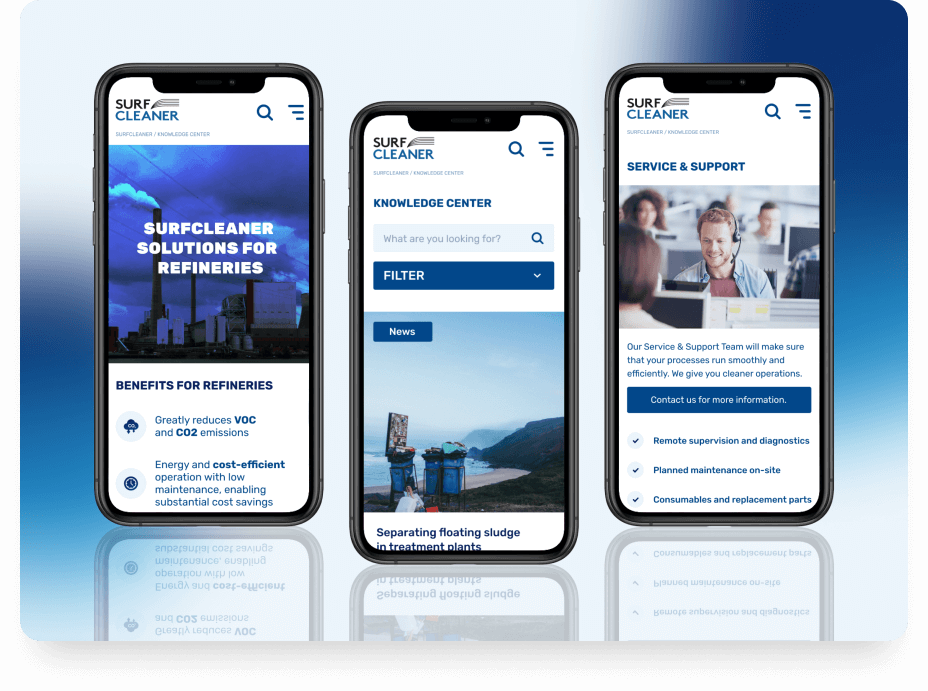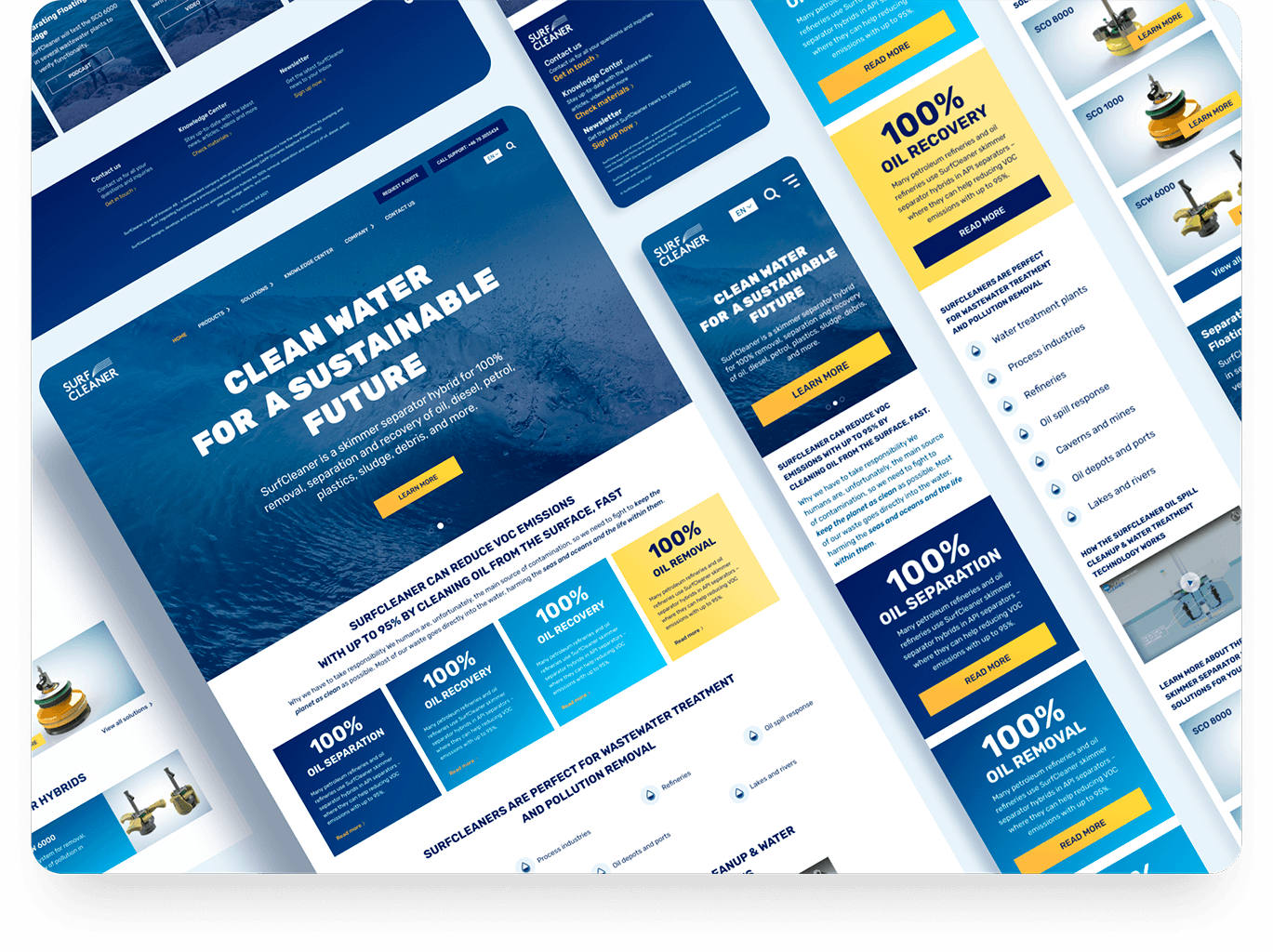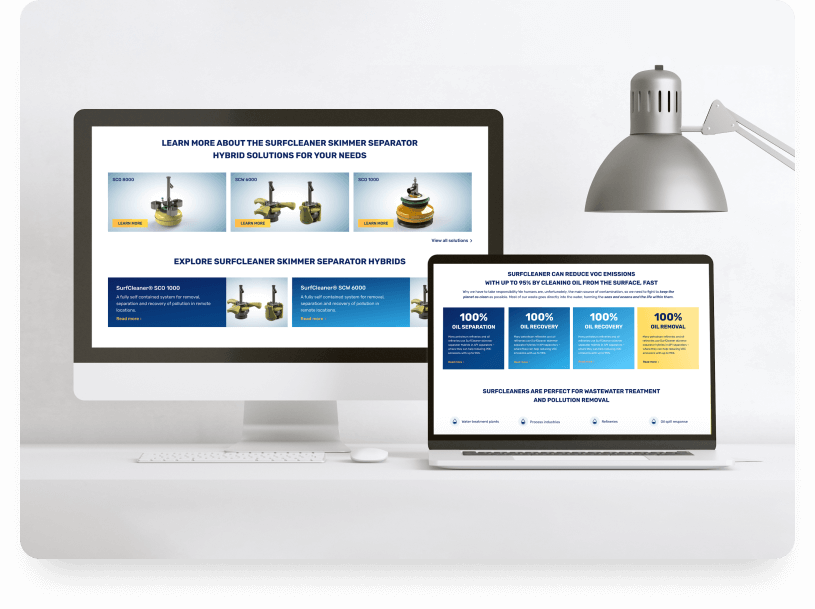 Climeon
Orange Bird developed social media banners, graphics and templates for the Swedish cleantech company Climeon.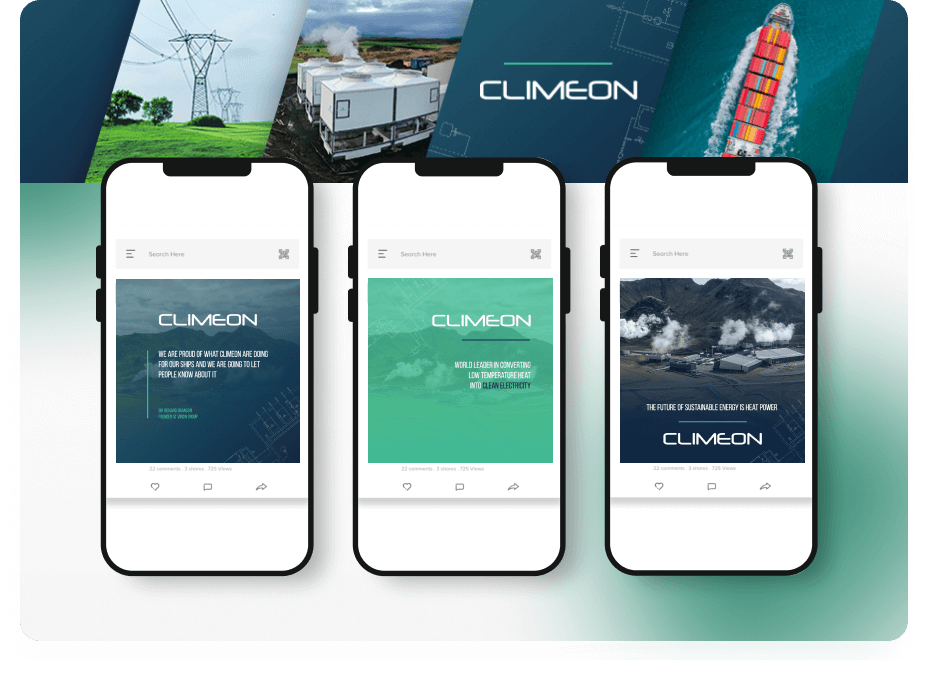 friendlyway
With visitor-friendly website design and engaging social media graphics design, Orange Bird helped make the complex solutions of friendlyway approachable.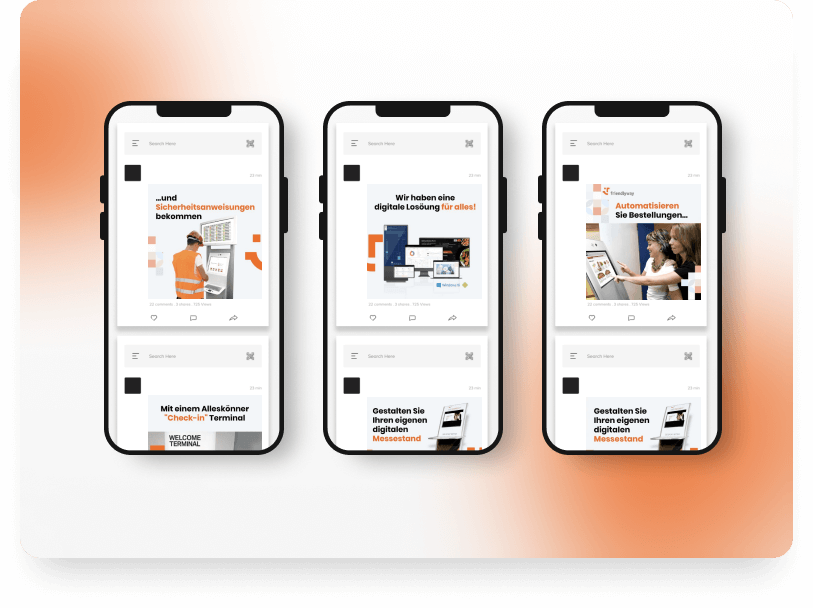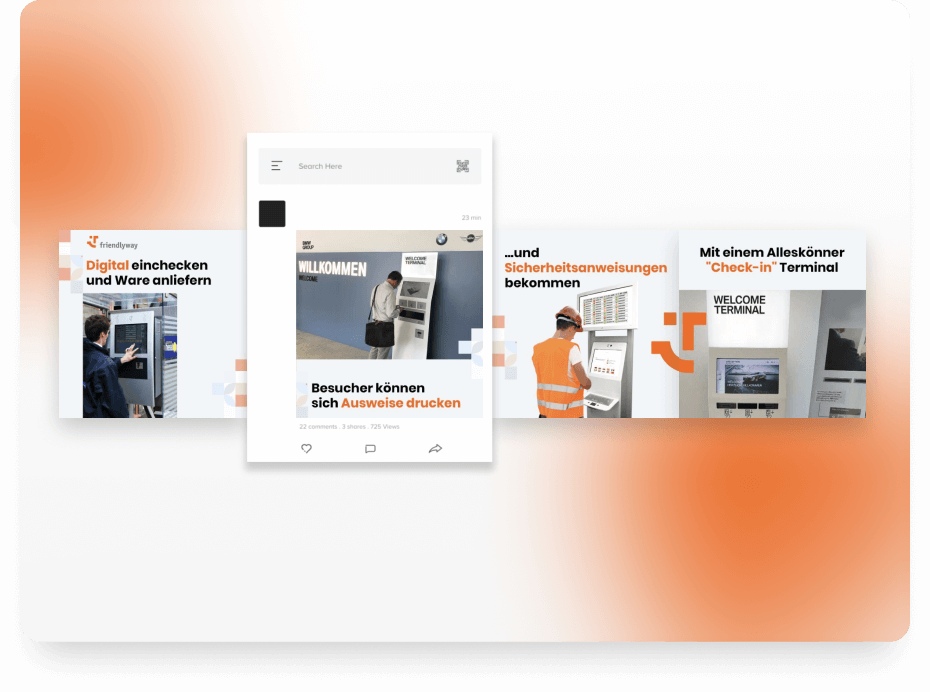 AI Search
Orange Bird created a brand for AI Search that expressed their corporate identity: reliable and advanced, modern and innovative, and by no means formal or boring.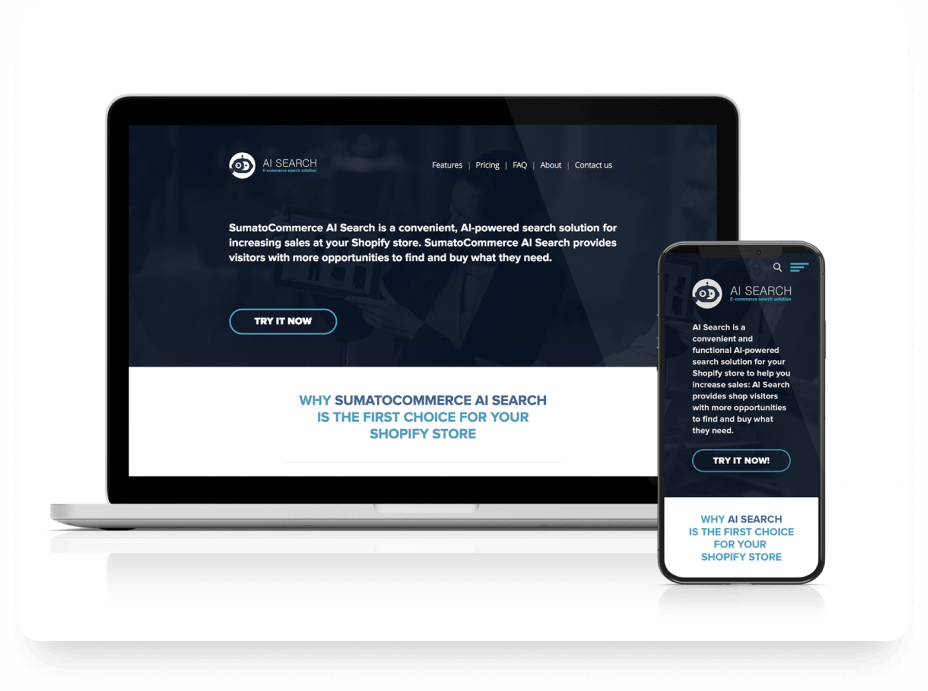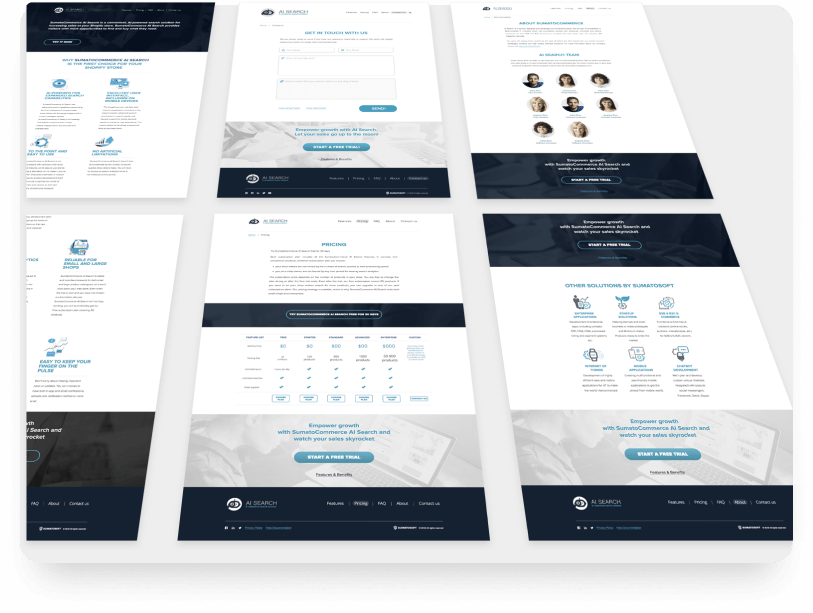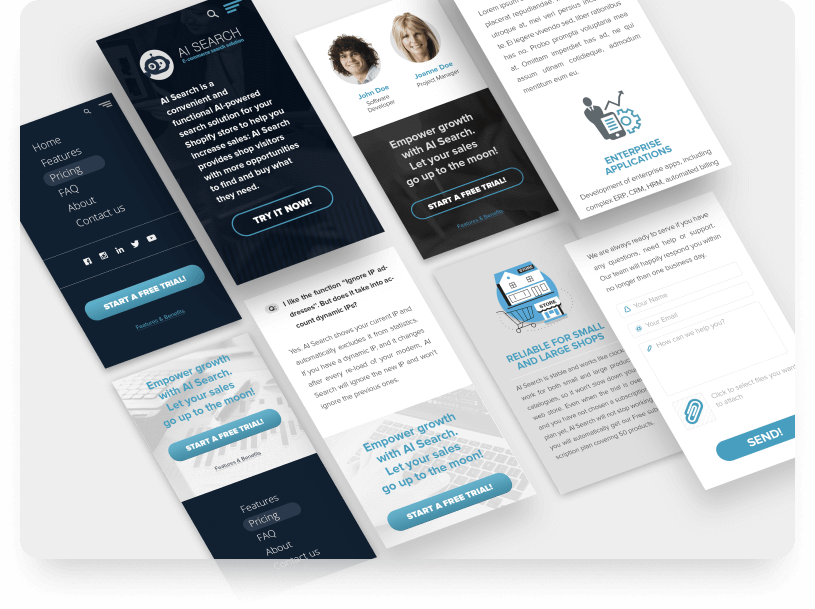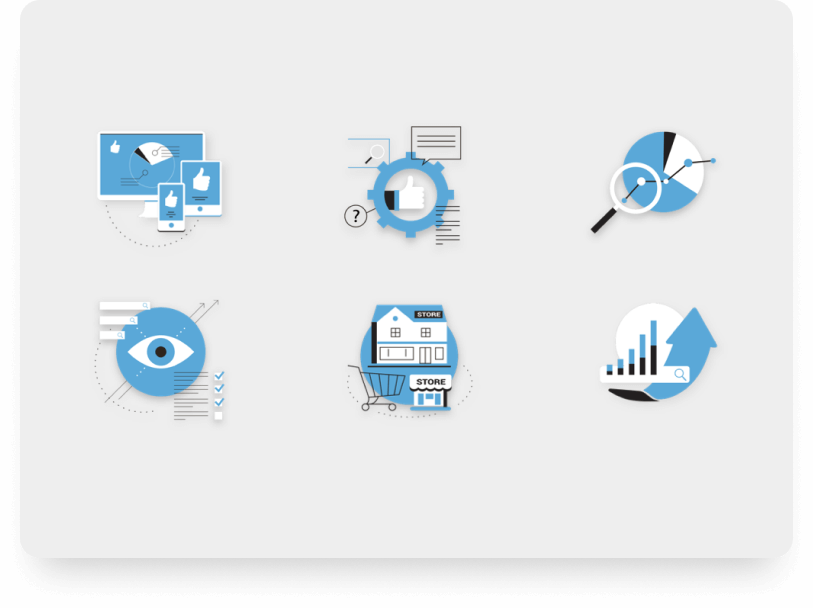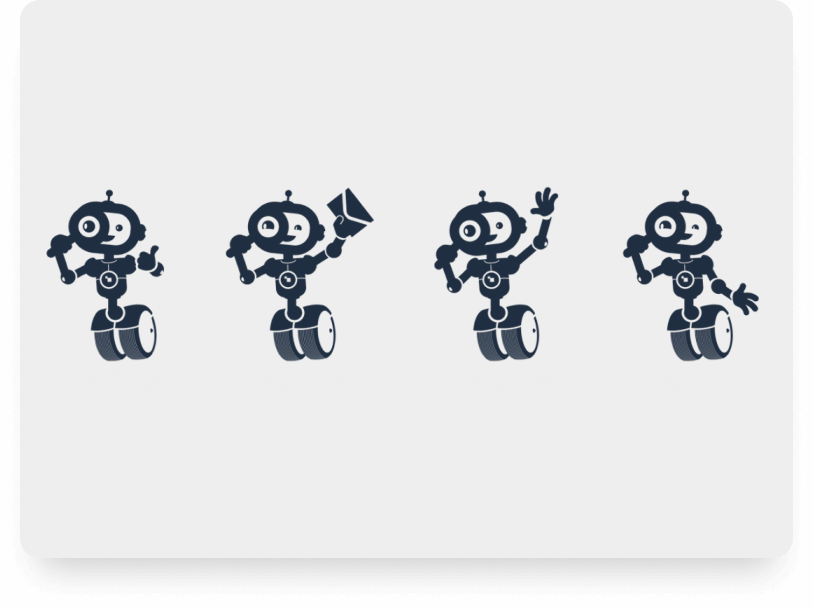 Canary
Orange Bird's designers embraced the mission of Canary by creating a brand identity, logo and web design that signals climate hope and connects activists for a healthy planet.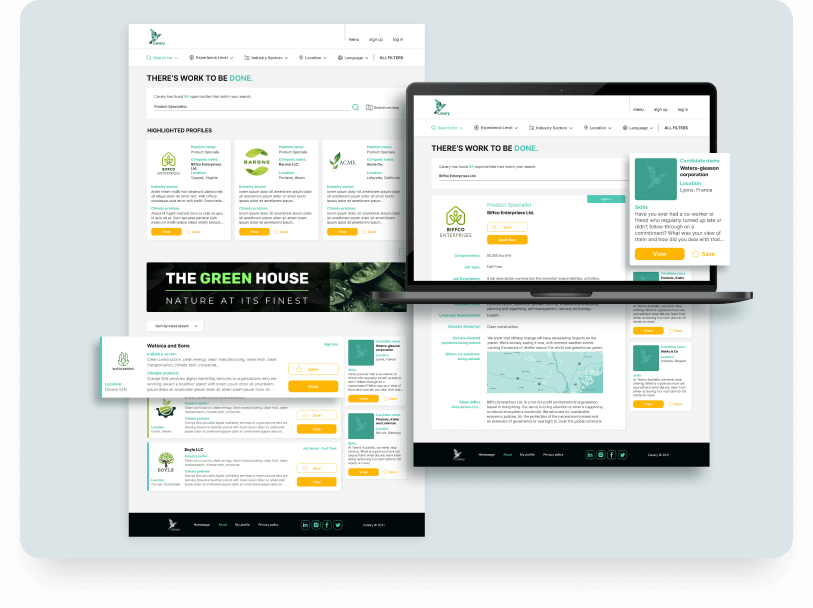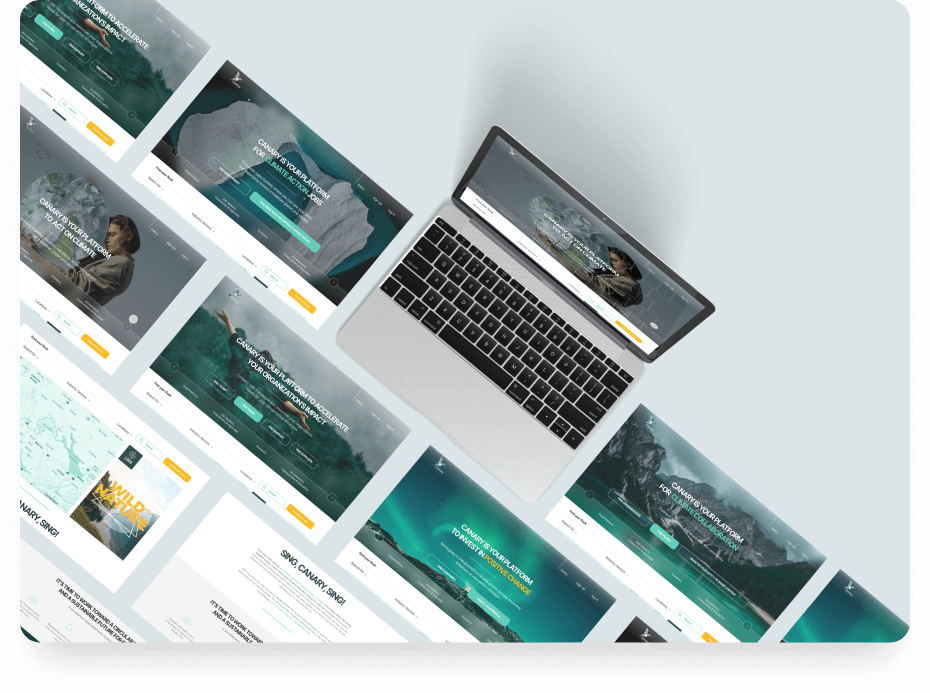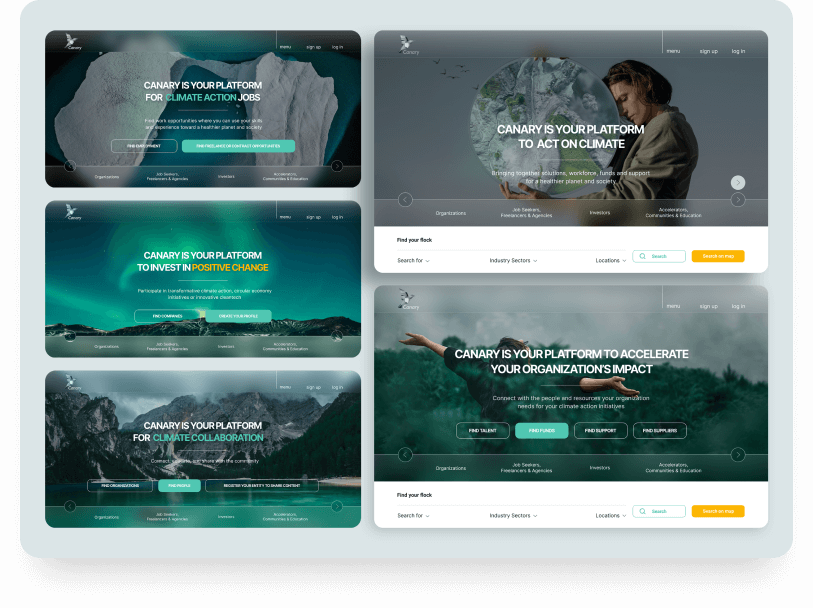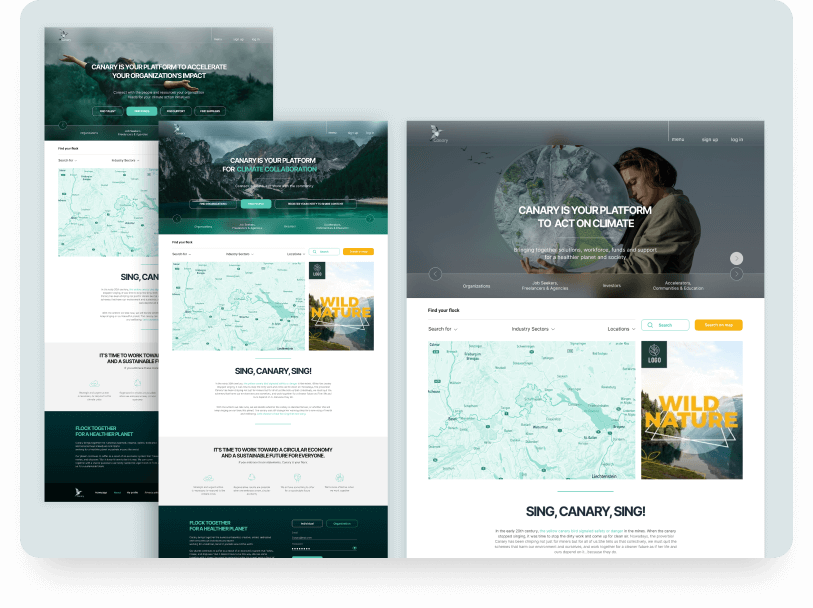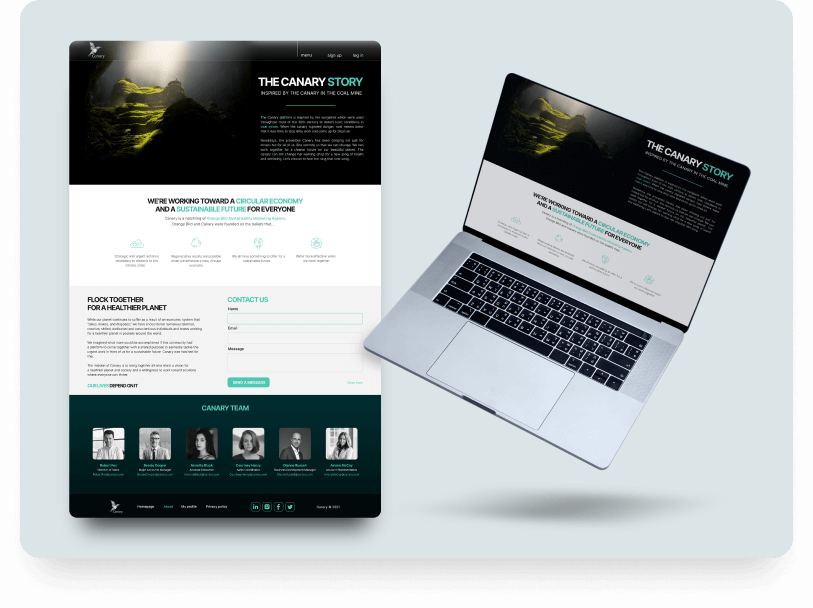 Veleguard and Vellesad
Orange Bird created bold logo designs for Veleguard and Vellesad, and incorporated them in business cards, product packaging design and other marketing materials.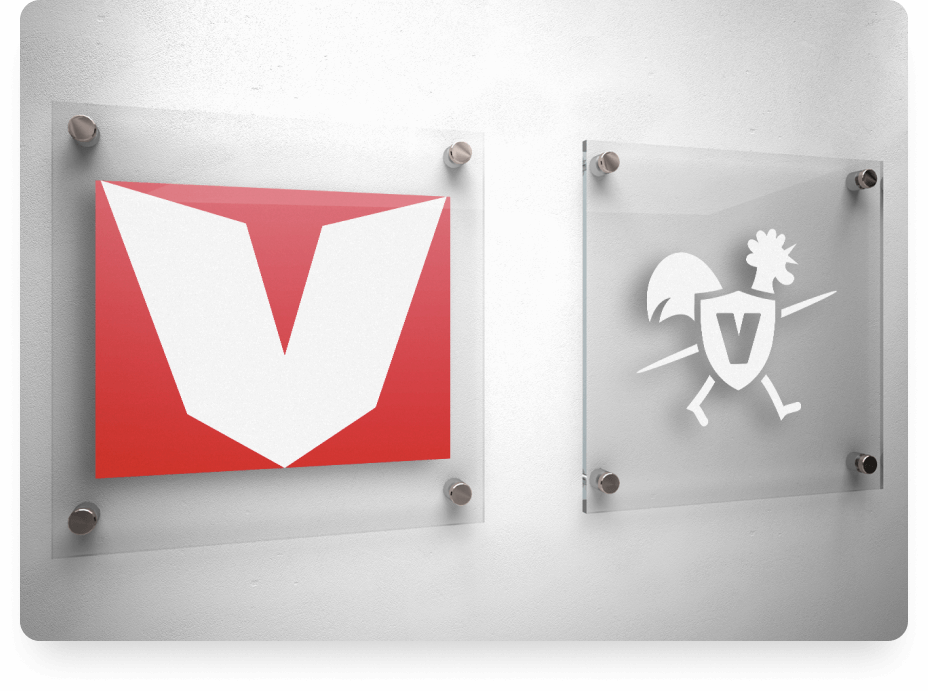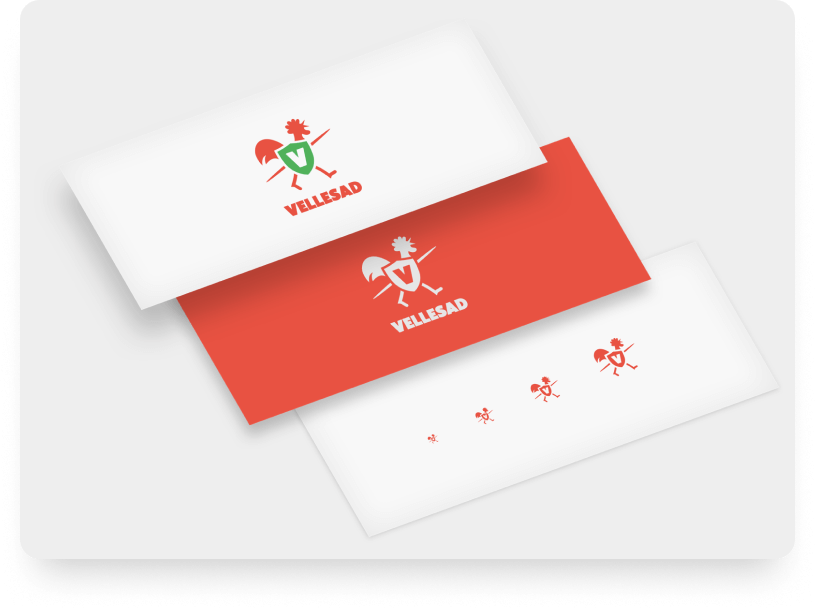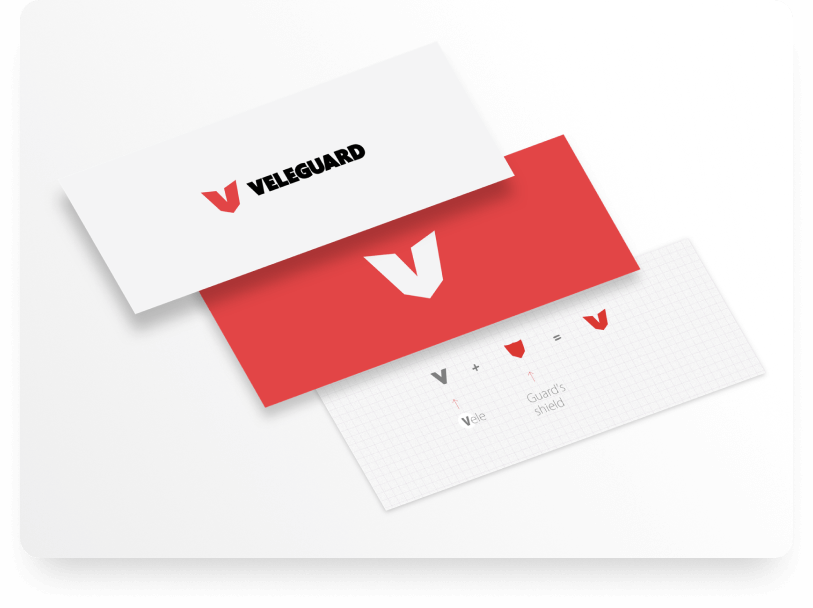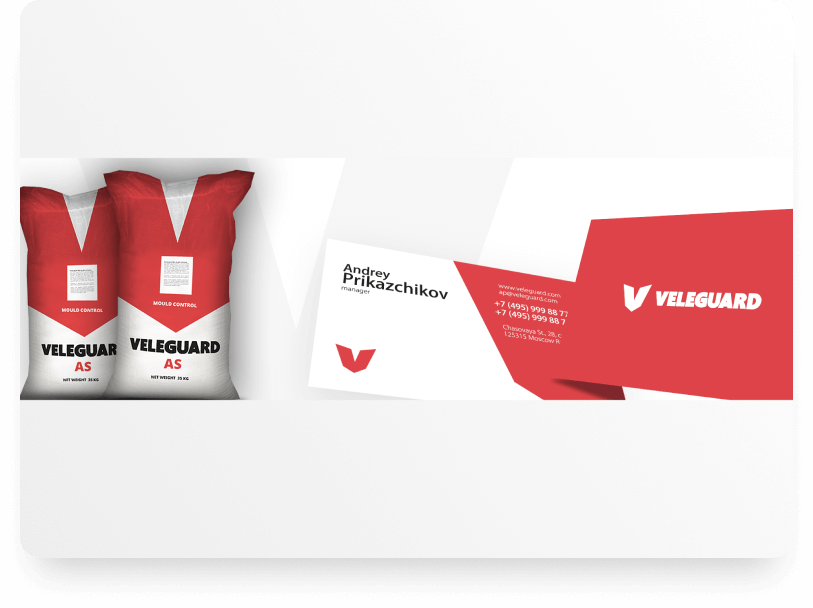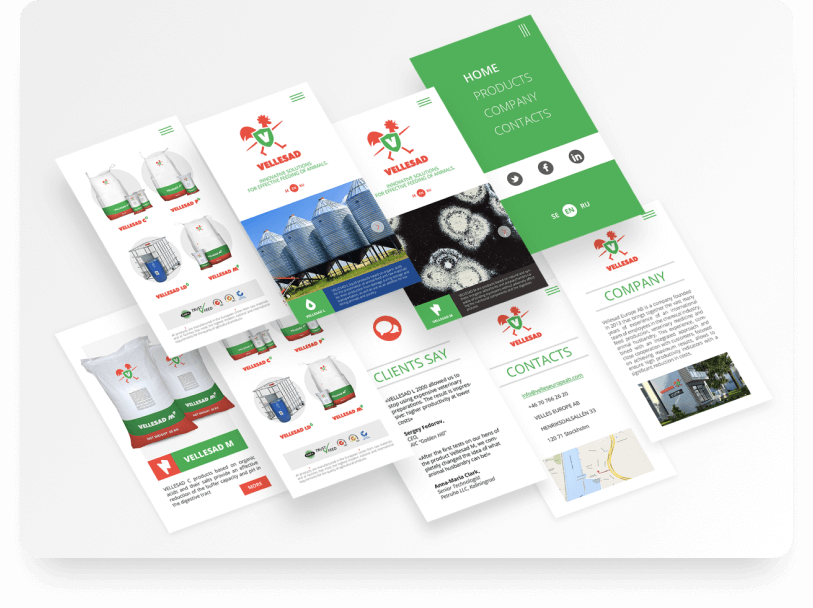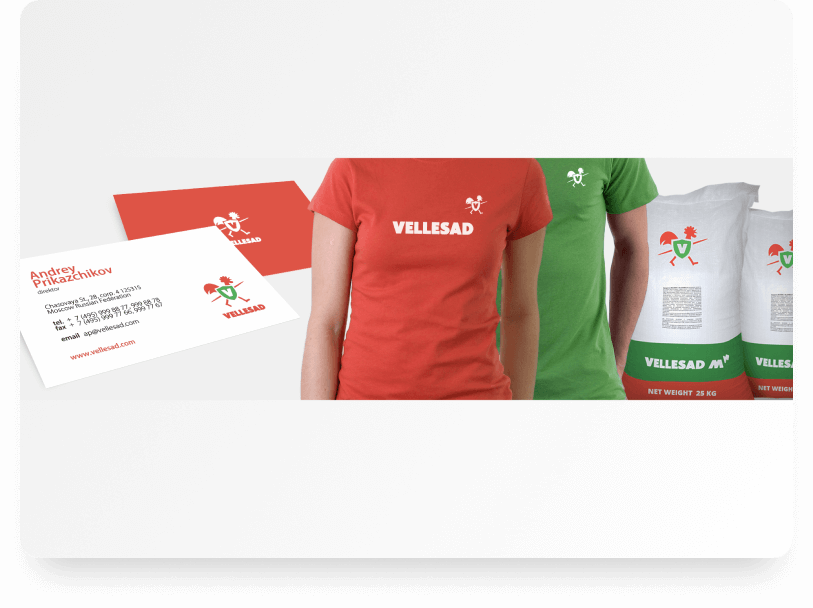 Volksuniversiteit Amsterdam
Orange Bird designed a modern website for Volksuniversiteit Amsterdam that resonated with students from a variety of generations, cultures and interests. The colorful design shows their unique and progressive course offerings while honoring their rich history and tradition.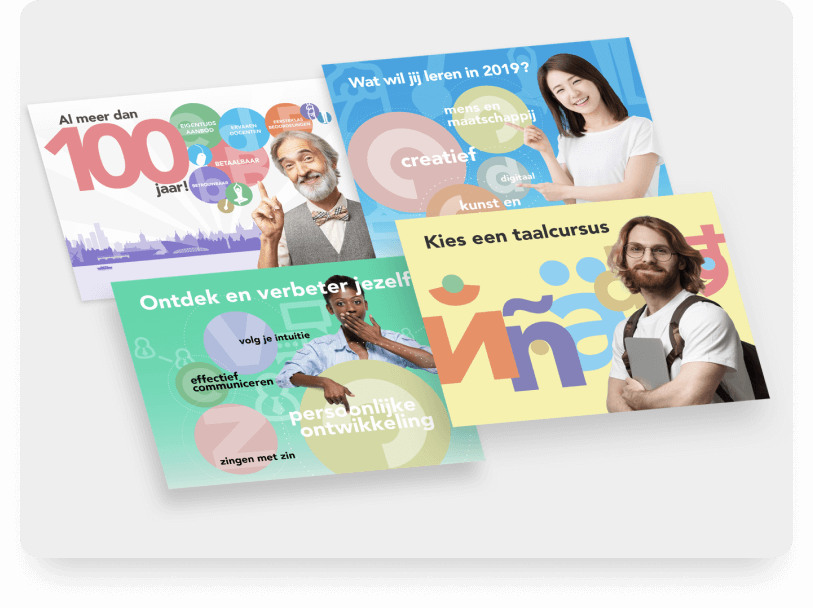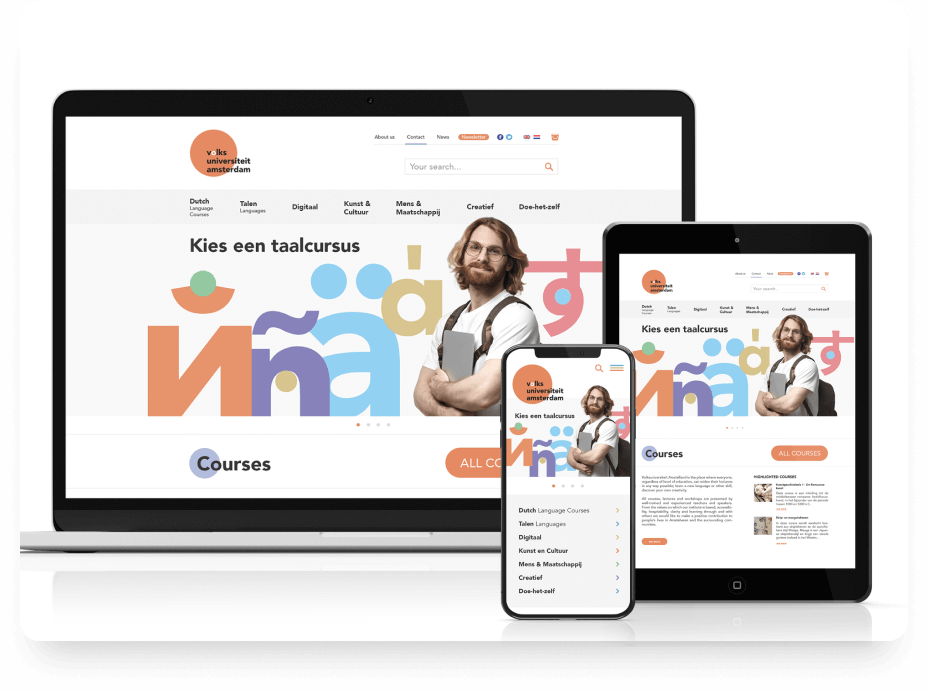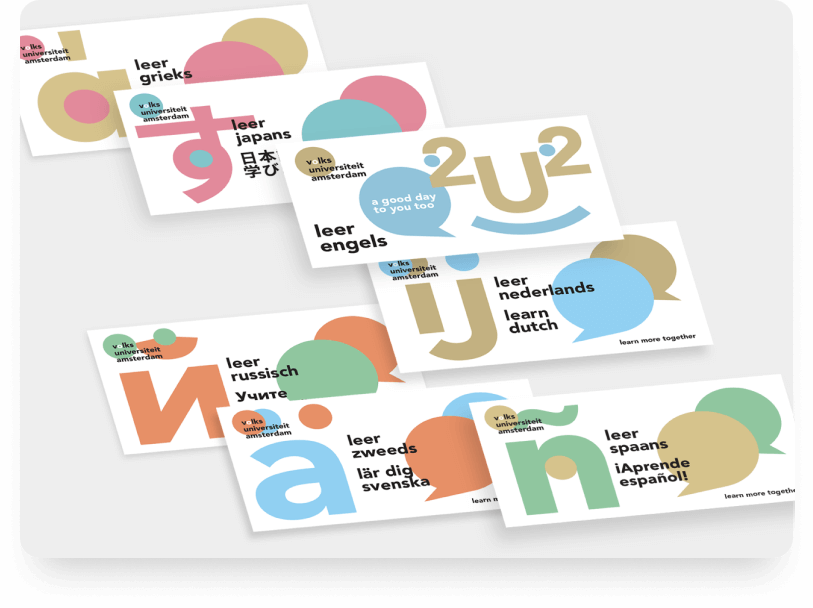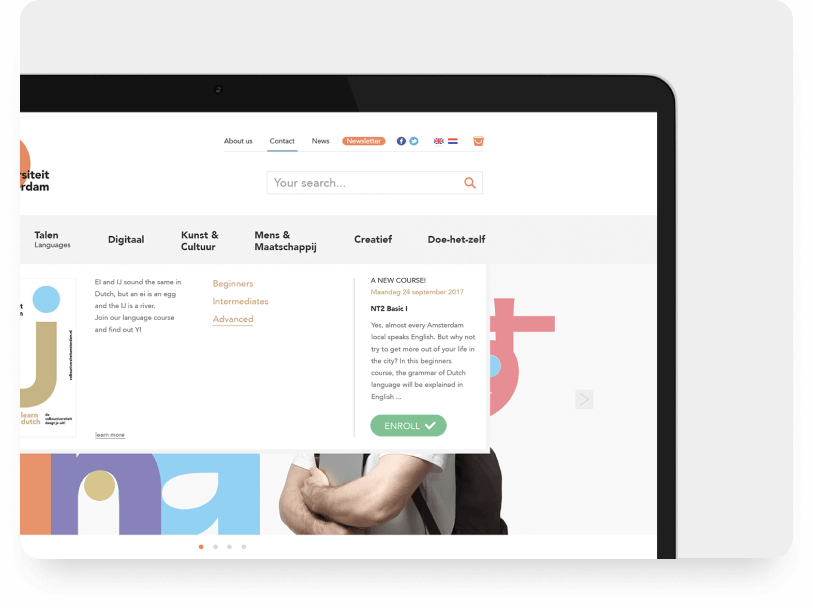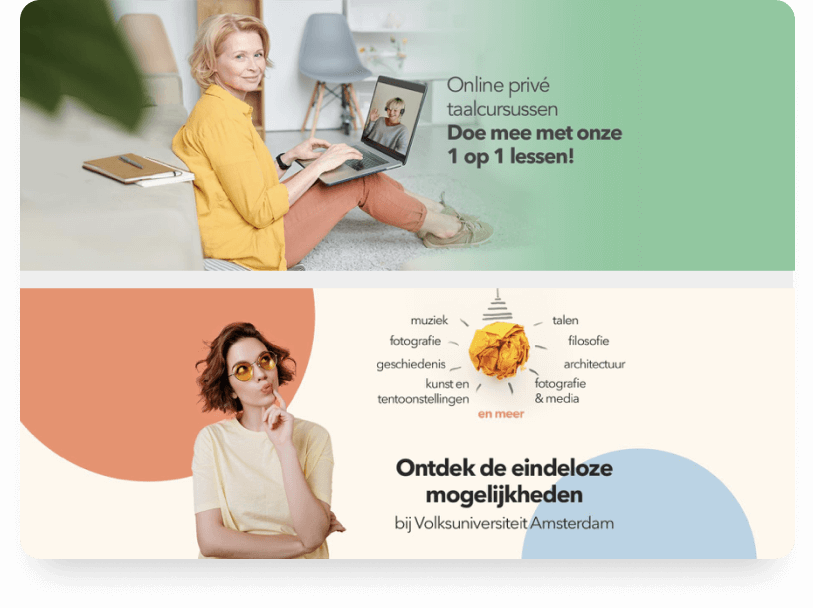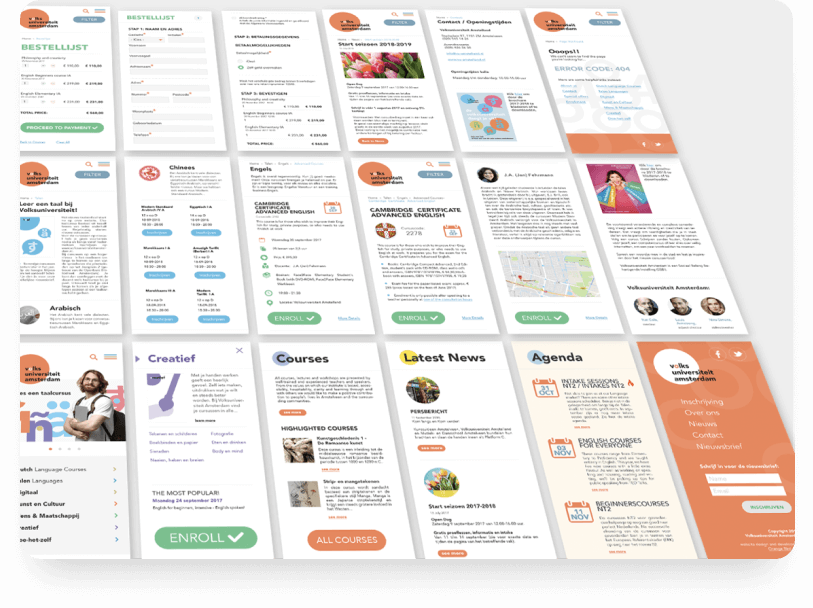 Eco Living
Eco Living tasked Orange Bird with providing web design services for their sustainable real estate offering and future proof ecohouses.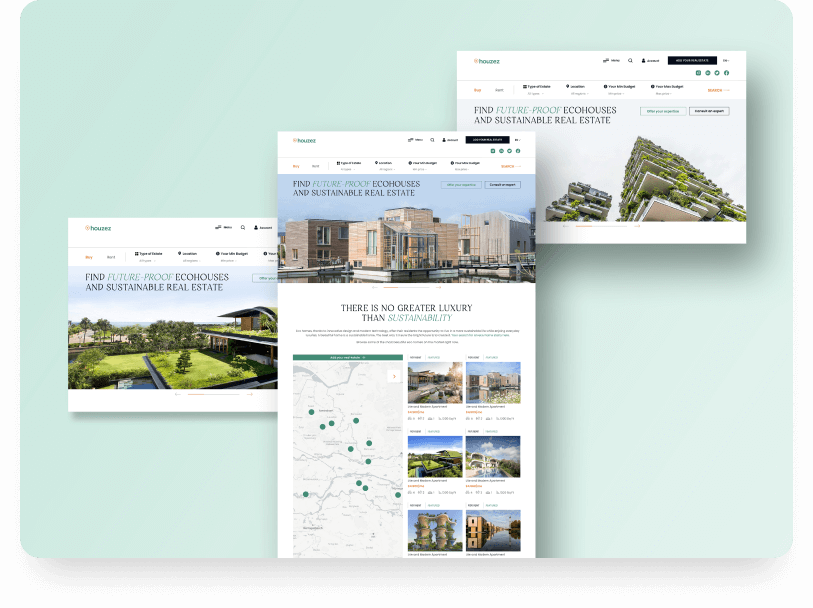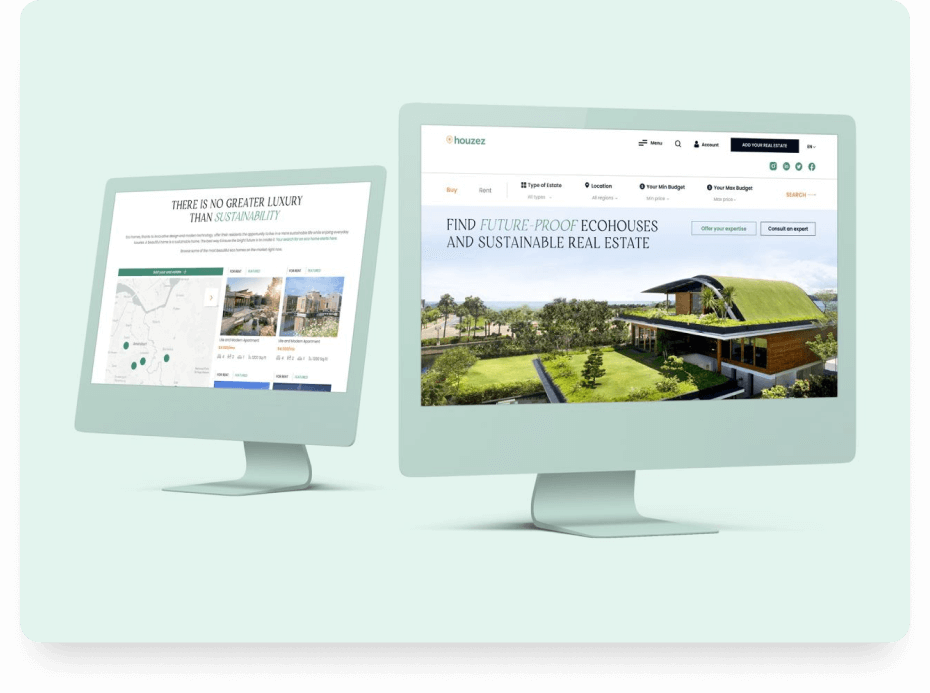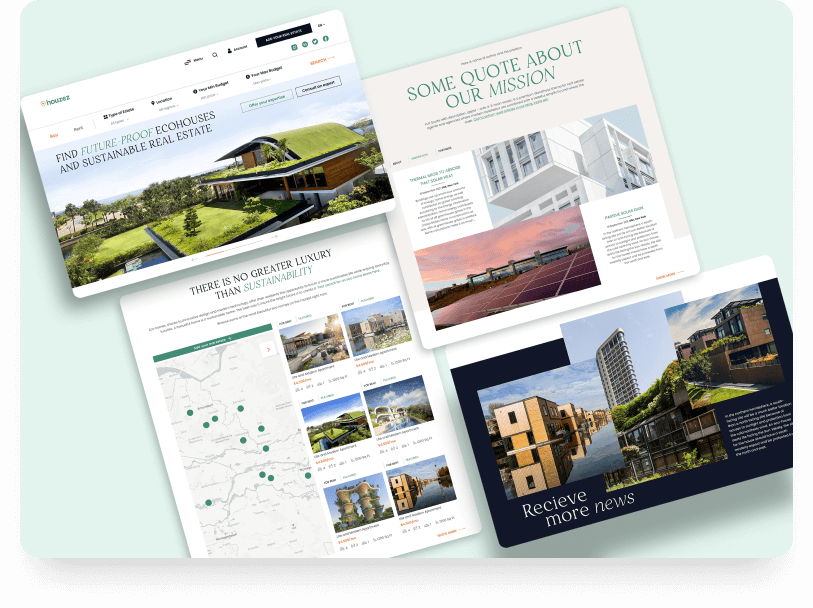 Canvas Logic
Orange Bird's web design and web development specialists created a clean, modern, and mobile-friendly website redesign for Canvas Logic to showcase their interactive product configurator.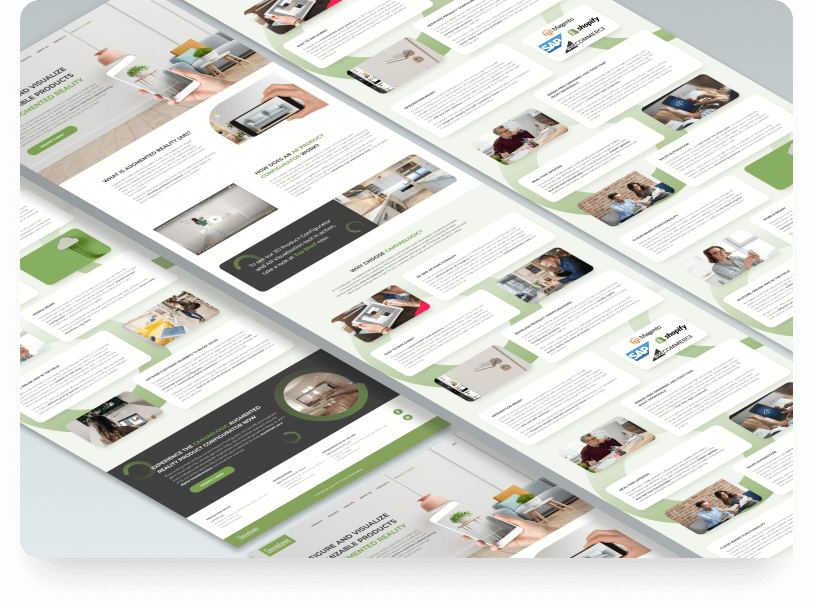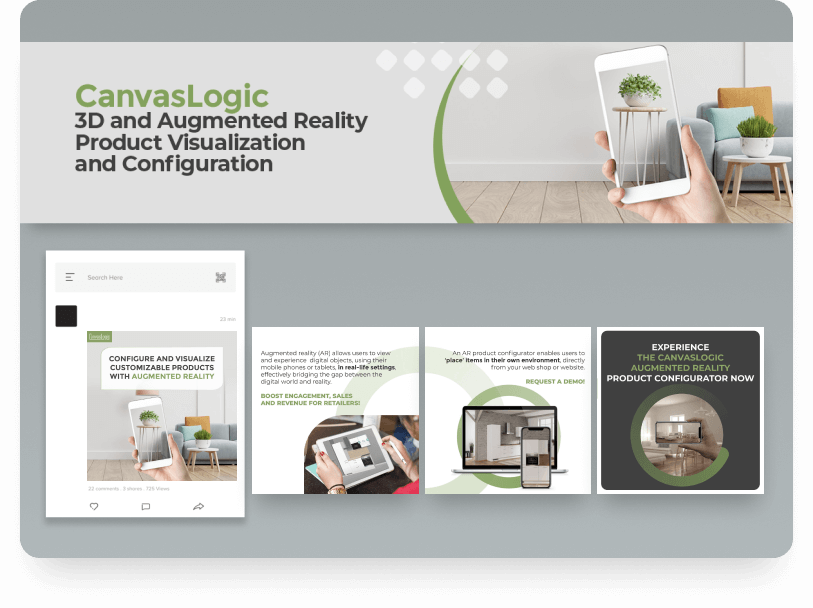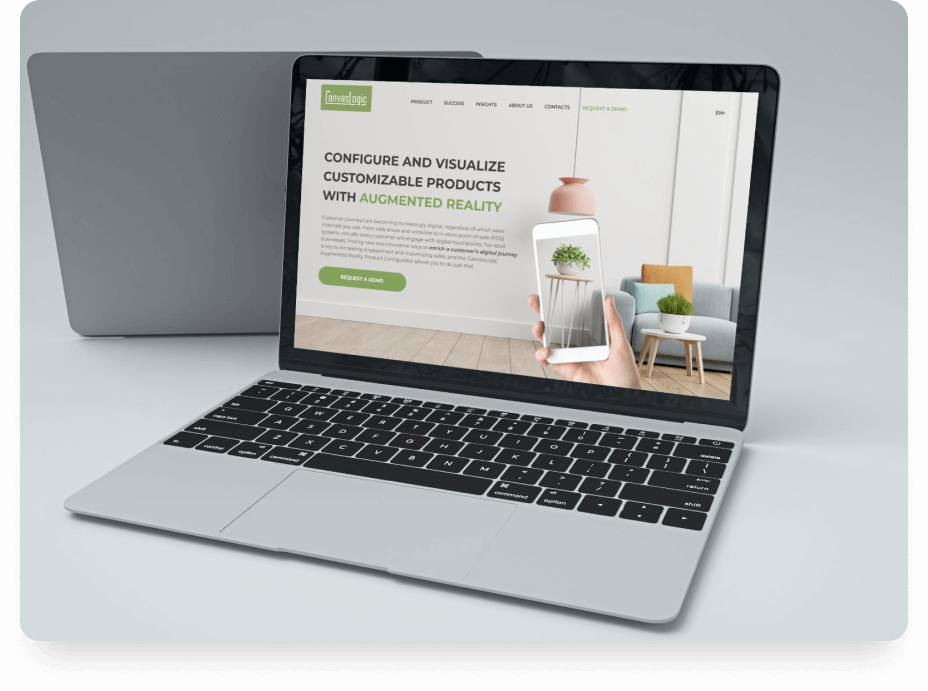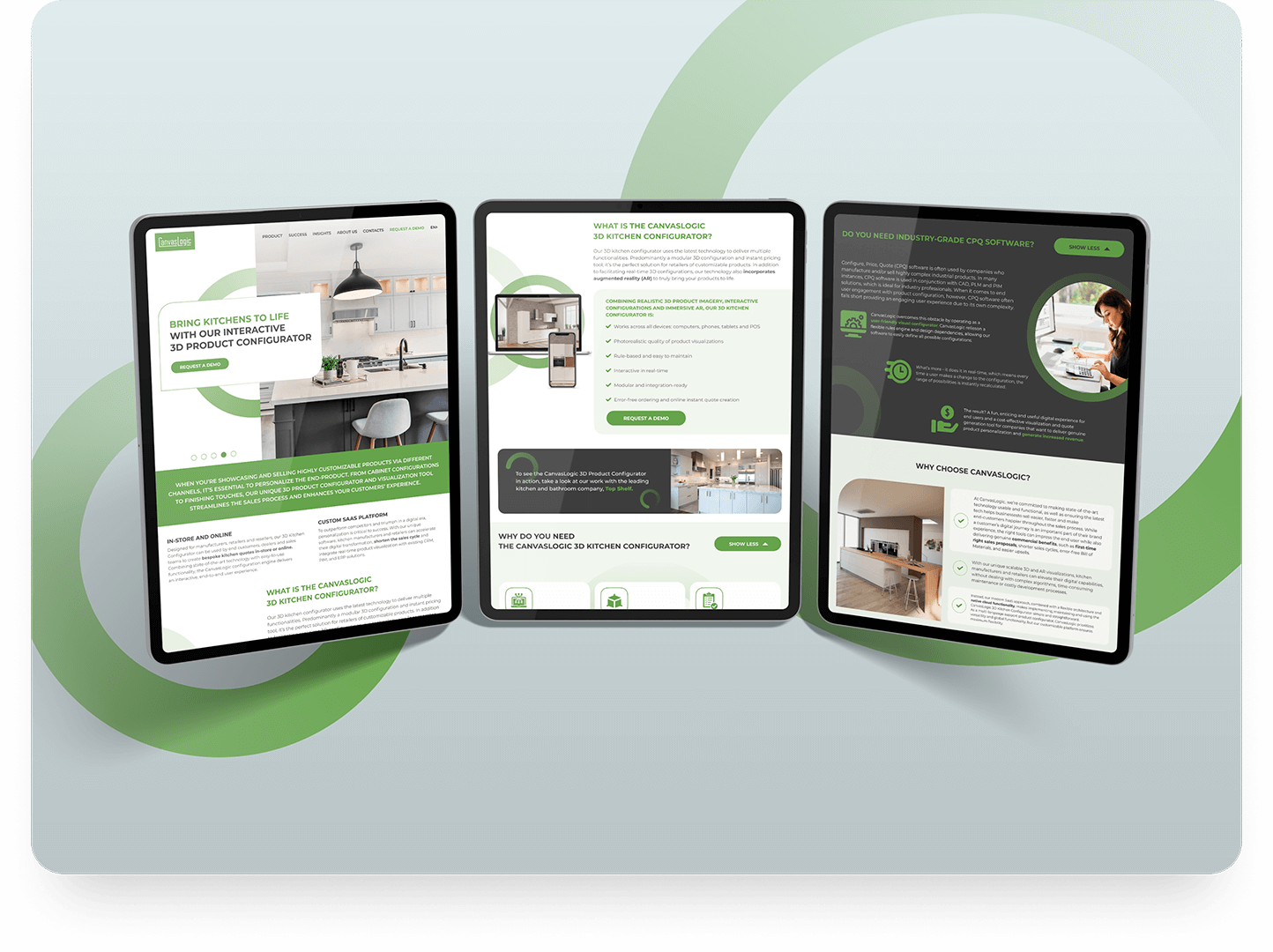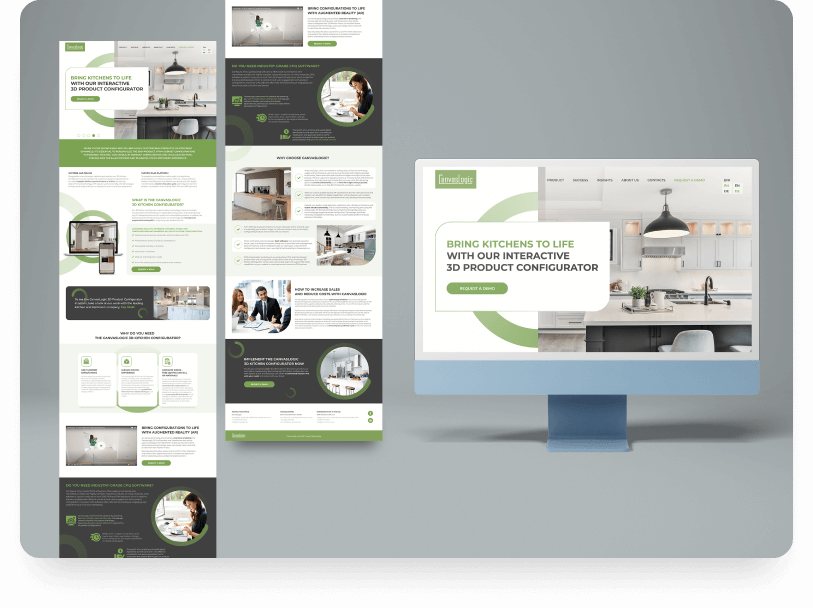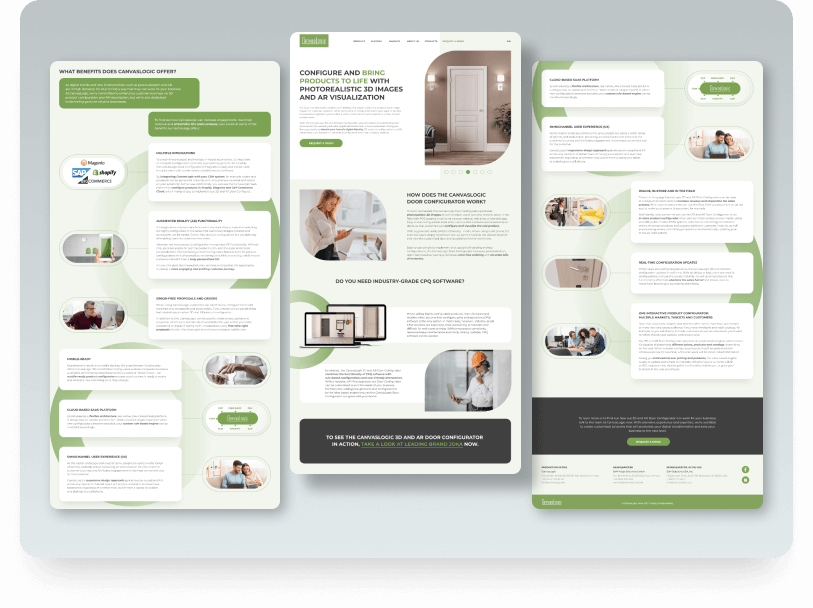 Grown Bio
Sustainability is in the DNA of the brand identity that Orange Bird developed for the biotech company Grown Bio. We designed a new logo that became the seed for gorgeous and inspiring social media graphics and other marketing materials.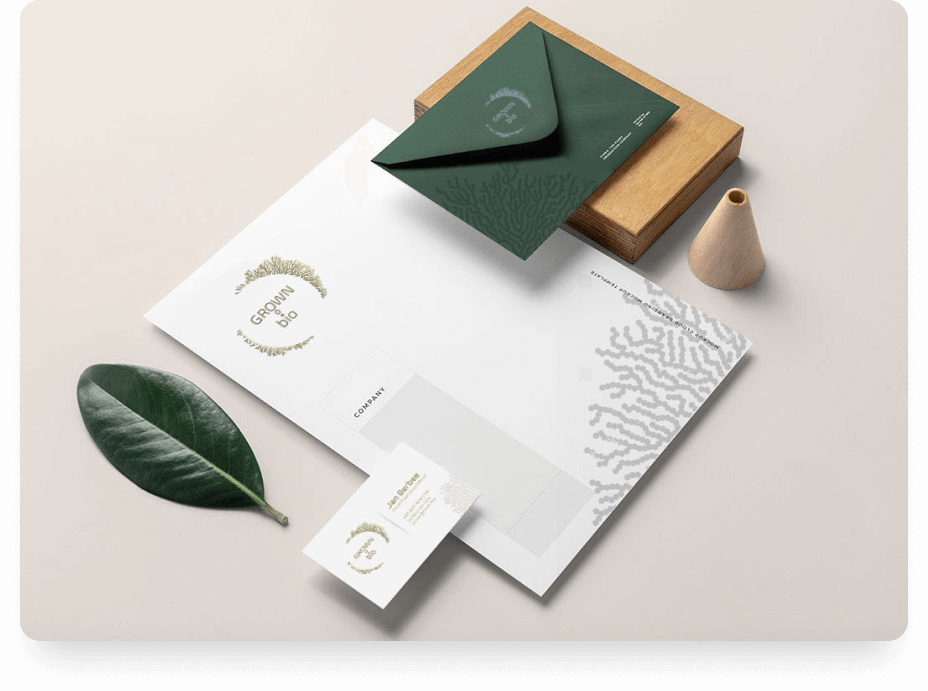 Contact Orange Birds online