Why Orange Bird: Passion, deep industry knowledge and a network of sustainability contacts
In an effort to provide a better world for future generations, Orange Bird Agency is on a mission to help faster adoption of environmentally sustainable products and services. SEO is one of the core instruments for cleantech companies to win more visibility over traditional and polluting technologies.
Our passion for clean technology, combined with a solid network of contacts from the sustainability industry and multi-year experience running SEO for tech sector, makes us successful in helping cleantech and positive-impact companies to be found quickly, convey their message to more prospects and get more clients.
Get your website assessment or see how we can help.
We provide the first SEO Audit report free of charge.
Modern holistic SEO approach
At our Agile marketing agency we work in iterations, deliver measurable results that continuously contribute to long-term success, and integrate SEO into the entire digital marketing strategy. We help websites rank higher using modern ethical SEO services backed by the best digital practices and a consolidated approach.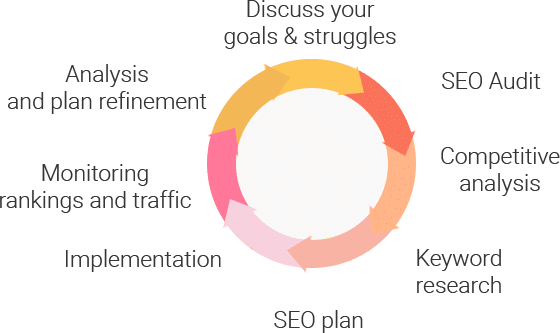 Our SEO services
We make an overall assessment of your website's SEO performance with suggested areas of improvement
You get to understand your current SEO situation and what effort to expect to put in to achieve your goals. From that point, you can move on to strategising your SEO plan.
Often websites benefit from quick fixes that take just a few hours and help solve the most critical problems.
If we detect urgent issues that block indexing or growth in rankings or roadblocks that will zero out SEO efforts, we quickly do a fix that takes just a few hours.
If there were critical issues with your site SEO, you might see some positive results just a few weeks after the fix.
Before digging into keywords, we factor in whether you already have any non-branded ranking background or your SEO authority will be built from scratch.
Based on that, we'll 1) either need first to define your Buyer Personas to build a SEO core not around erroneous assumptions, but around keywords really used by your target audience; 2) or proceed with the most valuable topics based on existing SEO data.
Be it growing your brand authority, getting faster results with untapped semantics or focusing on exploring new topics – we'll be on the same page regarding the next steps. You'll make sure our SEO efforts center around the right goals.
We analyse popular search terms as well as your customers' search habits and detect the most valuable opportunities for your company's rankings and traffic growth.
We further look into search volumes, competition strength, relevance and other factors to prioritise topics and keywords.
You get a list of topics with core keywords and long-tail keywords, mapped to your website.
This lets you maintain a website with a proper SEO cluster structure which results in earlier traffic and rankings improvements which are also more sustainable.
Your SEO competitors are almost never the same as your real-world competitors.
We understand the specifics of outranking different types of websites and will create the right strategy based on who your SEO competitors are, what kind of pages they have and what SEO strategies they rely on.
Identifying competitors and analysing their strategy helps in both benchmarking and in SEO implementation.
We take care of the technical aspects of your website to make sure it's built according to Google's SEO guidelines and nothing is blocking or threatening your rankings.
Then we improve old content, its HTML structure and meta data, create new content and take care of interlinking pages to make your website structure more Google-friendly.
As a result, your website is ready for modern search engines' algorithms as well as easier for search engines to crawl and index.
We are building high quality external links from websites with good authority and relevant themes. We ensure that all links we build are using the right anchor text (with keywords in a balanced, natural way).
We proceed from simple to advanced techniques and are always on the lookout for creative ways to boost your inbound link profile. Of course, we also take care of all communication for link building.
You will see a natural growth of your inbound link profile.
Links will come from relevant, authoritative webpages, so that they transfer more PageRank, build credibility for your website and you do not run the risk of getting penalised by search engines for low-quality link profile.
Our copywriters create content for different purposes and in different forms, depending on your current SEO needs. According to high standards of Orange Bird Agency, all content for the web is created while applying modern SEO principles.
Every new piece of content you receive from Orange Bird Agency will be SEO-ready and optimised for your target search terms.
We monitor your site rankings using our in-house tools, and analyse metrics collected via Google Analytics and Search Console.
Besides checking site performance, we evaluate the efficiency of the current strategy and adjust it based on new opportunities, past successes or failures.
You get a clear idea of how your webpages are ranking over time. Moreover, you will understand whether ranking changes result in more traffic, leads and sales.
You understand the SEO impact on the bottom line, and know how to achieve further improvement.
If needed, we can run a quick SEO training for someone at your organisation to explain the key terms, how things work and why, and answer your specific questions.
You get a better understanding of how SEO fits into your overall strategy and can set goals that have a real impact on your business.
More details on how we do SEO:
Provide SEO services for websites in English, Dutch, Russian and other languages
Take into account the specifics of your business (legal regulations, security, and more)
Know how to do SEO for websites built on different CMS systems:

WordPress

Joomla

Drupal

Wix

Magento

Squarespace

TYPO3
You get help from experts who see the big picture beyond SEO
SEO, social media, content marketing, paid ads, conversion optimisation and other digital marketing services often go hand-in-hand, and our team has deep expertise in each of these aspects.
We have a broad range of digital marketing expertise, and the right specialist will quickly join when it's necessary for your project needs. As your business evolves, you might see the need in more marketing services. You will be able to extend your package with Orange Bird instead of having to hire another organization.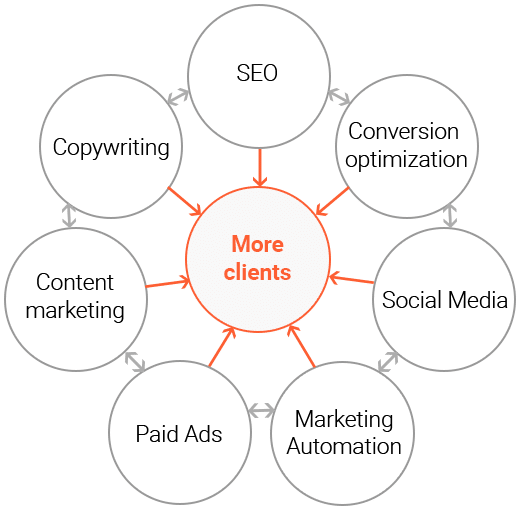 Team's experience in numbers:
We top it up with our passion for cleantech, good network of sustainability contacts and deep industry knowledge – and work hard to boost visibility for our clients' projects.