on Wednesday January 25, 2023
Sustainability Marketing Successes, 2022 Edition
Cleantech content marketing, eco-friendly branding, marketing agency recognition and more. Here are a few of the sustainability marketing achievements we're proud of in 2022:
Cleantech content marketing and branding successes
Our content marketing muscle gets stronger and stronger. As well as pitching topics and devising comprehensive content strategies, we have written and published a number of articles on climate-related and cleantech topics. 
For example, check out the recent article Orange Bird helped write for SurfCleaner: "An Overview of European Carbon Taxes and Their Impact on Emissions". Orange Bird's content marketing support, combined with our help finding relevant industry and environmental directories to publish listings, has helped increase SurfCleaner's high quality backlinks by more than 4x in the last year.
We produced a range of content for Climeon, including a White Paper: What Is HeatPower?, a press release, and a technical article about heat waste recovery, which have received good feedback from internal and external audiences. Orange Bird also wrote a number of editorials and external articles for Climeon in 2022, including features in Sea Technology magazine and Clean Shipping International.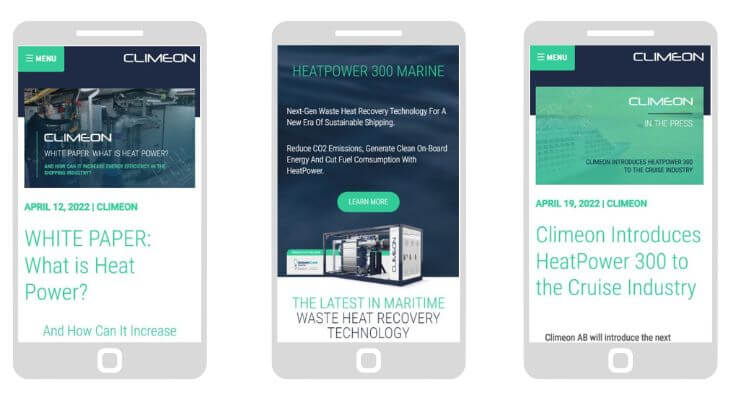 In early 2022, Orange Bird expanded our multilingual marketing services to offer German language copywriting for our clients, thanks to Ibis and Buzzard, the Native-German speakers in our flock. Orange Bird can create native-speaker content in: British English, American English, Dutch, Belarussian, and now German for our clients around the globe.
Our work for tech client, CanvasLogic, is a great example of our multilingual sustainable marketing services. In 2022, we created a variety of new web pages for the CanvasLogic website in both English and German. Notably, the new Product page quickly became a key part of the customer journey, accounting for more than 20% of page views.
After successfully onboarding our new client, Bright Canary, we developed a new content strategy for the brand and began creating engaging and original content. Committed to delivering data-driven sustainability to companies, Bright Canary empowers businesses to track, reduce and report GHG emissions in real-time. Our first piece of content for Bright Canary, 'Commercial Real Estate: Reduce GHG Emissions to Maximize Value', flew to the top of their site and within just 7 days it became the most popular page on the Bright Canary website, accounting for 22% of page views!
Read more about Orange Bird's content marketing services
Creative successes for sustainable clients
Our in-house designers and developers work tirelessly to bring brands to life – with outstanding results! From eye-catching social media content and engaging landing pages to full rebrands and enticing websites, Orange Bird conveys a company's value proposition using imagery, animation and graphics.
In H2 2022, we produced appealing and attractive landing pages for Bright Canary and Climeon, in accordance with their respective marketing stratgies. Fully SEO optimised and filled with audience-centric content, our landing pages hit the mark and played a critical role in ongoing campaigns.
As well as creating individual landing pages on behalf of sustainable clients, we spent much of 2022 redesigning websites and refreshing brands. Collaborating with a new client, Native, a Public Benefit Corporation, based in Vermont, USA, we designed a new, immersive and interactive homepage, as well as service pages, a contact page and project templates. Additionally, we created a fresh new homepage for Climeon to reflect the brand's evolution.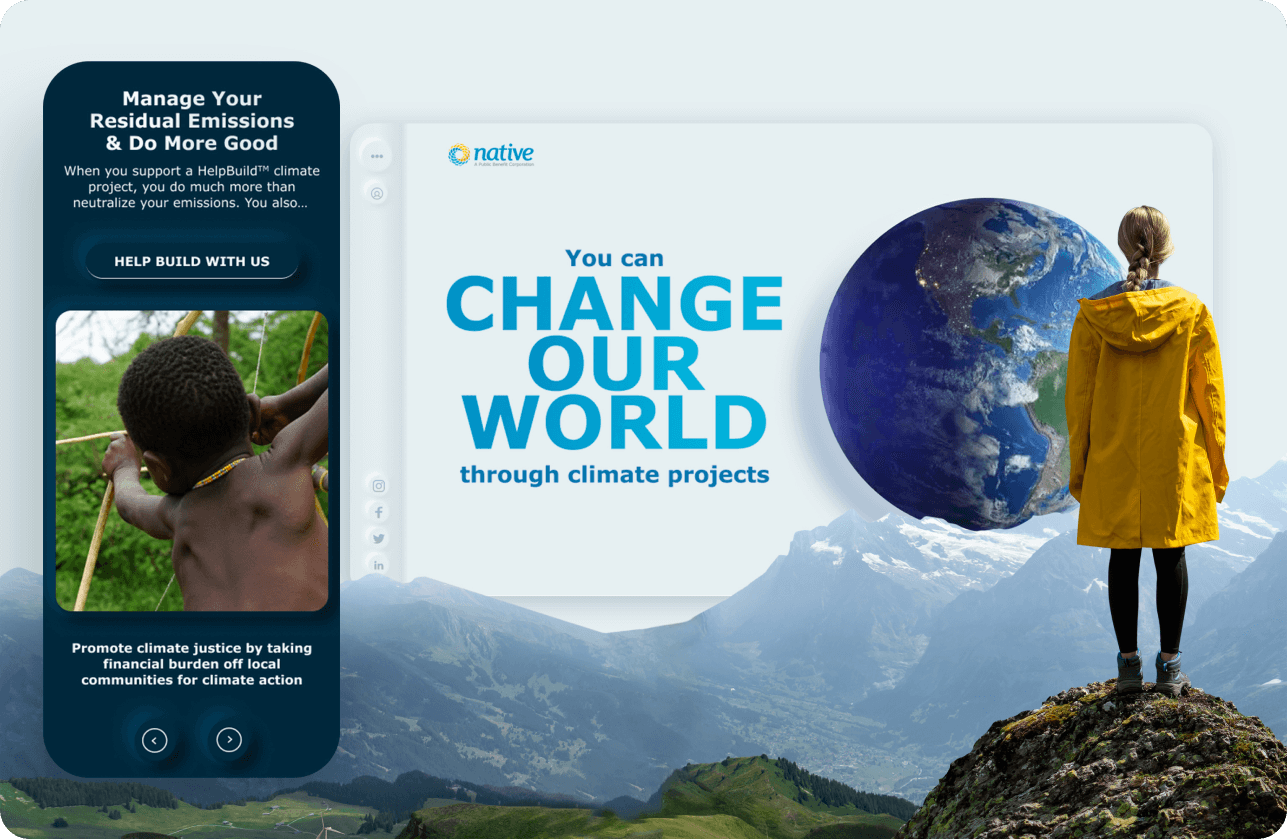 For our new client, Rivus Batteries, we assisted with brand development and helped the company reflects its product, values and ethos via its branding. Creating a new homepage, as well as Service pages, an About Us page and a Contact page, the entire website has been refreshed and updated to showcase Rivus' new brand assets and attributes.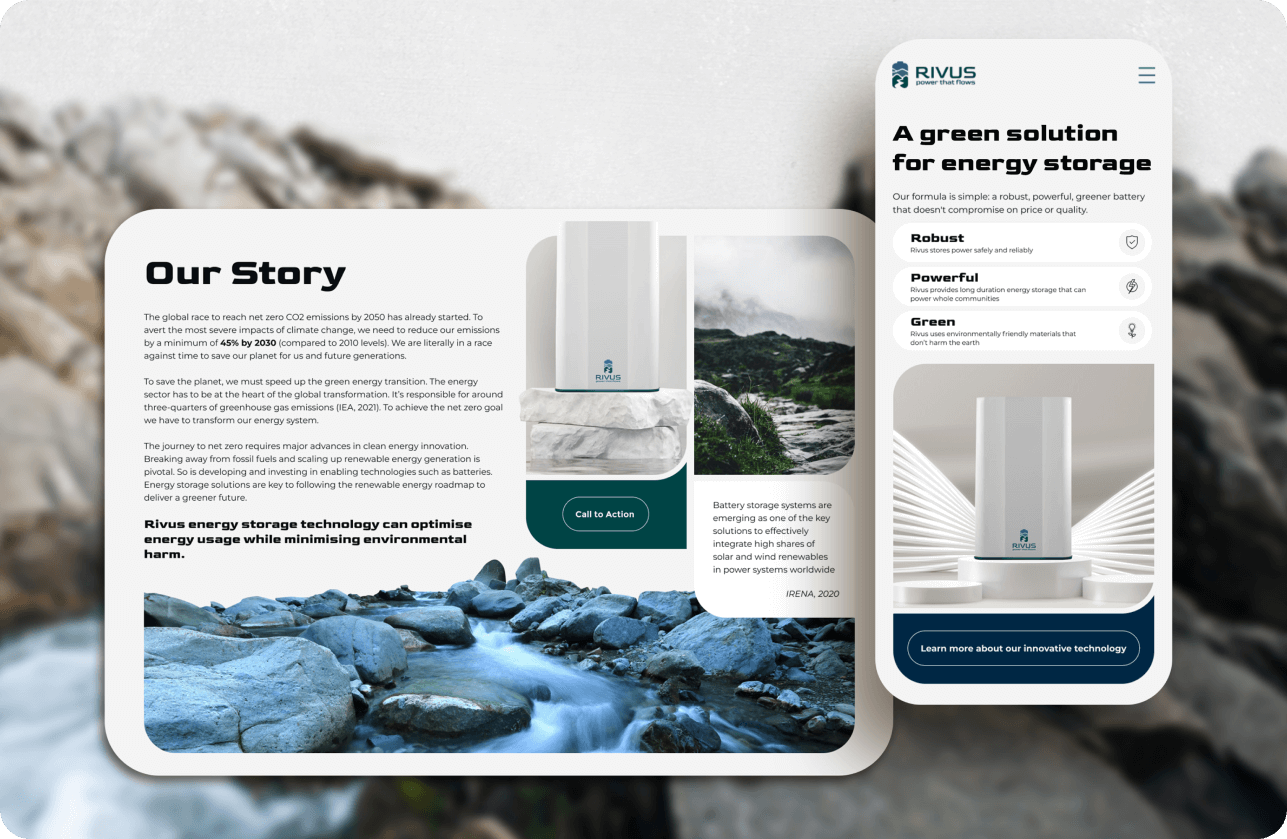 Throughout 2022, Orange Bird's talented designers created an exciting range of materials for our clients, including carousels for paid social media campaigns, brand logos and email templates for email marketing campaigns.
Video marketing is becoming increasingly effective, as demand for video content continually increased throughout 2022. In response to this marketing trend, Orange Bird incorporated video content into numerous client content strategies and created a variety of videos in keeping with our clients' respective marketing strategies.
For example, we used video content to blend real world and digital environments at a trade show for Bright Canary and video advertising to maximize conversions and enhance the ROI for Bright Canary's PPC campaigns.
Website and marketing automation successes for eco-friendly clients
In a short time, Orange Bird was able to make the website of our client, CanvasLogic, more competitive and introduced new features, new pages, QR codes, interactive models, and other cool things. With careful planning and by repurposing some existing content and functionality, we were able to save a lot of time and budget for the client, while ensuring an excellent result. In H1 2022, we also implemented multi-language functionality on the Climeon website, enabling our client to expand their global reach. 
Orange Bird implemented Hubspot marketing automation for our client, friendlyway, to streamline their lead capture and follow up processes. Friendlyway has been very happy with the new visibility into their leads and the improved consistency, speed and professionalism of lead follow up.
We keep a close eye on our clients' website and ad campaign health scores, and keep them high by improving meta, titles and page speed; carefully monitoring and optimizing ads, landing pages, bids, and keywords regularly; with well-coordinated teamwork. By the close of 2022, we elevated CanvasLogic's SEO performance so much that Ahrefs reported 'no issues found' following a comprehensive site audit!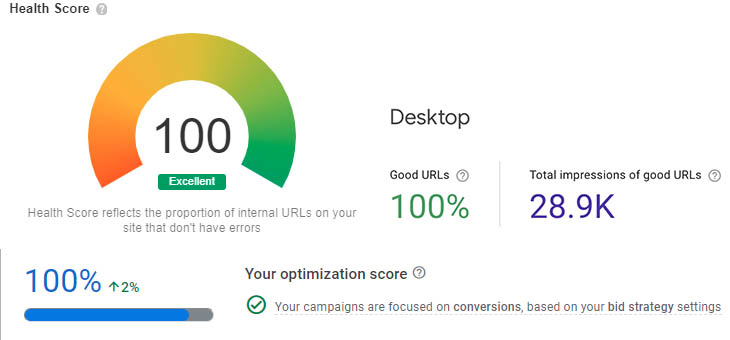 Technical website performance plays an important role in optimising SEO performance, which is why it's an essential component of online sustainability marketing. Our in-house developers and tech experts are always on hand to resolve issues in real-time and implement strategic optimisation activities to maximise site performance and enhance online security. We were able to improve Native's desktop page speed by an average of 25 points per page, for example, thus enhancing the user experience (UX) and improving SEO performance.
SEO successes for cleantech clients
Search engine optimisation (SEO) is an essential method of increasing brand awareness, boosting website traffic and securing new leads. Getting web pages to the top of search engine results pages (SERPs) is no easy feat but the Orange Bird team use a combination of on-page SEO, off page SEO and technical SEO to deliver impressive results
For example, we transformed cleantech client's, Climeon's, organic search performance in just 12 months, with achievements including:
Increasing organic search traffic by 5X 

Increasing search CTR by 3.92X  

Decreasing average SERPs ranking by 102.6% 

Increasing external links by 22.97%  

Increasing referring domains by 115.13%  

Increasing referring domains with a DA of 90 – 100 by 150%  

Securing referring domains from Medium, TechCrunch, Finance.Yahoo, FT, Fortune, Gartner, TradingView, Eniro, Pitchbook and BloombergNEF  
Proven data-driven paid social media campaigns for our clients
We're proud of our team's flexibility to work quickly, providing the best result for our clients. Orange Bird was able to beat LinkedIn benchmarks for CTR (click through rate) by more than 2x and CPC (cost per click) by 4x. This was accomplished through careful targeting to select the most relevant audiences and ongoing A/B testing with new creatives. 
New LinkedIn campaigns launched by Orange Bird for friendlyway during the first half of 2022 surpassed LinkedIn's own benchmarks for CTR and CPC. Cost per click on one ad group decreased from €6.05 to €1.41
LinkedIn CTR benchmark is 0.2 – 0.35 vs, Orange Bird's result for friendlyway is 0.78 

LinkedIn CPC benchmark is 8 Euro vs. Orange Bird's result for friendlyway is 2-3 Euro  
For Climeon, we launched a highly targeted campaign to establish the brand in new markets and, again, surpassed LinkedIn's benchmarks by a significant margin:
LinkedIn CTR benchmark is 0.2 – 0.35 vs, Orange Bird's result for Climeon is 0.77 

LinkedIn CPC benchmark is 8 Euro vs. Orange Bird's result for Climeon is 3.11 Euro  

LinkedIn conversion benchmark is 5 – 15% vs, Orange Bird's result for Climeon is 7.74% 

LinkedIn video engagement rate benchmark is 0.5% vs. Orange Bird's result for Climeon is 0.94%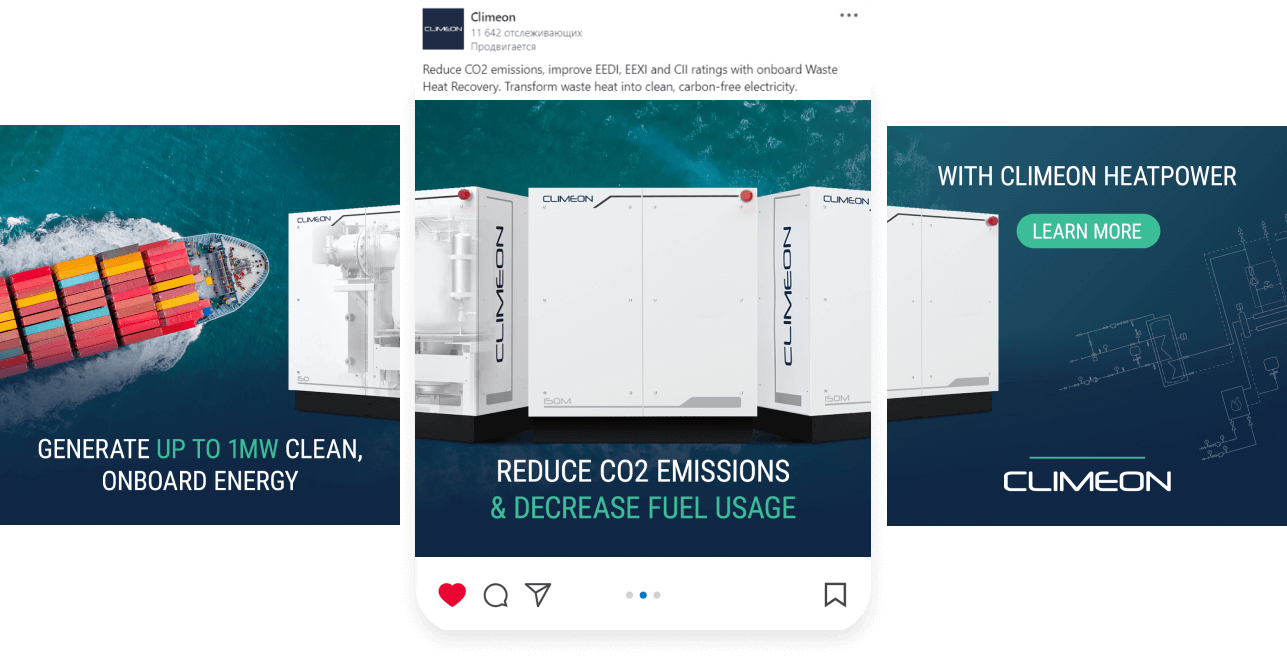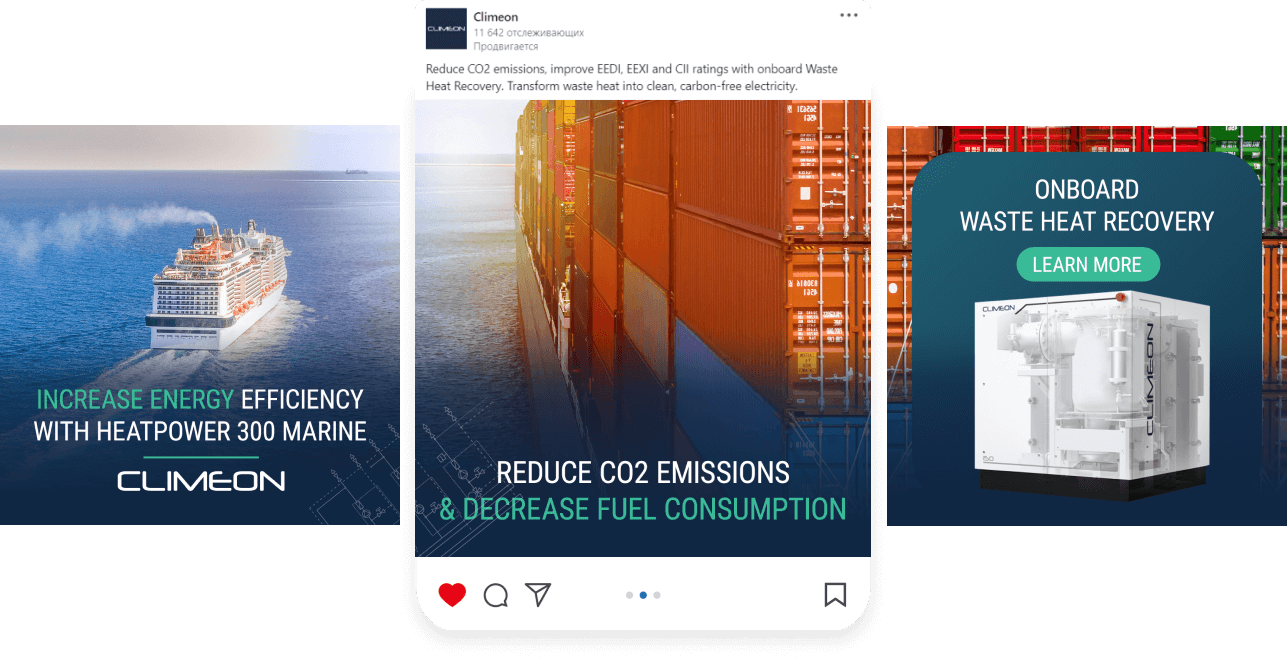 We also relaunched a Facebook lead generation campaign for Volksuniversiteit Amsterdam, gathering new subscribers for the newsletter. For a relatively small budget, we gained +200 subscribers for E1.60 per lead.
For more details and tips for your future lead generation campaigns on LinkedIn, please see our recent case study about lead generation for our cleantech client Grown Bio and our pro tips for leadgen campaigns on LinkedIn.
SEM successes for our clients in 2022
Search engine marketing (SEM) is a great way to increase brand awareness, drive targeted traffic to your website and generate lucrative leads. As a Google Partner, Orange Bird has in-house Google Ad certified specialists who are adept at maximising campaign performance and optimising the ROI.
For example, we achieved a 100% optimisation score for SurfCleaner's Google Ads campaigns and increased the click-through-rate (CTR) by an average of 179.5% across five ad groups.
But the success didn't stop there! Orange Bird successfully optimised Google Ads campaigns for CanvasLogic too and reduced their cost-per-lead by a staggering 44.4%.
Organic social media successes for cleantech brands
Over half the world's population uses social media, which makes it a great way for sustainable brands to reach both B2B and B2C audiences! By devising, implementing and optimising organic social media campaigns, we help our clients to build a following, maximise their reach and engage their target audience(s).
Cascade Drives, a company which Orange Bird supports with LinkedIn social media content, increased their followers organically by 28% from January to April 2022.
In 2022, Orange Bird secured impressive organic social media results for Climeon too:
Growth rate: 10.25%, 3.5X higher than average 

Page views: +753.8% Unique visitors: +710.6% Custom button clicks: +554.5%</span/ 

Reactions +568.2% Comments: +167.9% Reposts: +346.3%

Engagement rate 7.033%, 2.34X higher than average  

Organic reach rate (ORR): 18.44%, 3.9X higher than average
Cleantech email marketing successes
Email marketing is a fantastic tool for increasing your reach, improving brand awareness and building relationships with existing and potential customers. What's more – it can be a cost-effective way of maximising retention rates, generating targeted website traffic and securing new leads.
In 2022, Climeon teamed up with an external partner to launch a large-scale, global email marketing campaign. Orange Bird were tasked with designing the email template, drafting engaging copy and preparing the code to ensure seamless functionality. Bringing our in-house designers, copywriters and developers together, we created a compelling and enticing marketing email that delivered outstanding results, including:
Open rate: 40.21%, compared to an average industry benchmark of 19.66% 

Website traffic: +91.08% 

Site sessions: +82.67%

Contact submissions +669.23%  

Conversion rates: 5.96% and 3.43%, compared to an average B2B benchmark of 1.2%

Cost per conversion: $24.86, less than half the average B2B benchmark of $53
Following the success of this campaign, Orange Bird consistently nurtured Climeon's email marketing subscribers, implemented follow-up campaigns and successfully launched a companywide email newsletter to strengthen relationships with the brand's target audiences.
Customer Development and Product Launches
Whether you're building a new product, expanding into a different market or launching a product, understanding your target audience is critical to success. At Orange Bird, we offer CustDev (Customer Development) services that help sustainable brands to understand their audience, refine pitches, perfect value propositions and build fruitful relationships from the get-go.
Simultaneously, we're on hand to provide professional marketing support when it comes to product development and launches. When Climeon was developing a new product line, for example, they turned to Orange Bird to strategise a long-term launch campaign. Combining landing page design and development, public relations (PR), event marketing and much, much more, we devised and executed a flawless launch campaign that culminated in Climeon's new technology being named 'Product of the Year' at the prestigious Seatrade Cruise Awards 2022!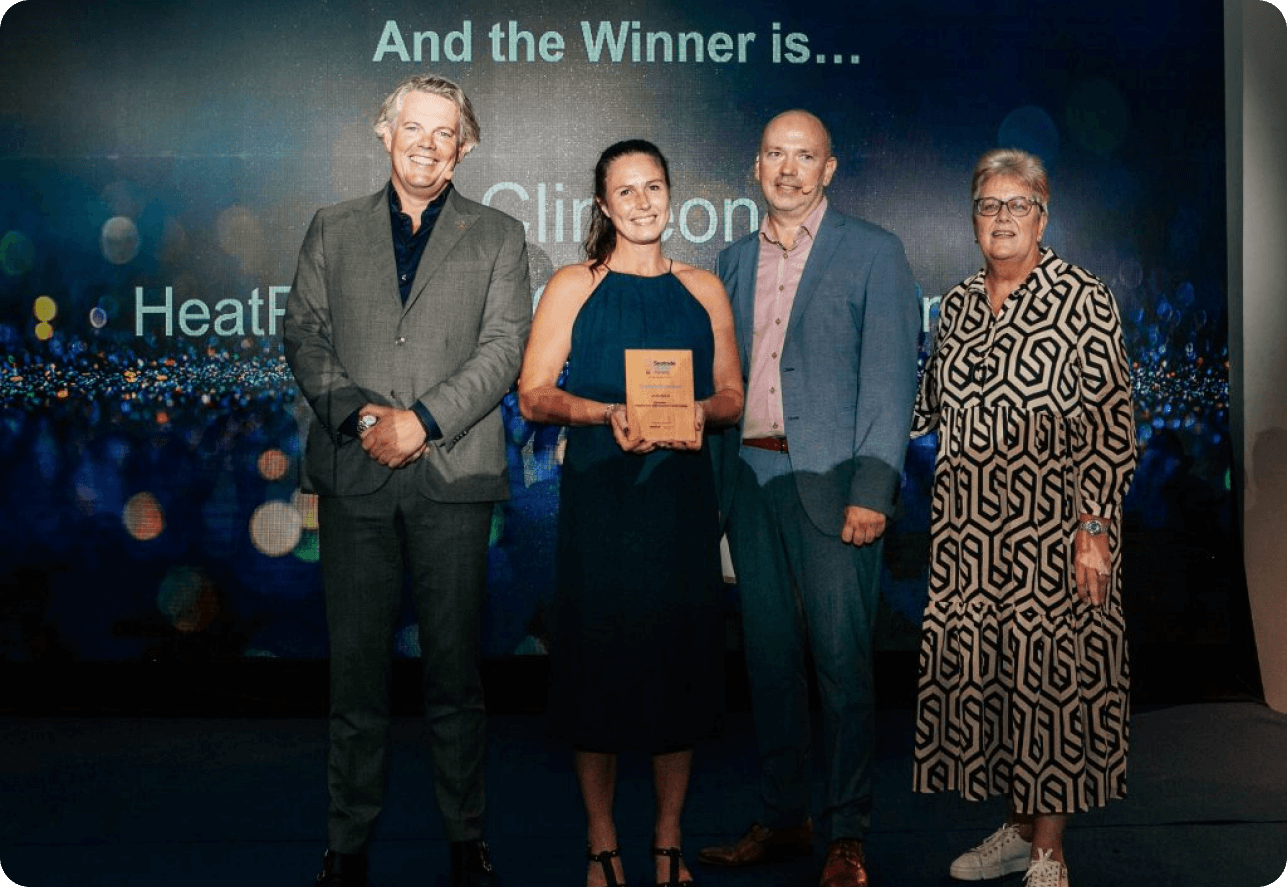 Earning recognition as a marketing agency of distinction
Orange Bird was approved for a profile on AgencyVista.com and CreativePool.com. Both sites accept companies only after an application process has confirmed they are experts in their industry and have a good body of work. 
In addition to expanding our reach with profiles on top-tier agency websites, we're consistently and continually enhancing our skills and developing our in-house specialisms. Throughout 2022, the Orange Bird flock undertook additional training and obtaining a variety of certifications, including:
HubSpot CMS for Developers Certification 

HubSpot CMS for Developers II: Best Practices Certification 

HubSpot Email Marketing Certification

HubSpot SEO Certification  

HubSpot Inbound Marketing Certification

Google Analytics Certification

UX/UI Designer Certification
Numerous members of the Orange Bird team also renewed their Google Ads certification, ensuring we're up to date with the latest optimisation techniques and able to deliver enhanced campaigns to all clients.
Growing Orange Bird's client-base in the Americas and Europe
We welcomed an array of new clients in 2022, including Native, a Public Benefit Corporation based in Vermont, USA; and a South American nonprofit focused on wetland conservation and reforestation, Unschooler, that is expanding to the EU market and wants to embrace sustainability and teach sustainability to teens, and Bright Canary, who are bringing data-driven sustainability tools to the market.
As we continue our work for new and existing clients, we're delighted to expand our reach throughout the Americas and Europe as we build an impressive client base of CleanTech, Climate Tech and Circular companies.
And we are pleased to report our clients are happy with our work! See the comments under our post which starts with "We are deeply proud and privileged to provide marketing services to SurfCleaner…"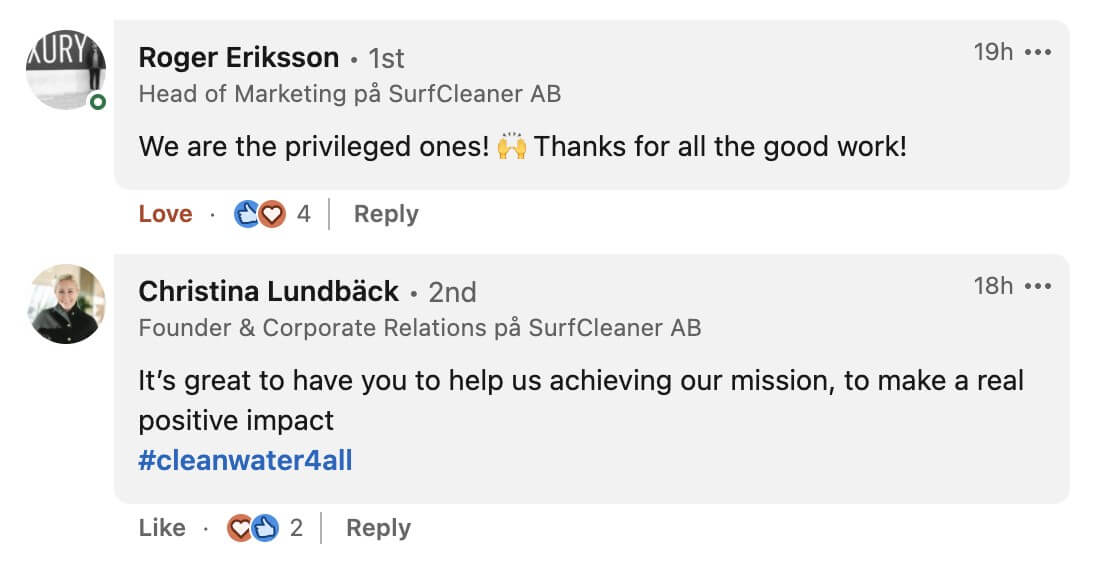 As we wave goodbye to 2022, it is with a good deal of determination that we move forward with hope and optimism. Our eyes are set on doing our part to heal our planet and society so that our children and their children can pick up the baton and run their race well on this beautiful blue ball we call home.  Read about our sustainability learnings from 2022 here.
Do you want to talk about your sustainability marketing objectives for 2023?
We're all ears. Reach out to us to start a conversation about how we can help you achieve your goals for both marketing and sustainability.
Previous post
Next post