on Monday September 26, 2022
Marketing Learnings & Tips, H1 2022 Edition
We are a bit stunned that 2022 is approaching its final season. For those of us in the Northern hemisphere, summer has long since passed the baton, and autumn is off and running. As we carry the yoke of the harvest season, let's take a moment to orient ourselves toward the future by reflecting on some of the things that 2022 has taught us so far… about marketing, sustainability, and this gorgeous Blue Ball where we live, love and work.
We Must E.A.T. to Grow 
The EAT principle offers a quick and helpful checklist to create online content for your eco-friendly brand or climate tech company. E.A.T. stands for Expertise, Authoritativeness and Trustworthiness.  It is what Google uses to determine if a web page provides quality content. Improve your EAT score by following a few basic guidelines:
Create unique and useful content
List sources
Include a biography reflecting the experience of the author
Don't use auto-generated content, large ads, paid link campaigns, or overtly "selling" content 

To boil it down, following the EAT principle will guide you to publish nourishing online content that is genuinely helpful to your audience.
Email Personalization 2.0
We've all heard that email personalization improves open and click rates. Segmentation of email campaigns alone can increase revenue by up to 760%. But how to avoid sending an ill-formed email like the one we received recently addressed "Hello Mr. Orange Bird Agency"? Here are a few things you can do to send personalized emails that actually connect. 
Build a list you can segment by collecting useful information at your forms, using quick surveys to ask new subscribers what subjects they find most interesting, and tracking user behavior to share relevant information they can use.  The most effective way to segment your email lists will depend on a multitude of variables, including, first and foremost, the problems solved and jobs-to-be-done by your product, but also whether you serve customers in a B2B or B2C capacity, your geotargeting, and what kind of product or service you offer. 
Let's take ourselves as an example. Orange Bird provides marketing services to clients worldwide whose businesses revolve around climate action. All of our clients are interested in sustainability and marketing. But our contacts with interests in the EU might be interested in European emissions regulations, while contacts in the Americas are more focused on voluntary climate action and ESG news. Likewise, contacts who represent cleantech start-ups have different needs from our contacts from conservation nonprofits.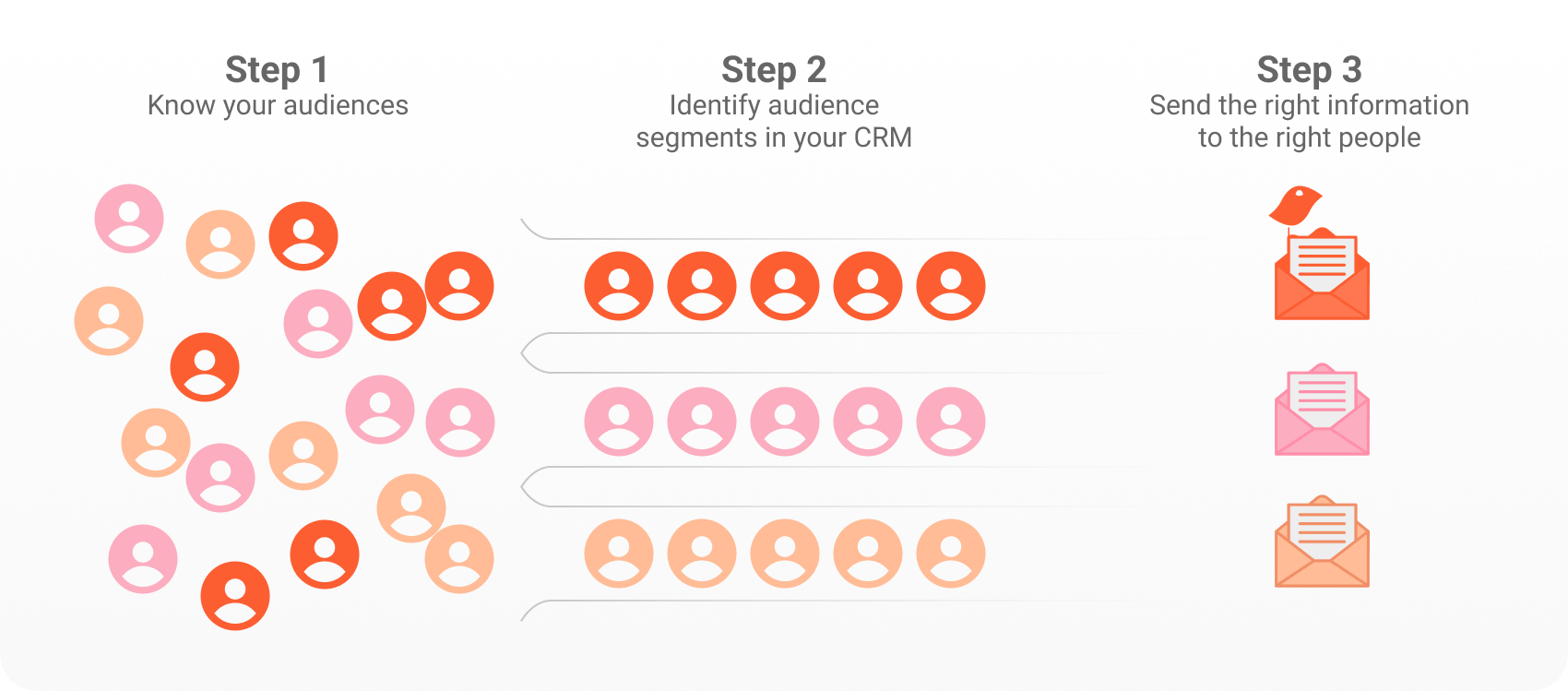 Step one is to understand your various audiences and what information is most relevant to each one. Then, step two is to make sure your CRM identifies which segment (or segments) are relevant for each contact. Step three is to send the right information to the right people at the right time. It's important to keep your data accurate, clean and current. You can't do a good job of personalising the way you serve your customer or prospect if you don't don't have the right information about her. 
Align emails with the buyer's journey by sending triggered emails for relevant next steps at important moments along their journey. An example path might look like this: After a newsletter sign-up, invite subscribers to join your social media communities. After a brochure download, send an invitation to view a demo. After a demo, send an invitation to request a quote. After a purchase, send a request for feedback. After a positive satisfaction rating, send an invitation to participate in a case study. And so on.

Make the next steps clear and easy. It's simple, but often overlooked: make sure links are current, the landing page is optimised, and the design and feel of the email and landing page match. And do test the email before distribution in different email clients, including mobile versions. 
Use LinkedIn Language Targeting, But Not Like You Might Expect
Let's say your climate-tech company operates primarily in Germany with a modest but growing international presence. How would you configure your LinkedIn advertising campaign? Logic and reason might lead one to create a campaign targeting users with profiles set to Deutsch-language, showing content written in native German. Surprisingly, our testing shows that in this scenario, targeting LinkedIn users with profiles in English results in significantly better results than targeting non-English profiles – even in the locations where English is not a state language.
An approach that has yielded successful results in non-english speaking regions is to target profiles which are set to English, but use ad creatives which are written in the native language of the target region. By using this approach, we were able to consistently improve performance over variations which used native-langage profile targeting, achieving 4x better cost per click compared to LinkedIn benchmarks.
Martech News and Tips from Our Webdev Wizard
Here's a simple hack to block bad actors. Spammers are clever and persistent. It's important to stay ahead of them to keep your website secure and protect your data and your customers' data, too. A quick and simple way to block attacks at your website is to change the admin url. Many phishers have learned how to hack the standard WordPress admin interface which defaults to yourdomain/wp-admin.  To make it a little tougher on them, change your admin login URL to something unique. This will prevent automatic password-breaking attempts.

Google PageSpeed has changed its algorithms for determining the quality of a site. In addition to current audit data, Google also collects historical data based on analytics and provides recommendations on how to resolve them.

We recommend using Lighthouse, a built-in Google Chrome tool, for deeper website optimization insights. It has a lot of tools that complement Google PageSpeed and also collects real-time data, which will allow you to track current problems from your device.

Load speed optimization plugins are a good solution for speeding up your site, however, for the best solution, you will need to combine the functionality of the plugin with your own improvements.

Speed up the loading of websites by using images with the correct format and weight. Using the webp format will significantly reduce the weight of posts and pages.

Hubspot is a good solution for working with forms, but it can slow down your site a lot if it loads while the site is loading. To avoid this problem, you need to use lazy data loading.

Google's next generation of Analytics (GA4) will replace Universal Analytics in 2023. Get up-to-speed on the basics of GA4 and its event-based model by taking Google's Skillshop training.  You can also read more about GA4 in our article from H2 2021. 
Do you want to talk about working with Orange Bird to achieve your sustainability marketing objectives?
At Orange Bird, we are single-mindedly driven to contribute to the mitigation of the climate crisis. Our strategy is to learn all we can about climate issues and marketing best practices; always honing our skills and broadening our experience. In this way, we are able to provide the best marketing support to our clients who are offering or implementing climate solutions that will better our planet and society. Read about Orange Bird's sustainability marketing successes from the first half of 2022.
Whether you are interested in working with us as a client or in joining our flock as a team member, we're all ears. We are growing in virtually every direction, and we'd love to chat about how we can partner together for a healthy planet. Reach out to us to start a conversation.
Sources
About the author: Jenny Watkins is a marketing professional with 20+ years of experience and a deep concern for the wellbeing of individuals, communities, and ecosystems. Among the Orange Bird flock, she is known as Egret.
Previous post
Next post