Summary
Marketing for circular companies: Read on to find out how sustainable branding agency, Orange Bird, helped to rebrand biotech company, Grown.bio, and implemented lucrative B2B lead generation campaigns to convert top-level decision-makers, achieving a conversion rate of 11.85% and a cost per conversion of just €32.85.
Background
Grown.bio is a biotechnology company that develops innovative products from naturally grown, sustainable mycelium composites. Based in the Netherlands, the company operates within a variety of sectors within the European market, including interior design accessories and homewares, product packaging and building materials.
Responding to increasing demand for sustainable and eco-friendly products, Grown.bio enables businesses to reduce their carbon footprint via 'grown' packaging and provides consumers with access to functional and contemporary decorative accessories, including lamps, wall tiles and coolers.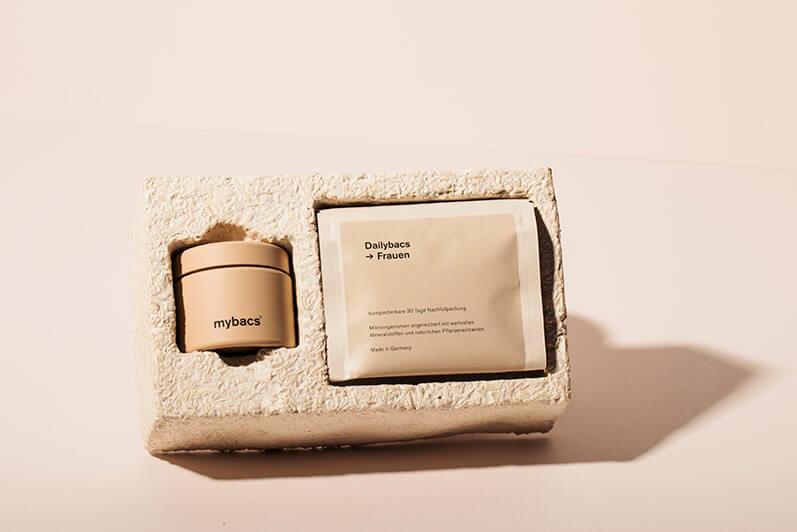 Grown.bio's noteworthy manufacturing process uses renewable biopolymer, 3D printing, agricultural waste and mycelium composites. At the end of their life, products naturally degrade and are compostable, making them genuinely sustainable and a viable alternative to harmful fossil fuel-based plastics.
The biological material used to 'grow' the product, combined with its biodegradability, makes Grown.bio a truly circular business. By partnering with other firms and developing B2B sales channels for its sustainable products, Grown.bio is helping other businesses to increase their green credentials too.
The Challenge
Grown.bio's main objective was to expand its presence within the European market, focusing primarily on Germany, France and the Netherlands. Grown.bio sought Orange Bird's assistance as a sustainable branding agency to increase brand awareness and generate leads.
Our specialism in marketing for circular companies and our passion for sustainability attracted Grown.bio to Orange Bird and we were only too pleased to help the company achieve its targets.
Based on Grown.bio's goals, we identified two broad objectives:
Renaming the company: Originally operating under the name Krown.bio, the company wanted to ensure its name and brand attributes aligned with its purpose and helped to communicate its value proposition.
Lead generation campaigns: To increase sales and generate revenue, we devised, executed and optimised lead generation campaigns via digital channels. Using targeted methods, we were able to implement a cost-effective campaign with impressive results and a high ROI.
Why Orange Bird?
Expertise as a sustainable branding agency: Orange Bird specialises in branding and marketing for circular, cleantech and sustainable brands. Working exclusively with businesses that contribute to the transition to a clean economy, our experience and expertise in this sector enable us to deliver actionable insights and valuable results.
Flexibility and collaboration: At Orange Bird, we're dedicated to helping our clients achieve their goals. By taking the time to truly understand our clients' operations and respective industries, we can collaborate effectively and achieve better outcomes. Going above and beyond to respond to time-sensitive tasks, we're on hand to accommodate client requests and provide support, as and when it's needed.
Multinational, multi-talented team: Operating in the European market or globally means engaging with customers and clients in a number of languages. Our multinational team enables Orange Bird to deliver marketing for circular businesses in a range of languages. Combining professional copywriting services by native English, German and Dutch speakers with marketing services from a range of certified and qualified marketers, Orange Bird offers a truly multinational approach.
Transparency and accountability: We're committed to providing all of our clients with transparent and cost-effective services. Orange Bird creates shared project management platforms for each client, sets relevant and realistic KPIs and provides detailed reports which clearly show how our team achieves the desired objectives.
What Orange Bird Delivered
Creating a New Brand Name
Originally operating as Krown.bio, the brand name didn't reflect the company's unique value proposition, nor its position as a circular business. In need of an engaging, memorable and meaningful brand name, Orange Bird's best creative thinkers were unleashed!
A company name tells your target audience what you do and gives an insight into your operations. Choose the wrong name and you could miss your target altogether or, worse still, give your audience the wrong impression about your business.
Changing just one letter of the original company name ensured the brand's original audience wouldn't be alienated, yet this seemingly minor change drastically alters the relevancy, memorability and associations of the company's new name – Grown.bio
The name 'Grown.bio' gives audiences an instant insight into the company's unique value proposition and their contribution to the circular economy. What's more – it's a company name that's scalable as it is applicable for the products for any industry, memorable, which means it will stick in the audiences' minds, and relevant, in order to tell target audiences what the brand's about.
Lead Generation
Marketing and sales are closely intertwined and Grown.bio's rebrand and new marketing materials gave us a great starting point for a powerful lead generation campaign.
Orange Bird was tasked with generating leads amongst packaging managers, sustainability managers and owners of cosmetics companies in Germany, France and the Benelux region. Taking the budget, target audiences and product type into account, we singled out LinkedIn as the most valuable platform for Grown.bio's lead generation.
To kick-start the process, our in-house PPC specialists analysed the client's requirements and identified the need for two separate campaigns: (1) for packaging managers and (2) for sustainability managers and company owners.
Packaging Managers LinkedIn Lead Generation Campaign
We set the geographical parameters and targeted the audience based on their current job title or function, as well as their industry: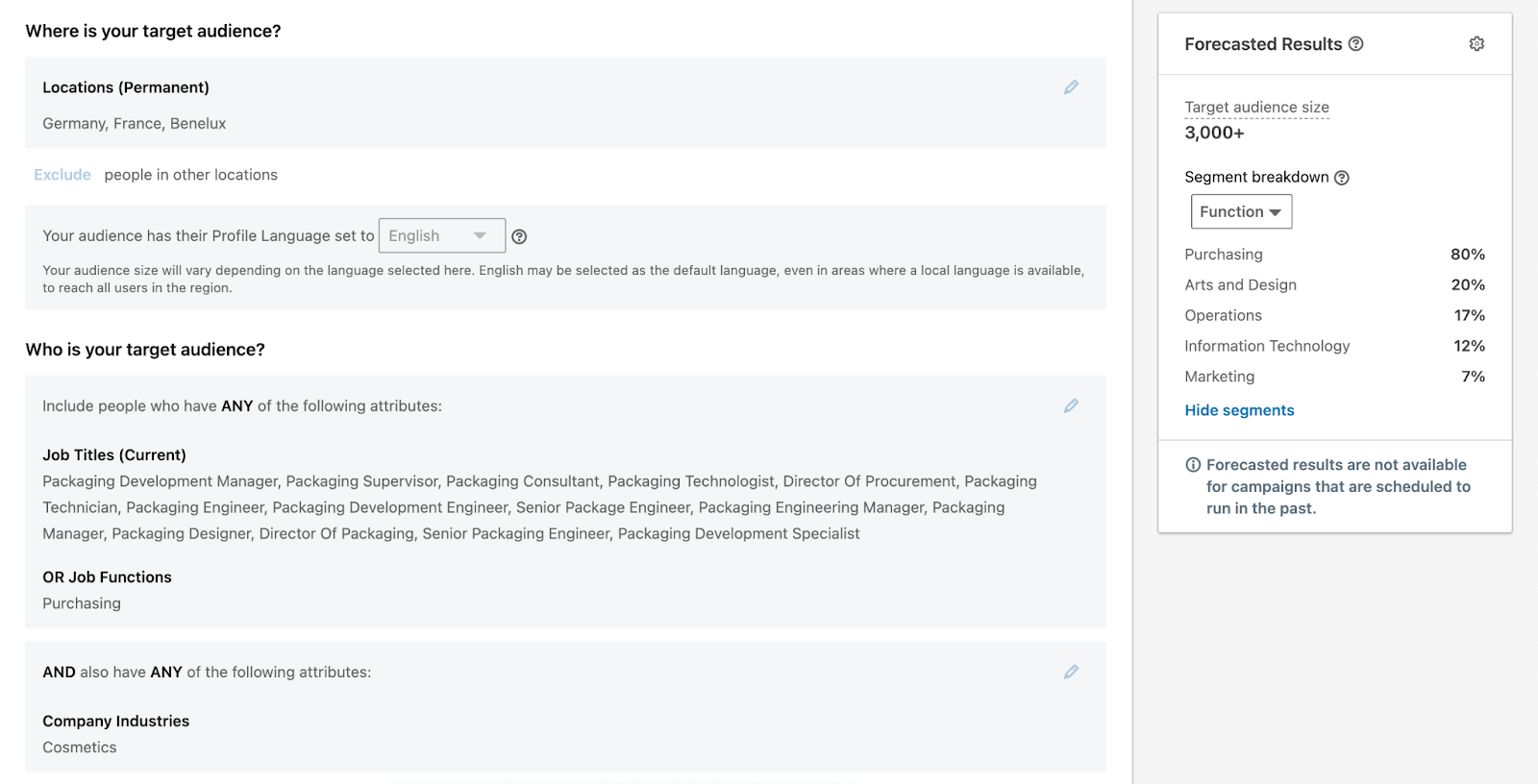 Sustainability Managers and Owners LinkedIn Lead Generation Campaign
Similarly, we used geographical profiling and targeting based on current job titles and industry to launch Grown.bio's second LinkedIn advertising campaign: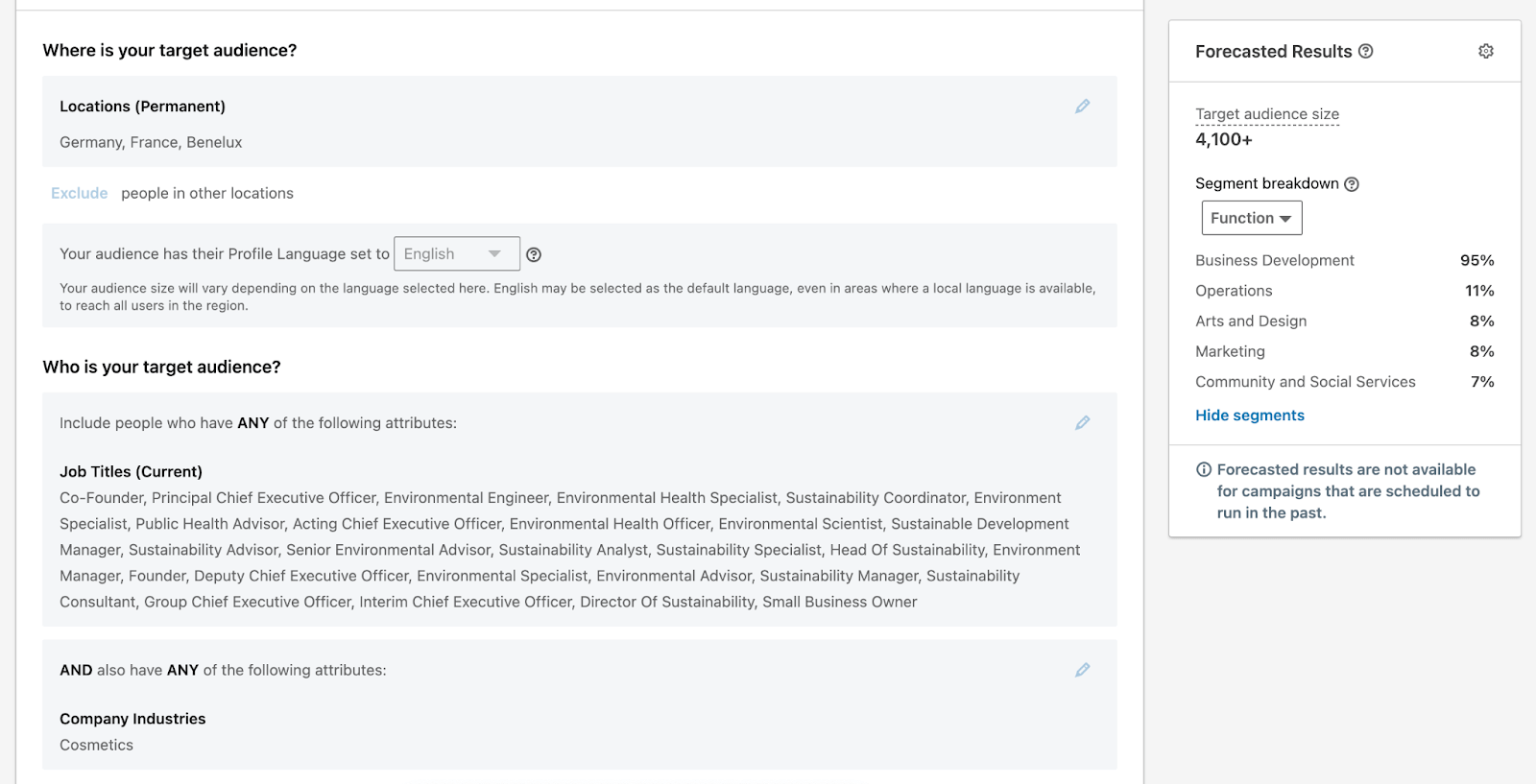 With a combined audience of approximately 7,100 users, we significantly narrowed the target demographic and ensured that the leads were sourced from key decision-makers and top-level personnel.
Of course, any PPC campaign relies heavily on the content of its ads too, which is why we relied on our in-house graphic designers and native-speaking copywriters to create engaging, innovative and eye-catching digital ads.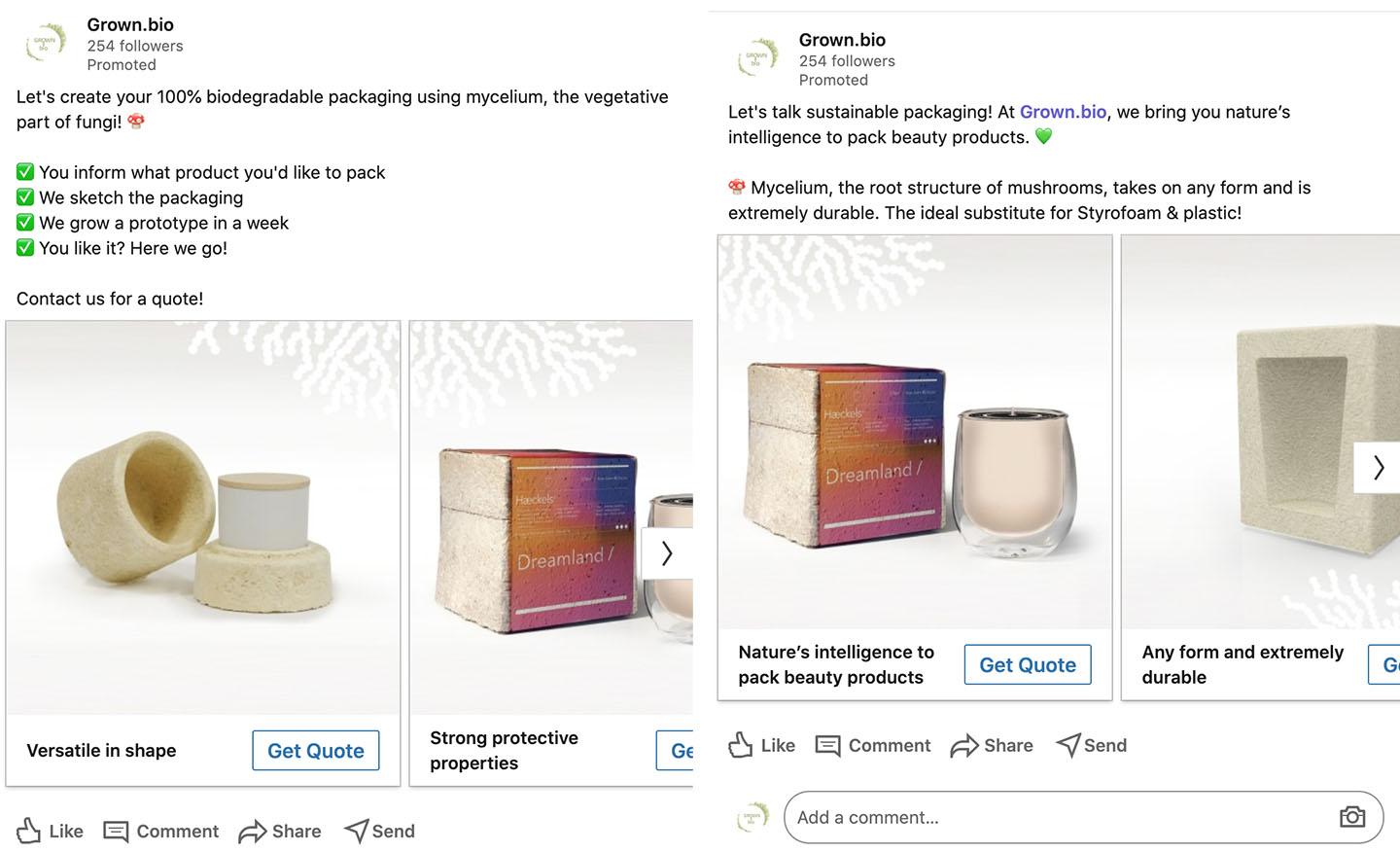 Following the launch, we continually optimised the LinkedIn advertising campaigns to enhance performance and maximise results. With careful targeting, ongoing campaign management and compelling copy, Orange Bird achieved outstanding results, including converting a top level manager at luxury cosmetics firm, Dior, and:
Click-through-rate (CTR) of 1.24%
Cost-per-click of €3.78
Cost-per-conversion of €32.85
Conversion rate of 11.85%
To put that in perspective, the latest statistics report the global average CTR as 0.44-0.65% for LinkedIn ads, the average cost-per-click from senior decision makers as $6.40 (€5.65 EUR) and cost per leads (conversions) ranging from $15 to 350 (€13.24-309.01 EUR).
To gain a deeper insight into the success of Grown.bio's lead generation campaign, take a look at the average performance of pay-per-click (PPC) B2B advertising on other platforms:
Performing well above average in comparison to B2B campaigns on major PPC platforms, Google and Bing, we've more than tripled results for average B2B PPC campaigns on Google Ads and achieved nearly 5x the average conversion rate for B2B PPC campaigns on Bing. What's more – we delivered these results at a fraction of the average cost per B2B conversion!