on Monday May 24, 2021
7 Pro Tips for Generating First-Class Leads with LinkedIn
Want to make your marketing team and your sales team one big happy family? With LinkedIn Lead Gen Forms, you can generate valuable leads that will make your sales team's wildest dreams come true!
At our full service marketing agency Orange Bird, we have solid results in generating leads for the B2B and B2C market with LinkedIn advertising. In this blog post, we will briefly explain what LinkedIn Lead Generation Ads are, and, most importantly, how to use LinkedIn Lead Generation Forms to efficiently create and expand a database of valuable leads
.
You can think of LinkedIn Lead Generation Ads as regular sponsored content ads "on steroids". Once a lead presses the CTA button in the ad, a form opens that already contains most of the lead's information.
According to LinkedIn, 80% of engagement with sponsored content now comes from mobile users. It is challenging to bring this mobile traffic to your website and turn them into actual leads: especially if your website is not yet 100% geared towards mobile users. But even at mobile-friendly websites, mobile users often find it inconvenient to fill in their details and are, therefore, more likely to abandon your website and increase your bounce rate. This is where LinkedIn Lead Gen Forms come in: the requested information (name, company, email) is pulled directly from the user's profile, so all the user has to do is press 'agree' to provide their information. Sounds awesome, and it is!
With our 7 pro tips for lead generation with LinkedIn Lead Gen Forms, you too can get the most out of your campaigns.
A common statement in marketing is that the more information you ask for, the fewer people will fill out a form. The typical advice any online marketing agency will give you is to "ask for as little information as possible". We want to nuance this rule. The goal of your campaigns is not just to get lots of leads, but to collect valuable leads. Quality over quantity.
What you will see when creating Lead Gen ads is that LinkedIn has a default setting for leaving an email address. Many people have created their LinkedIn profile with their private email address, rather than their professional address.
When you leave this question as it is, the email address capture box is automatically filled in with the address the user created their LinkedIn account with, but perhaps it is more valuable for your campaign to collect only business email addresses? In that case, choose the option 'work email address'. Often LinkedIn will not be able to fill in this mail address automatically, so a potential lead will have to do this themselves. This will undoubtedly yield fewer leads, but the leads you do generate are likely to be far more valuable.
Carefully consider the minimum amount of data you want to capture and what type of data you want to obtain. Be sure to consult with your sales team to find out what information they need as a baseline to turn a potential lead into a customer.
For Grown.bio, a fabulous Dutch company that makes the most amazing sustainable products out of mycelium, we launched a campaign to bring their packaging materials to the attention of the cosmetics industry. In consultation with the client, we decided to ask for the company name and job title in the Lead Gen Form, in addition to the email address. This yielded a list of serious leads that the sales team could work with immediately.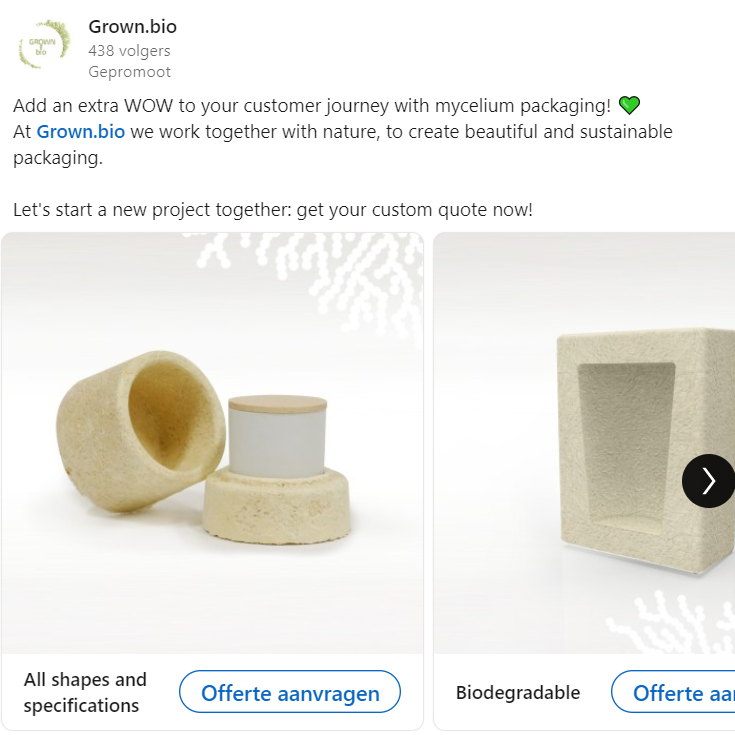 Image: LinkedIn Lead Generation for Grown.bio
Sponsored content on LinkedIn is expensive (and often worth every penny…). To make the best use of your budget, it is essential to be very savvy about your targeting. Who will get to see your ad?
LinkedIn allows you to target very specific audiences: leverage it! Start by advertising to a fairly broad target group and keep refining until you find your ideal mix. Segment based on industry, function, skills and seniority. Ensure that your ads are only shown to your ideal target group. Have you found your ideal target groups? Then rest on your laurels for a bit, but not for too long. After the copy, targeting is the most important factor for successful lead gen campaigns, so keep monitoring and refining your targeting to maximise success.
LinkedIn has made it very easy for you to view performance by job title, industry, location, etc. To find the statistics, go to the demographics button. Here you will see an extensive range of demographic statistics that will help you to assess the performance of your ads by user group: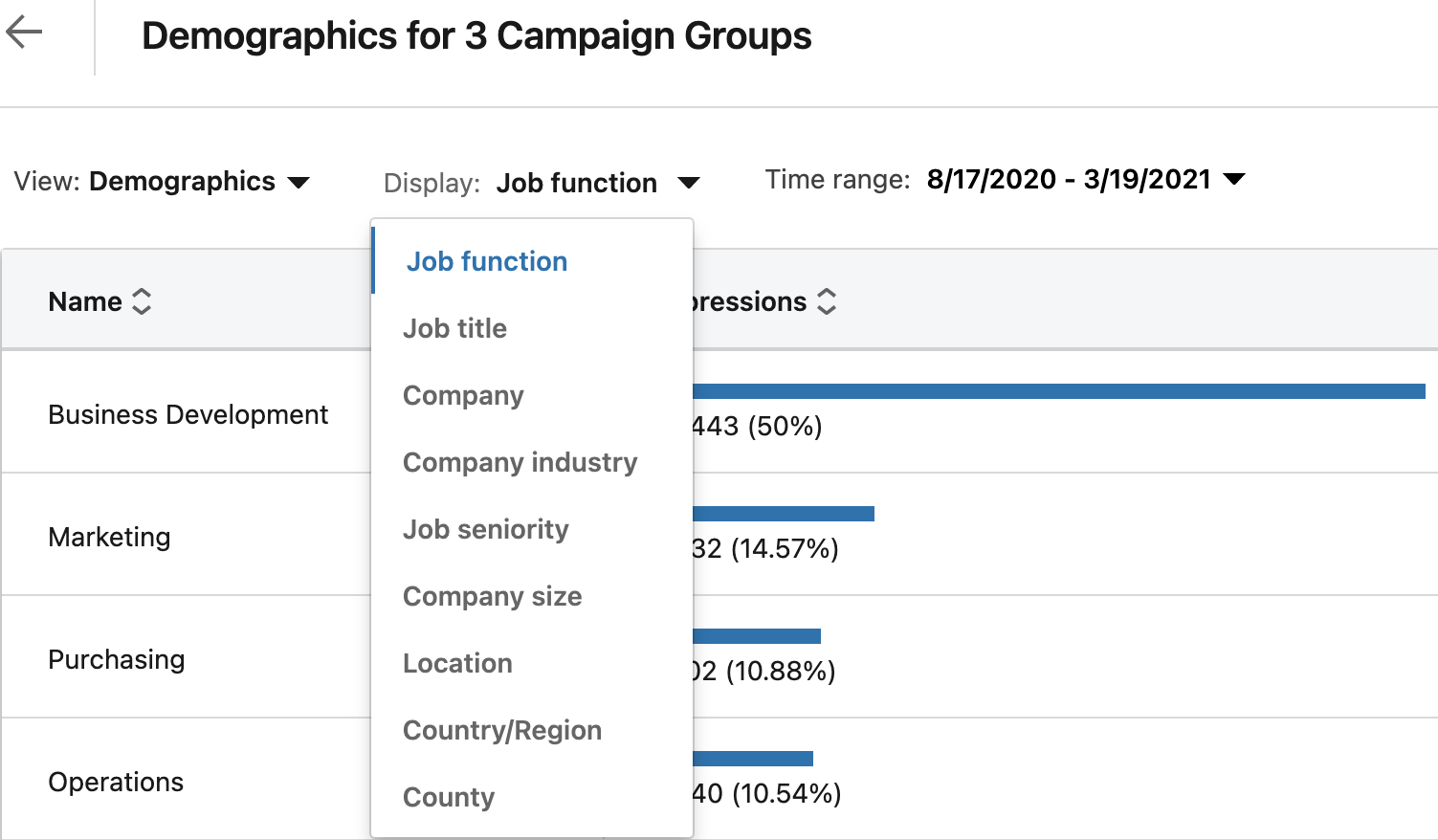 Image: LinkedIn demographic statistics
Dive into this data and determine where the targeting may be improved. You may want to exclude all entry-level and junior positions if they generate a lot of clicks, but few leads. Or do you see job titles that get a lot of impressions but few clicks? If these job titles are important to you, and can't be removed, we recommend you either rewrite your copy to be more relevant for these titles or dedicate a separate campaign with tailored copy for them.
To recap: targeting is the most important factor besides your copy when running successful lead gen campaigns. It absolutely pays to keep a close eye on the statistics!
It goes without saying that the same best practices apply for sponsored content with Lead Gen Forms as for regular sponsored content. Make sure your copy is not too long, opt for larger, colorful images (LinkedIn recommends 1200 x 627 pixels) and provide a clear CTA.
Experiment with different variations of your ad copy. Which copy resonates the most and yields the most leads? The default setting of LinkedIn is to automatically determine which ads are shown the most, based on expected results. We generally begin with an "alternate evenly" setting for a week to give all ads a fair chance. At our sustainable marketing agency, often we see that LinkedIn (as well as Google Ads) shows only part of the ads after 1 or 2 days, while the rest of the ads haven't been able to prove their potential yet.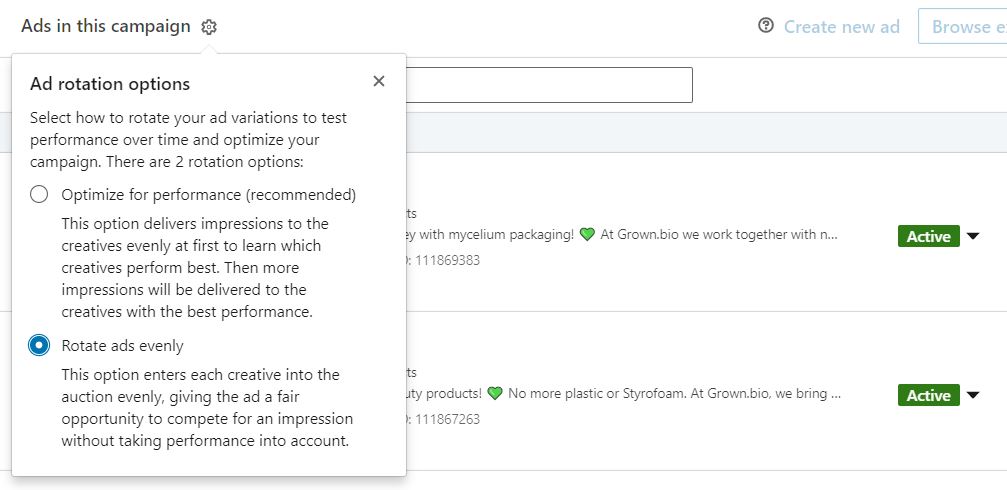 Image: selecting 'alternate ad variants evenly'.
Earlier we mentioned the unprecedented possibilities LinkedIn offers in terms of targeting. These features are also what makes the heart of every copywriter beat faster. It offers a unique opportunity to write copy that is tailored to the needs of each target group!
We were asked to create and execute a campaign for our client Deko Eko to promote their Christmas catalogue of upcycled products to companies. It goes without saying that as a sustainable marketing agency, these kinds of assignments are definitely our cup of tea. Based on job titles, we created three target groups and determined the benefits of purchasing upcycled Christmas gifts for each job title:
for branding managers, heads of marketing, etc: strengthen the green identity
for CSR specialists: achieve sustainability goals
for waste managers: upcycle waste streams
Our copywriters wrote compelling copy for each of the target groups. This yielded valuable leads with specific interest in the products on offer.
Do you lack a clear picture of your target groups or could you use some help in getting your message across effectively? Meet the team: as a full service marketing agency we would love to help you!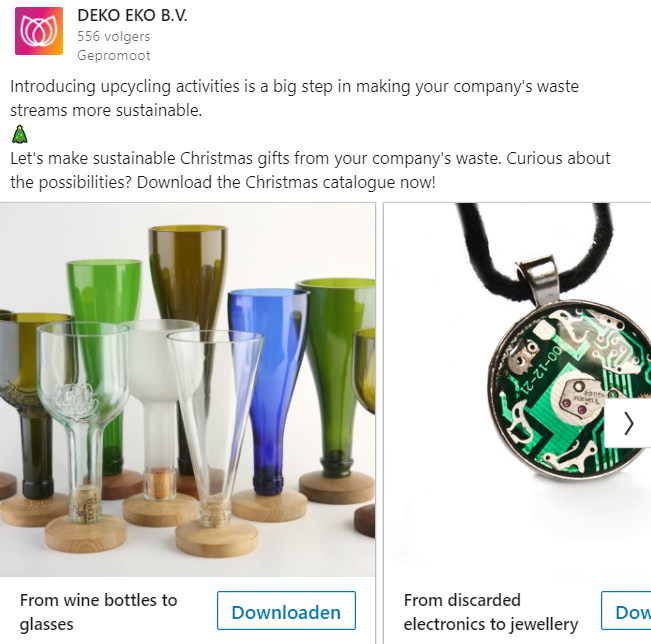 Images: examples from the Lead Gen campaign for Deko Eko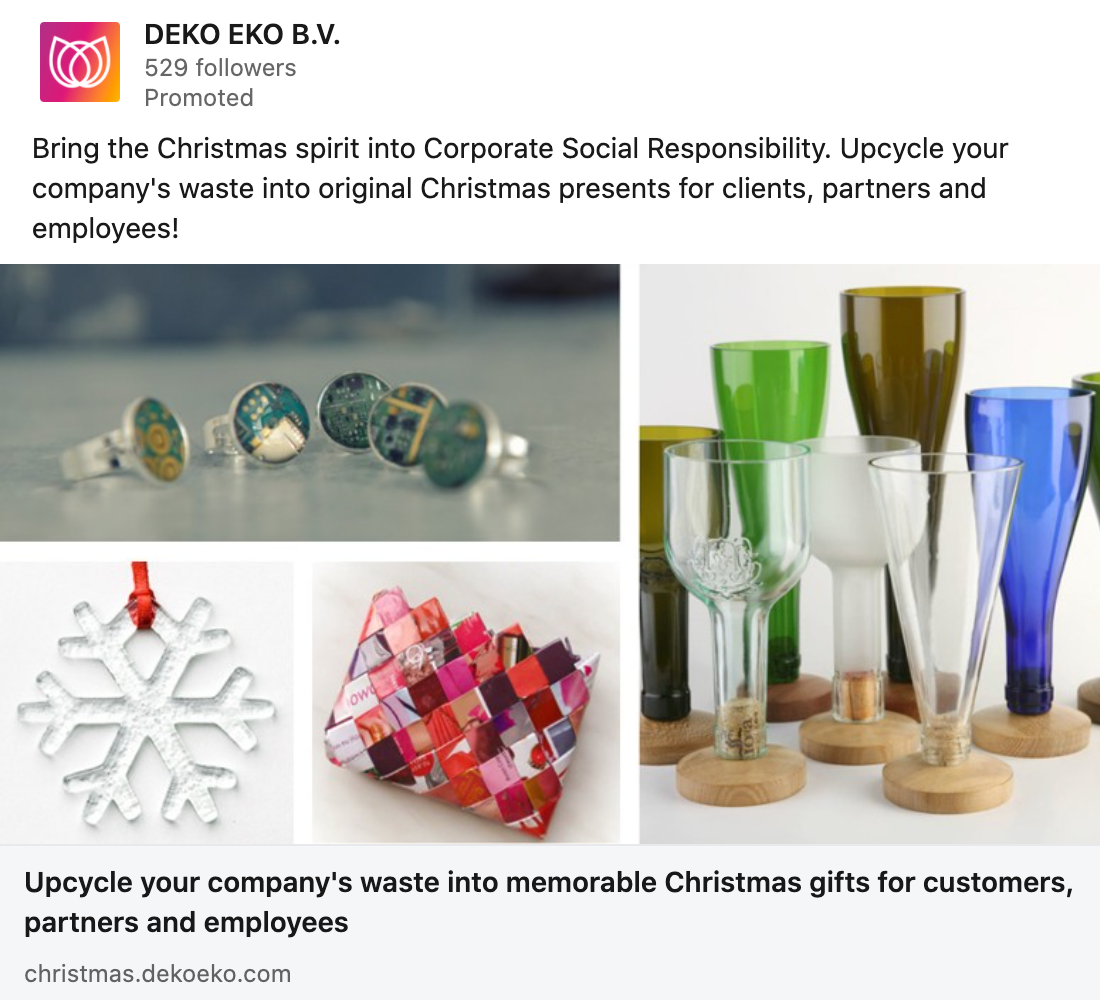 The following tip does not apply exclusively to your LinkedIn lead gen campaigns, it's always very important to keep content fresh! The statistic to keep an eye on is the average frequency. This shows how many times the same ad was shown to the selected target group:

Image: average frequency LinkedIn ads
What you want to find is the Golden Ratio between showing the same ad too often and showing it too little. If someone sees the same ad too often, ad fatigue ensues, it's bad for your brand's image and you run the risk of people hiding your ads (hide post). If someone sees your ad too little, they won't remember your brand or your offer.
Identifying the ideal number of impressions is difficult: it depends on many factors, such as your target audience and product or service. We suggest creating new ads after an ad frequency of 2-3. A higher ad frequency may be the reason for a decreasing number of clicks and leads.
The lead that interacts with your ad gets to view very limited information about your company. They read your sponsored content and then they decide to proceed to the form. Think of your lead form as a mini landing page. The lead form is limited in the amount of information you can provide, so think carefully about what a lead will see here.
Keep your message short and sweet. Reiterate the benefits for the lead of filling out the form: what will they gain, what can they expect? LinkedIn Lead Gen Forms allow use of emojis and symbols: deploy these for seasonal offerings, for example, or to emphasise urgency.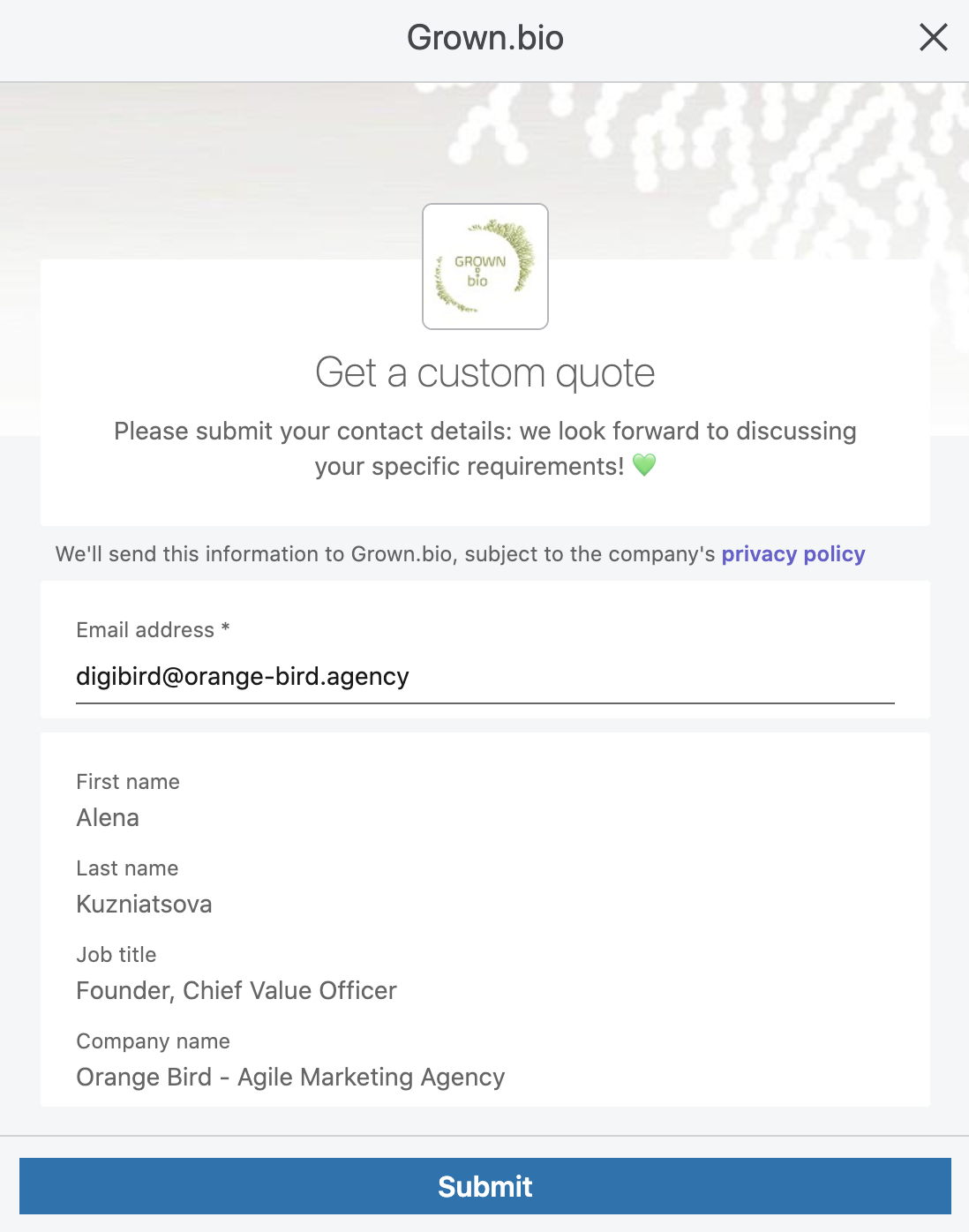 Image: Example Lead Gen form
After the lead form is active, you can't make any changes to it. If you want to make adjustments, you will need to create a new form and add it to your existing ads.
Consider your 'thank you' page carefully: what message do you want to convey here? Besides a thank you for downloading or subscribing, you could include your company slogan or a link to your website or a specific landing page: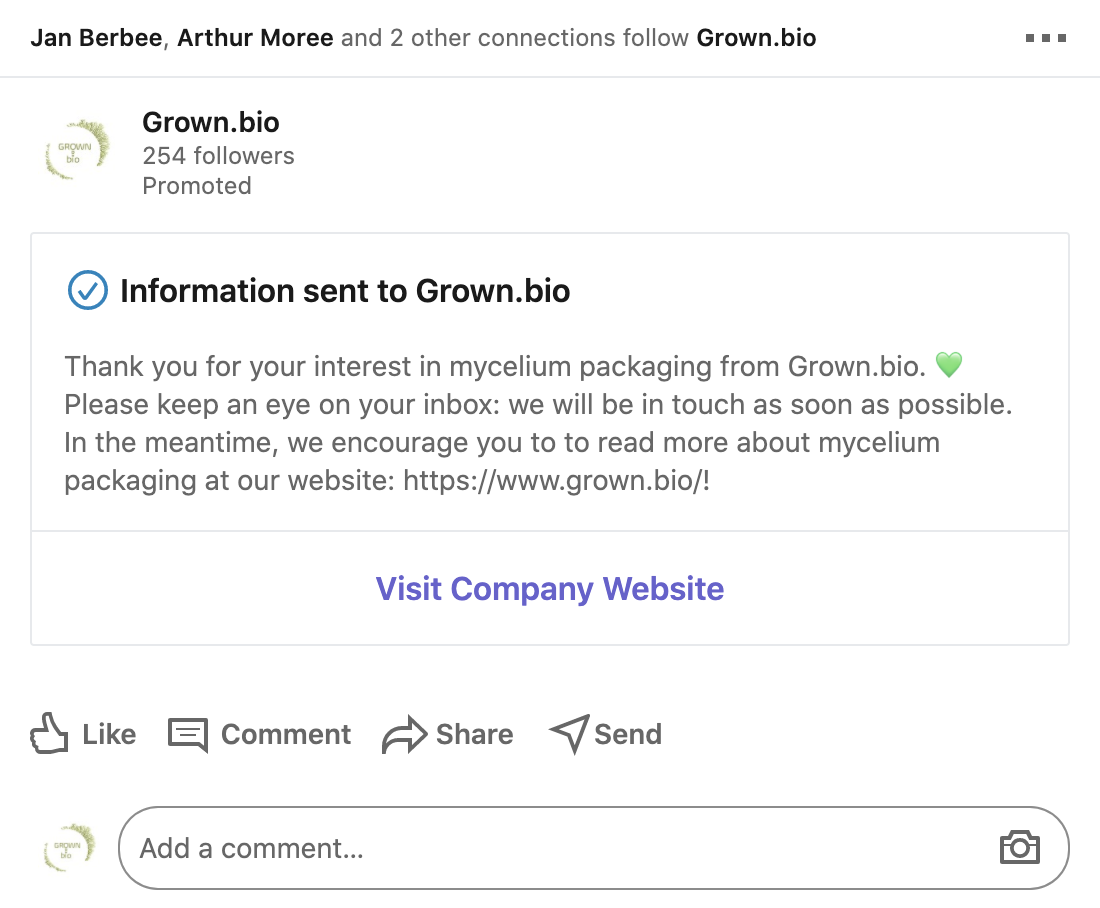 Image: example thank you page Lead Gen form
One key statistic you can use to monitor the success of your Lead Gen form is the lead form completion rate. This represents the percentage of opened forms that are fully completed and submitted. It reveals how worthwhile and convenient potential leads find it to fill out the form. Making the form more compelling and/or simpler can help you gather more leads without increasing the budget!

Image: completion rate Lead Gen Forms LinkedIn
While we are huge fans of lead gen ads, we would never argue you should throw the regular LinkedIn campaigns overboard. If your landing page is very mobile-friendly, it's well worth testing both variants of LinkedIn sponsored content: with and without the Lead Gen Form.
Lead gen ads don't bring people directly to your website. To put it in fishing terms: you have less by-catch. The lead that downloads your brochure or signs up for your webinar via a LinkedIn Lead Gen Form doesn't check out your website and therefore doesn't continue reading about your company and won't make a spontaneous purchase. It's generally a small price to pay for the larger quantity of leads, but it's something to keep in mind.
Our tip: test both variants and carefully observe how many leads you receive via the form and how many via the website (for what cost per lead and of what quality). Also, monitor whether visitors take other valuable actions on your website. For this purpose, in the last step of creating a campaign, select all valuable actions on your website that you would like to track as conversions:

Image: conversion tracking in LinkedIn
Why do it the hard way when it can be done the easy way? Fortunately, the days of manually entering data from leads are well behind us. When creating a LinkedIn Lead Gen campaign, you want all leads automatically uploaded into your CRM or mail program.
LinkedIn offers standard integration with a large number of well-known platforms. Isn't your marketing automation or CRM platform listed? In that case, use Zapier. With Zapier you can connect LinkedIn Lead Gen Forms with more than 2,000 apps. LinkedIn stores all the completed data for 90 days in Campaign Manager, then automatically deletes it. By connecting to your CRM, you can ensure that no valuable data is lost and a fast follow-up from the sales team can take place.
LinkedIn allows you to use hidden fields in Lead Gen forms (without breaching privacy). These hidden fields allow you to enter data into your CRM which is not directly available in the form, a fantastic option if you also want to track things like sources and targeting (as you would for traffic to your landing page). There is a maximum of 20 hidden fields, so you can use the option liberally: it will provide valuable insights!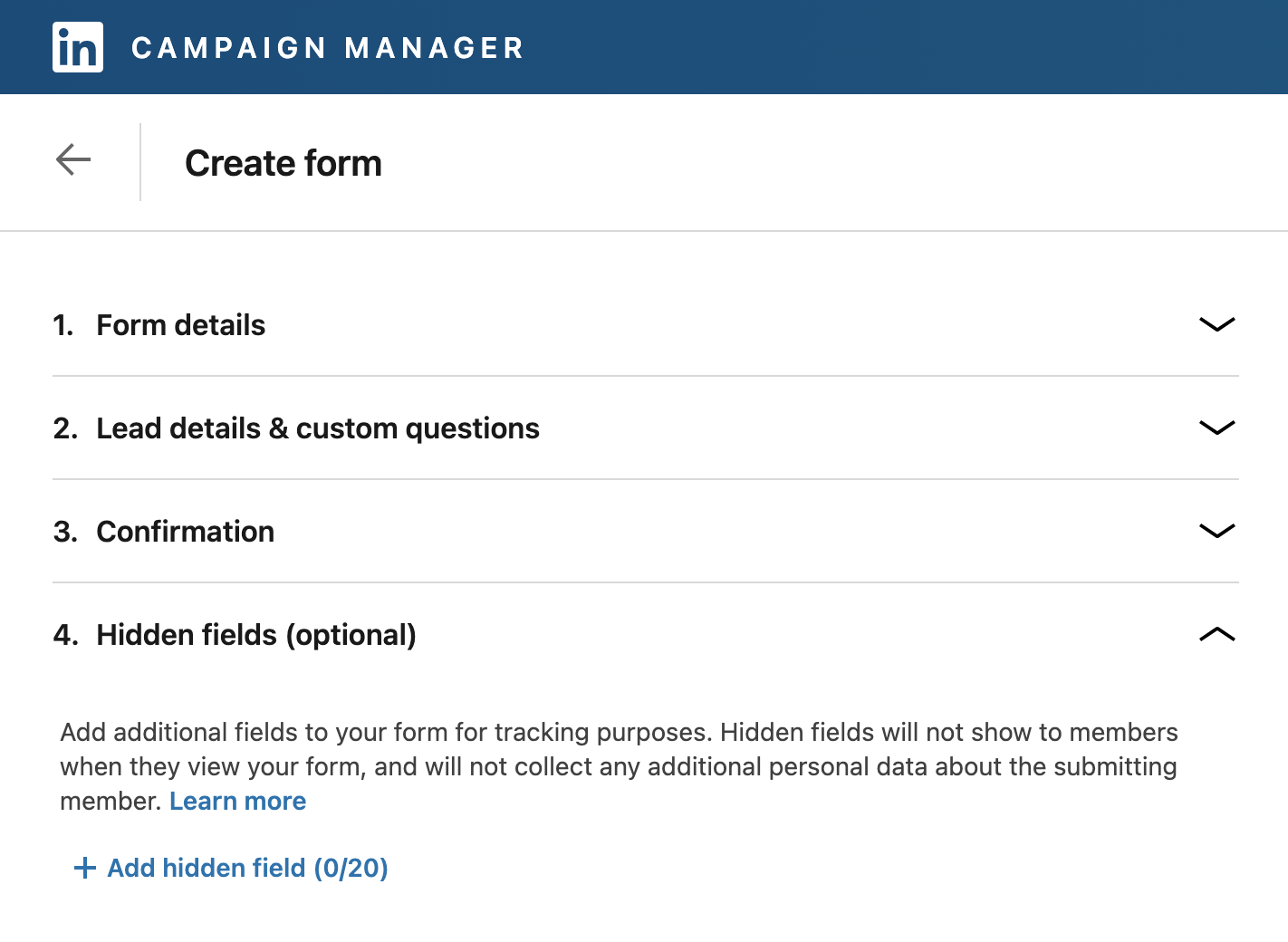 Image: add hidden fields in LinkedIn Lead Gen forms
While we're at it, one more tip: Even if a lead has directly downloaded content, also have an email automatically go out to the lead. This could be a short communication: "Here is the brochure you requested on our website on topic X. We will be happy to help you". It is a subtle reminder of the existence of your brand: it makes it easy for the lead to find the brochure and contact your company at a later stage.
The 7 pro tips above will help you make your LinkedIn Lead Gen campaigns a great success. Do you want to discuss your LinkedIn campaigns or need help setting up your ads? Feel free to contact us to see how we can work together to generate valuable leads for your products or services via LinkedIn. Your sales team will be grateful!
Previous post
Next post