on Tuesday January 4, 2022
Sustainability Digital Marketing: Learnings in H2 2021
The digital landscape evolves rapidly, which is why Orange Birds are continually learning! Share in our sustainability marketing discoveries and learn what the ESG revolution means for circular brands, how to utilise Google Analytics 4 to prepare for a 'cookie-less future', when to contact leads for maximum conversions and much, much more!
As sustainability and climate action becomes increasingly important, there have been critical developments in this sector too. For green businesses, understanding the need for political and environmental demand for sustainable solutions and their commercial potential is vital to maximising profitability, which is why we're eager to share the latest developments with you.
To explore what we've uncovered this year, check out our Top Insights from H1 2021 and read on to find out our key takeaways from Q3 and Q4 in 2021…
Highlights:
Learnings:
1. Sustainable solutions are needed pre-2030.
When the Paris Agreement was ratified in 2016, signatories committed to achieving net zero by 2050. Since then, it's become clear that the changes we make prior to 2030 will have long-term and even permanent consequences on the planet's continued survival. Without aggressive carbon emissions reductions over the next 10 years, we simply won't achieve net zero in 2050. Worse still – we'll cause irreversible damage to our environment.
Despite disappointing outcomes in relation to coal power and climate finance, COP26, reinforced the importance of reducing global carbon emissions within the next decade via the Glasgow Carbon Pact and nearly 200 nations committed to strengthening carbon emissions targets by the end of 2022.
However, the success of COP26 rests largely on accountability. Even the most optimistic statistics forecast global net zero failure and, if this year's pledges are to be effective, meaningful action is required urgently.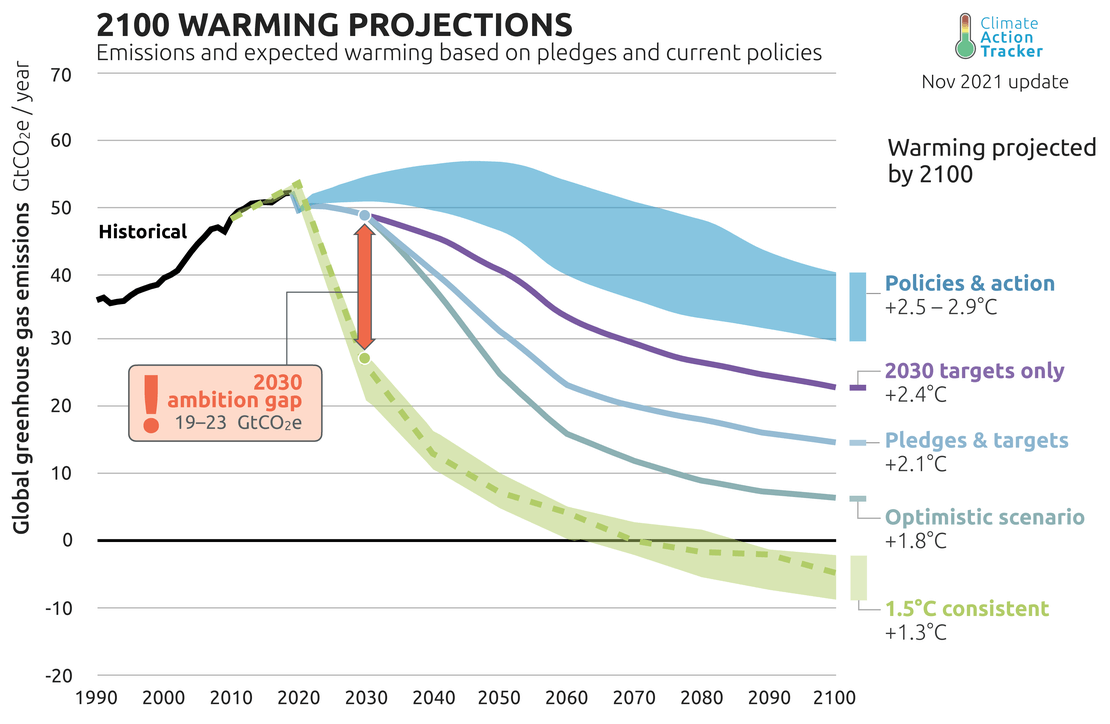 Warming projections indicate net-zero failure unless swift action is taken. Source: Climate Action Tracker
To have any chance of reaching net zero targets – and saving the planet – we need circular businesses, sustainable solutions and eco-friendly companies to come to the fore. Fortunately, we know of a few industry disruptors, sustainability pioneers and circular innovators who are doing just that!
2. 'ESG revolution' will send demand for commercial sustainable solutions soaring.
Mounting regulatory, global and consumer pressure to address the climate crisis means that businesses are actively looking for ways to mitigate their environmental impact and increase the sustainability of their operations and value chains. For cleantech, climate tech and sustainable companies, this presents a valuable and unprecedented opportunity for growth and a chance to revolutionise the way we do business.
Many call this trend the 'ESG revolution', which leads to the increasing importance of Scope 3 reporting and the urgent need for meaningful climate action.
The Greenhouse Gas Protocol (GHGP) is the global standard for company and organisational emissions reporting. Under Scope 1 and 2 of the GHGP, organisations must quantify and report emissions from direct or controlled resources and indirect emissions from purchased electricity, heat, steam and cooling.
However, Scope 3 of the GHGP goes even further. Under this category, organisations must analyse their value chain and calculate the emissions arising from a variety of sources, such as investments, employee commuting, waste disposal etc.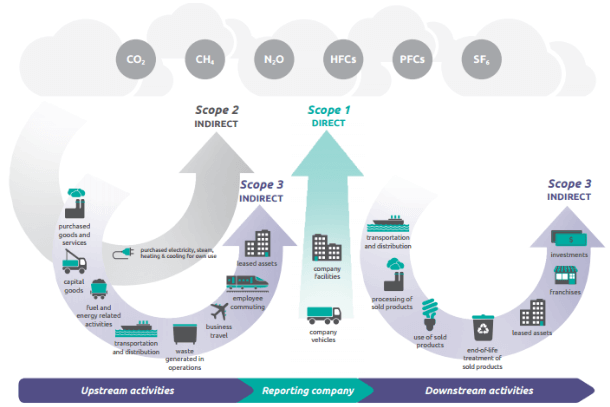 Scope 1, 2 and 3 emissions. Source: GHG Protocol
Although Scope 3 reporting is not yet mandatory, an increasing number of companies are analysing their value chains, reducing emissions across this category and voluntarily reporting Scope 3 emissions. As a result, B2B sustainable solutions providers can accelerate their growth as more organisations seek to mitigate the environmental impact of their respective value chains.
3. Fast and effective onboarding maximises marketing success. and generates value at increased speed.
That's why we've streamlined our process and made it even easier to kick-start sustainability digital marketing projects. From SEO and paid search to PR outreach and social media marketing (SMM), every marketing campaign can be enhanced by Orange Bird's value-driven onboarding process. Don't believe us? Get in touch with the team and set us a sustainable marketing challenge!
4. We are entering a cookieless future. Consider implementing Google Analytics 4, Core Web Vitals and Server-Side Tagging for modern data collection and analysis.
To analyse and subsequently optimise marketing campaigns, it's essential to access accurate data. So far, successful measurement has been heavily reliant on cookies that log useful information about what happens after a person has clicked an ad. User privacy demands and regulations, such as GDPR, mean that traditional approaches to measurement need to evolve in line with a changing ecosystem.
Google, as the primary provider of analytics platforms for most site owners, is refreshing its approach and now offers new solutions. Since the launch of Google Analytics 4 (GA4), we've seen even more powerful data discovery and analysis become available. Combining web and app analytics to provide users with greater insights, you can make more informed digital sustainability marketing decisions as you will see the uninterrupted user journey across your web and app properties.
Google Analytics 4 (GA4)
By updating clients' data analysis strategy to include GA4, Orange Bird offers;
AI-enabled data modelling to overcome cookie-consent rules, JavaScript blocks and increasing privacy protection regulations.

Cross-channel measurements that encompass web, mobile and apps to understand customer journeys and gain real insights into user behaviour.

Comprehensive and customisable event tracking to monitor the metrics that matter most to your business.

Data imports from a variety of web and non-web sources for holistic data analysis.

Life Cycle Reports to visualise data, generate instant insights and simplify site, mobile and app optimisation. 
Google Analytics 4. Source: Search Engine Land
Of course, relying solely on one platform inevitably limits the impact of your work. At Orange Bird, we use a variety of tools to accurately measure, monitor and analyse data, including:
Core Web Vitals
Core Web Vitals reports provide a detailed analysis of web page performance, based on real world data. Using three main metrics: largest contentful paint (LCP); first input delay (FID) and cumulative layout shift (CLS) and grouping web pages by URL, we can improve page loading speeds (=a ranking factor for Google!) and enhance the UX.
Server-Side Google Tag Manager
Tags are an important way to access user data but client-side tagging can reduce page loading speeds (and, therefore, negatively impact your SEO rankings) and raise privacy concerns. The introduction of server-side tagging allows us to store tags in a secure hosted server, thus reducing the impact on your site and boosting the website speed.
Additionally, server-side tagging gives us the opportunity to apply cookies in line with users' consent i.e. only for those users who do give the consent.  As we transition to a 'cookie-less' future, the use of server-side tagging simplifies consent management, which is particularly important amidst increasing privacy regulations.
Orange Bird identifies the tools and platforms that offer the most value to your company and develops a custom data analytics and optimisation strategy for your business. By sending Core Web Vitals reports to GA4 and using Server-Side Google Tag Manager, for example, we routinely optimise technical performance and boost SEO rankings for our clients.
5. Leads are 7x more likely to convert if you contact them within the first hour.
Generating leads is a critical element of sustainability digital marketing, which is why it's one of Orange Bird's specialties! However, generating leads isn't always the overarching objective; converting them is.
As well as delivering high click-through rates via lead gen campaigns, our team implements post-generation strategies to maximise conversions and increase customer retention rates. After all, leads only equate to profit when they're converted into customers!
Despite numerous studies highlighting the importance of fast lead response times, B2B companies take an average of 42 hours to contact a lead and only manage to engage with 29% of leads.
When running sustainability digital marketing campaigns, Orange Bird incorporates post-generation activities from the outset. Whether it's automated responses, qualifying surveys or personalised messages, we find the most effective channels to engage your leads and accelerate response times. Want to see the results? Check out our Grown.bio case study and find out how we achieved a whopping 11.85% conversion rate for the biotech firm.
6. Creative COVID-19 recoveries contribute to post-pandemic success.
It would be remiss to reflect on 2021 without mentioning the ubiquitous COVID-19 pandemic. In addition to being an unprecedented health crisis, the pandemic caused economic disruption and commercial upheaval. But, if we look closely enough, there are silver linings we can take away from this cataclysmic turn of events. A reduction in traffic and travel gave nature an opportunity to reassert itself, for example, and saw a temporary but notable decrease in global carbon emissions.
In response to the unprecedented challenges, we sought – and created – innovative solutions to new and long-term problems. We supported our clients as they introduced new processes, rolled out cutting edge technology, and went the extra mile to assist and retain their own customer base. Take a look at two examples:
CanvasLogic – SEO
As offline shopping was severely restricted at the height of the pandemic, companies sought digital solutions to facilitate online sales. 3D  & AR product customisation software developer, CanvasLogic, sought our assistance with increasing web traffic, boosting brand awareness and generating leads.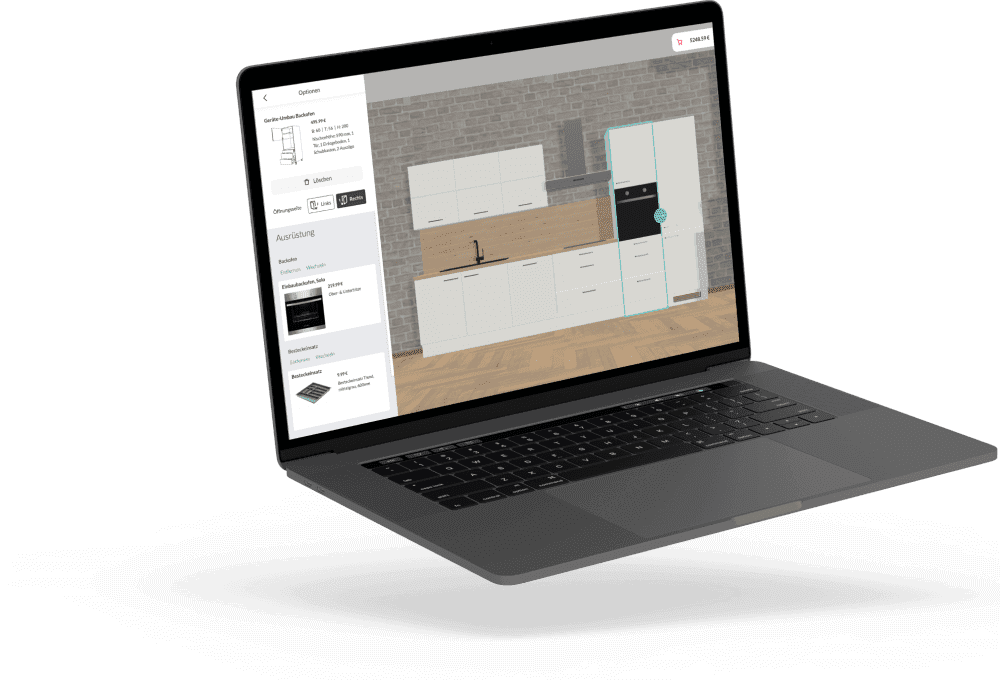 CanvasLogic 3D & AR Product Customization and Visualization software. Source: CanvasLogic
An updated SEO strategy included creating new landing pages, optimising existing content and developing detailed topic clusters and led to outstanding results: 1,766 increase in organic visitor traffic and a 38% decrease in bounce rate. In addition, we devised and executed ongoing PPC campaigns across a variety of platforms to generate and qualify leads.
Climeon – Content Marketing and SMM
Leading cleantech company, Climeon, routinely undertakes on-site factory acceptance tests (FATs) when equipment is delivered. Of course, the travel ban meant that these FATs could no longer be carried out. Innovative solutions were needed to avoid projects being brought to a halt, which is why Climeon developed remote factory acceptance test processes.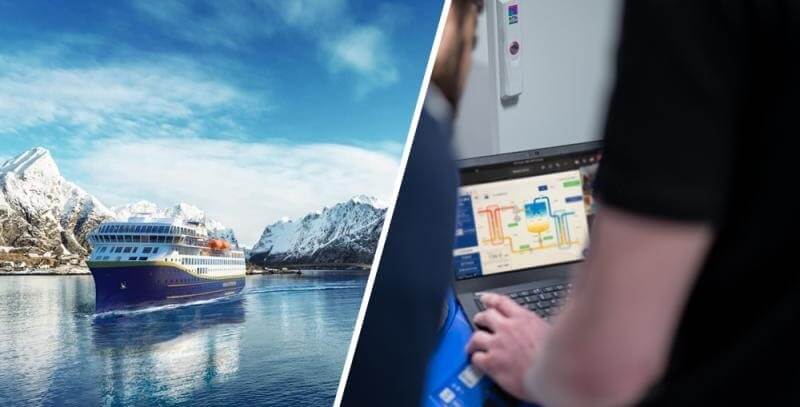 Climeon Remote Factory Acceptance Tests (FATs). Source: Climeon
Orange Bird supported Climeon in this endeavour, using existing content to promote the groundbreaking service via social media marketing (SMM). Offering cost-savings and environmental benefits, the introduction of remote FATs provided Climeon's customers with genuine value, as well as overcoming the challenges presented by COVID-19. In fact, the roll out was so successful that Climeon is continuing to offer remote FATs post-pandemic!
As the impact of the pandemic continues to ebb and flow, we hope to harness this creativity and sense of camaraderie that has been ever-present in 2021 and use it to build a better, more sustainable future in 2022 and beyond.
7. Sustainability and profitability are not mutually exclusive.
For too long, people have assumed that increased sustainability equates to decreased profitability, but this simply isn't the case. In fact, there are many examples of sustainable solutions that are actually more profitable than environmentally harmful alternatives. As the Efficient Solution label issued by the Solar Impulse Foundation proves, sustainable products, services and companies can be extremely profitable while actively enhancing and repairing our environment. This year, we've helped AgriTech company, iFarm, to secure the Efficient Solution label and we could help you to obtain world-renowned sustainable endorsements and awards too. Want to increase your green credentials with world-renowned sustainable endorsements and awards? We can help!
Look Forward to 2022 with Orange Bird
Having spread our wings and expanded our knowledge in 2021, we're excited to see what 2022 has in store for us! To learn more about Orange Bird's sustainability digital marketing success, take a look at our 2021: H2 In Review blog post.
Alternatively, to find out more about what specialist digital sustainability marketing can do for your business, contact Orange Bird now!
Previous post
Next post