on Friday March 1, 2019
Events for Sustainable Cities, Transportation and Fashion
The fourth post in our CleanTech Events series is dedicated to the events showcasing sustainable urban solutions, i.e. solutions for sustainable cities, clean transportation, and circular fashion. Our first article listed Clean Energy events, the second post was about AgriTech events, and the third post presented a collection of Circularity and Waste Management events.
If you need any help with preparation for the conferences and want us to design booth materials, handouts or propose original giveaways, just contact Orange Bird. We can also pre-schedule and follow up on the meetings with attendees and media.
(All events are listed in order of date in 2019)
Events for Sustainable Cities
Futurebuild 2019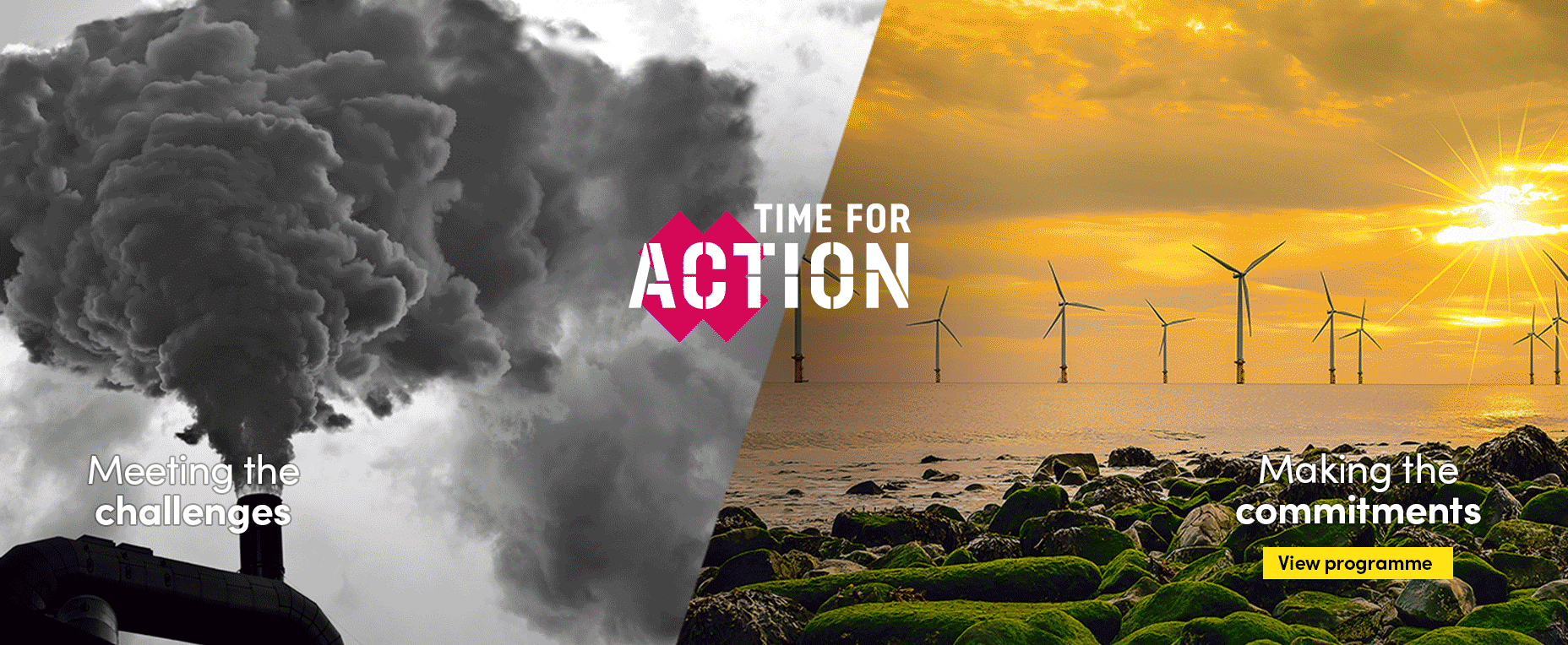 Date: March 5-7, 2019
Location: London, UK
Futurebuild 2019 is about the challenges which impact the building and smart city industry. Over 26 thousand industry leaders are expected to visit the event as exhibitors, visitors, participants of the workshops and seminar programmes. All the exhibitors are divided into six themed Futurebuild Hubs:
Offsite Hub
Urban Infrastructure Hub
Energy Hub
Materials Hub
Buildings Hub
Interiors Hub
Waste Hub
The main peculiarity of the event is the amount of learning activities: over 500 hours in total, as well as 11 seminar streams and 4 workshops. For example, during the Waste Talk seminar you can discuss circular economy opportunities and during the User-led Smart Heat seminar – smart domestic heat. There will be a matchmaking event on the 6th of March.
To find out more about Futurebuild 2019, click here!
Greencities 2019

Dates: 27 – 28 March, 2019
Location: Malaga, Spain
The event brings together companies and institutions interested in Smart Cities development. The event will cover renewable energy, electrical and autonomous mobility, waste management, pollution, and sustainable rehabilitation.
In addition to Sustainability Forum, Exhibition, and International Greencities Congress, startups have the possibility to pitch investors while every participant can benefit from broad networking opportunities: the "Sustainability Forum" is best for sharing ideas; the "Tool for Networking" can be used to set up meetings, the "Networking Lunch" is best for communication in an informal atmosphere. Last year there were more than 3,500 meetings scheduled during the event. Don't miss your chance to grow your network.
To find out more about Greencities 2019, click here!
Urban Future 2019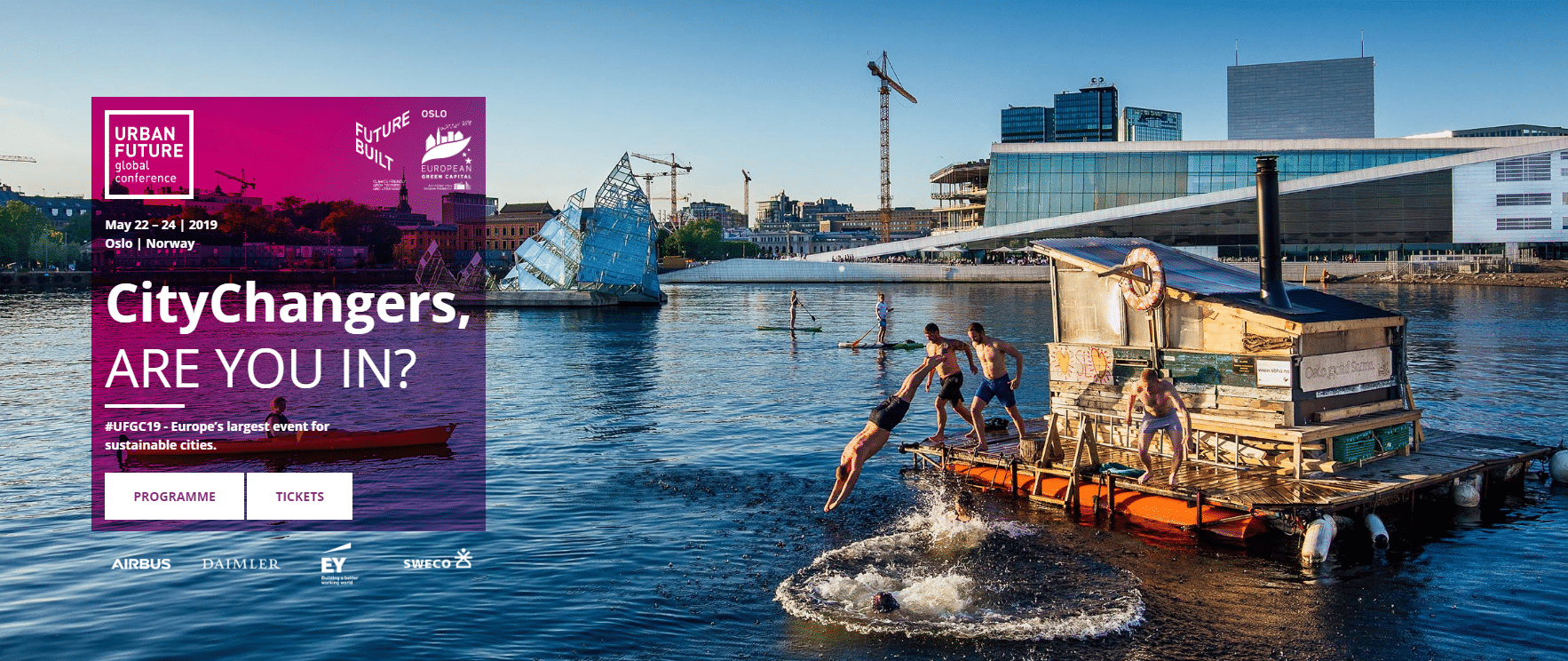 Date: May 22 – 24, 2019
Location: Oslo, Norway
The largest European 3-day event dedicated to sustainable living will bring together 4,000 attendees, 400 cities and over 200 speakers. This year there will be three main themes — Urban Mobility, Built environment & Architecture, Green Business & Innovation — covered by 10 tracks.
The event is mainly intended for "City Changers" – passionate and active decision makers, aiming to make cities more sustainable. The programme is very comprehensive and you really need to carefully think over the tracks you are interested in not to miss relevant workshops, seminars or speeches. The event doesn't offer any special B2B meetings opportunities, but you will definitely meet a lot of potential partners.
To find out more about the Urban Future 2019, click here!
World Congress CLIMA 2019

Date: May 26 – 29, 2019
Location: Bucharest, Romania
One of the events primarily focused on how modern cities and buildings can address the challenges of climate change. The event will take a closer look at advanced Heating, Ventilating and Air-Conditioning technologies, Energy Efficiency at buildings, Intelligent Building Management, and Sustainable Urbanization.
Even though most of the attendees are researchers, engineers, and architects, the event will be valuable for businesses thanks to its exhibition and workshops.
To find out more about the World Congress CLIMA 2019, click here!
SmartCity Expo World Congress

Date: November 19 – 21, 2019
Location: Barcelona, Spain
Smart City Expo World Congress is aimed at city administrations, businesses, and researchers with innovative initiatives and solutions for making cities sustainable, safe and healthy. The event expects over 20,000 visitors and above 600 exhibitors. The five topics of this year will include Digital Transformation, Urban Environment, Mobility, Governance & Finance, Inclusive & Sharing Cities. As in earlier editions, all the speeches will be evaluated for their innovation, impact, and feasibility.
The detailed agenda is not available yet, but the 2018 year agenda included keynote sessions, plenary sessions, thematic programs, as well as side events, partner activities, and networking. For example, the Brokerage Event offered an opportunity to have a series of 30-minute pre-scheduled B2B meetings with potential business partners.
To find out more about the Smart City Expo, click here!
Events for Sustainable Transportation
Energy Smart Mobility 2019

Dates: 14 – 15 March, 2019
Location: Marseille, France
The Energy Smart Mobility forum is dedicated to Effective Energy and Smart Mobility. This international event is organized by Capenergies, the European Cluster Collaboration Platform, and GreenUnivers, the media specialized in the energy transition markets. The visitors will discuss smart charging infrastructure in cities, opportunities of the hydrogen mobility deployment, smart port concepts and shore-to-ship power solutions.
The event boasts both a comprehensive programme with speeches and workshops, and great opportunities for networking, including B2B meetings and elevator pitch awards for startups. B2B appointments are possible on two days of the event.
To find out more about Energy Smart Mobility 2019, click here!
Advanced Clean Transportation Expo

Conference: 23 – 26 April
Expo: 24 – 25 April
Location: Long Beach, California
It is hard not to mention Advanced Clean Transportation Conference due to its comprehensive agenda and top industry executives as speakers. During this four days event you will have an opportunity to learn about innovations in urban mobility, goods movement, connected fleet, gaseous fuels, commercial EVS, and vehicle efficiency. The agenda includes workshops, forums, educational sessions, and extensive networking opportunities.
This event gives you an opportunity to network with over 3 000 clean transportation companies, listen to over 160 industry experts, and visit over 20 side events and workshops.
To find out more about Advanced Clean Transportation Expo, click here!
The Future of Transportation

Date: November 26 – 28, 2019
Location: Vienna, Austria
The organizers describe the event as "a study and conference on the subject of What Next". We appreciate that the event gathers leaders of the transportation industry, from automotive manufacturers to logistics companies and suppliers as long as they aim at providing sustainable and efficient transportation.
The Future of Transportation is a worth to visit event for any company involved in mobility solutions, whether you develop solutions for hybrid electric aircraft or are focused on smart grid deployment. The event is scheduled for the end of this year, so you have enough time to book a stand, apply for a speaking slot or just buy an early bird ticket.
To find out more about the Future of Transportation click here!
Sustainable Fashion Events
Sustainable Apparel and Textiles Conference

Dates: 9 – 10 April, 2019
Location: Amsterdam, Netherlands
The main themes of the event are circularity in fashion and sustainability of factories. Visitors will learn the best practices to move towards sustainability in the fashion industry and in the apparel supply chains. Speakers from the most well-known fashion brands will talk about sustainability and circularity, how apparel and textile sectors can assist in fighting climate change, and how innovations can lead to water reductions, recycled fabrics, and change the attitude to microfibres.
To find out more about Sustainable Apparel and Textiles Conference, click here!
Copenhagen Fashion Summit 2019

Dates: 15 – 16 May, 2019
Location: Copenhagen, Denmark
The first edition of the event was organized by a non-profit Danish organisation in 2009. Since then the event has grown to be one of the world's leading events on sustainable fashion. This year Copenhagen Fashion Summit expects over 1,300 attendees from 50 countries. Apart from keynote sessions, panel discussions, and an exhibition, any company can take part in side activities: executives can get familiar with Innovative Solutions, creative directors will visit the Design Studio.
To find out more about Copenhagen Fashion Summit 2019, click here!
Found the blog post useful?
If you enjoyed this piece and want to occasionally receive news like this, don't forget to sign up for updates below.
Previous post
Next post