on Thursday March 14, 2019
Dare to Have 90% More Leads in Your Pipeline
Before the rise of the software tools which provide visibility into which companies visit your website, sales people and business development managers in B2B companies had rather gloomy and depressing careers: it involved a lot of cold calling.
Cold for at least these two reasons:
You had to call "cold" companies, i.e. who in 99% of cases had no idea about your company's existence and, what is worse, had no need in its services or products
Speaking with such companies and hearing "No, do not bother me again" in 99% of the calls (which make up most of your working time) psychologically was cold to the point of freezing. Only the strongest would resist depression and would not give up.
Now we live in a different time. Tools like Leadfeeder, Website Demographics (as part of LinkedIn), Prospects (as part of HubSpot CRM) have transformed the career of a sales person by providing the names of the companies who visit your website, even if they do not fill in any contact forms and do not use a live chat (that is 90+% of all website visitors!). If uncovered, these leads can significantly boost your sales pipeline!
Why reaching out to such companies is more productive than regular, old-school cold calling? Because if Company ABC visits a certain website it often means company ABC has a purchasing intention or at least an interest in the product or service showcased at that website. In other words, no more ice-freezing and depressing calling!
This post aims to compare the above-mentioned tools so that you could understand in what types of companies, for what use cases and under what circumstances each of the tools is best suited. We hope this comparison will help:
Sales representatives and business developers in B2B companies who need a daily feed of leads with an interest in a specific topic/product/service

Sales representatives and business developers in B2B companies who would like to be notified when their prospects and customers visit their website and understand what's of interest to them so that they follow up with relevant information and shorten sales cycles

Marketers who are charged with lead generation for their sales teams

Heads of Marketing and Heads of Sales who need to set up collaboration between marketing and sales teams
Leadfeeder
Leadfeeder is a Software-as-a-Service (SaaS) that allows you to see the companies visiting your website, how they found you and what they're interested in. For example, see the list of company names on the left panel of the screenshot below:

How It Works

Leadfeeder connects your account with your Google Analytics account allowing you to match the visit from a specific company and any piece of information about this visit collected in Google Analytics.
For example, you are responsible for gross sales of Adidas sneakers made from recycled materials and see in your Leadfeeder's account that today someone from the Japan Sport Council visited your website after Googling for "sports shoes from recycled materials" and after clicking on your Google ad, landed at the page featuring your product, perused a number of pages related to Adidas sustainability practices, visited the company contact page, and then left without filling in any contact form and having spent, all in all, 15 minutes at your website. At first, you may wonder how it helps you to sell sneakers in bulk, but having the lead's company name and the information about their interests (you have the keywords they used, the pages they browsed) after some basic web sleuthing, you read that the Japan Sport Council has big plans for promoting sustainability with Tokyo 2020 Olympics and you may come to the conclusion that without Leadfeeder you would miss a very promising prospect.
For sure, Leadfeeder won't tell you the name of the person behind the visit, until this lead is already registered in your CRM or in any tool connected to Leadfeeder. To find the right contact in the lead's company before it is registered in such tools, follow these recommendations of Leadfeeder.

360-Degree View of the Prospect

Leadfeeder can be connected to your HubSpot, Pipedrive or Salesforce (at the moment there are six CRMs available for integration). Such an integration will enable you to track your existing leads or customers, monitor their activities at your website and automatically send updates directly to your sales pipeline. This equips sales people with the information which prospect or customer has an active interest, helps the team to prioritize opportunities and close deals faster.
You can also connect email marketing solutions, for example, Mailchimp or HubSpot Marketing. Only imagine how handy it is to have the full information about a lead stored in one place, including their actions at the website after the email marketing campaign.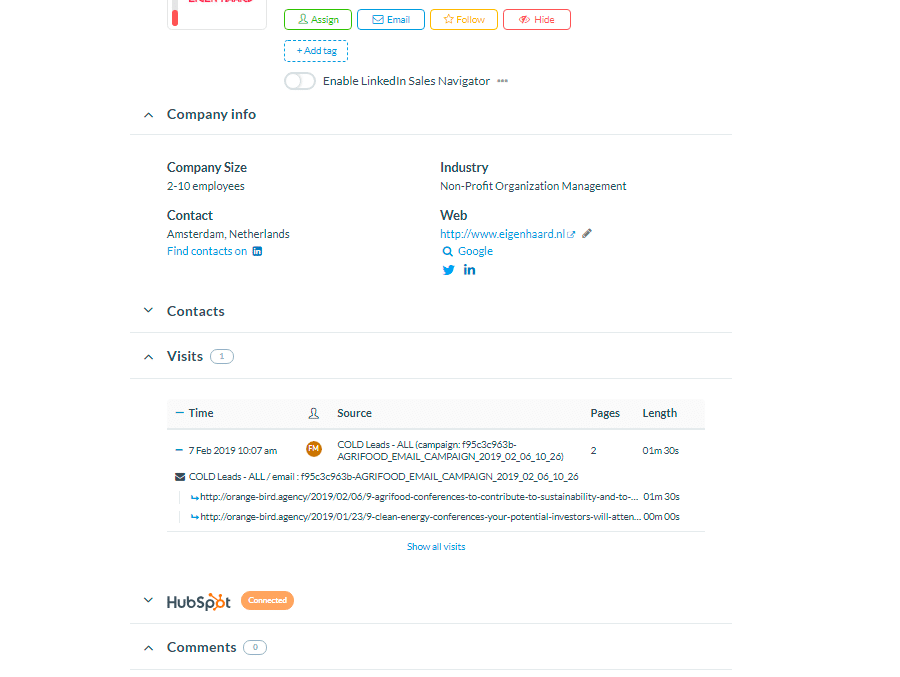 Above is an example of a Leadfeeder company card. It includes some general Information about the company, Contacts from Leadfeeder and LinkedIn, Visits tracked, data from HubSpot and additional comments.
Leadfeeder contacts deserve special attention: this app section provides a list of the visiting company's employees with emails and job titles. You can filter leads by country, role and seniority. All that ensures much faster lead generation. If the contact is already in your CRM, you will see a small sign near their name.

Reports: Feeds with Leads

One of the most valuable features of Leadfeeder is the ability to segment the incoming traffic using numerous filters. Leadfeeder calls this a Feed.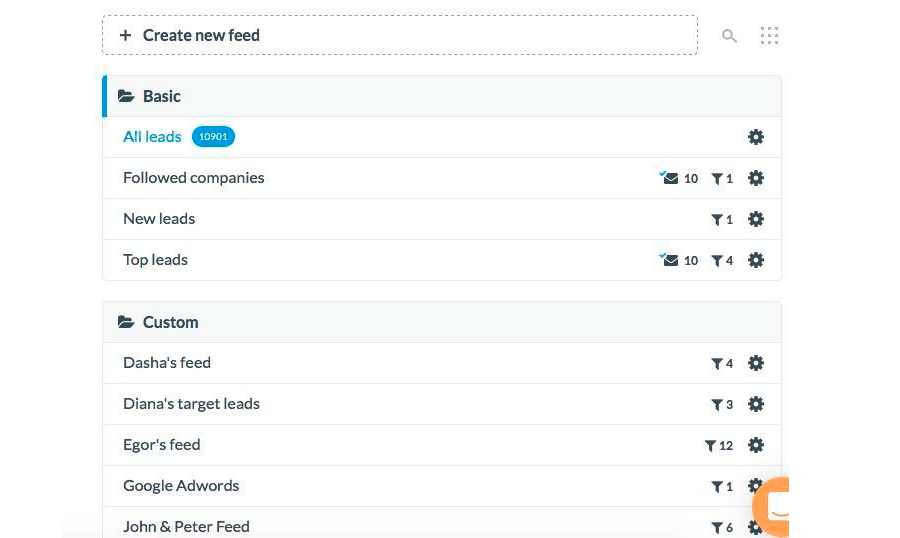 If your website has a lot of visitors, you will appreciate the possibility to have custom lead feeds, for example:
If your sales team is small: to filter out the leads by quality (number of visits, engagement level) and to focus on the most engaged leads or on those who have been at the Sign up/Contact page but have not submitted any form
If your sales team is rather big: to route the leads interested in a specific product or service to a specific sales specialist
To assign leads from a certain geography to the respective sales team
Or there may be special use cases: as you may want to aggregate all the leads from an email campaign about a special offer, who were on the company's website for at least 10 seconds:

Step1. Set up the filter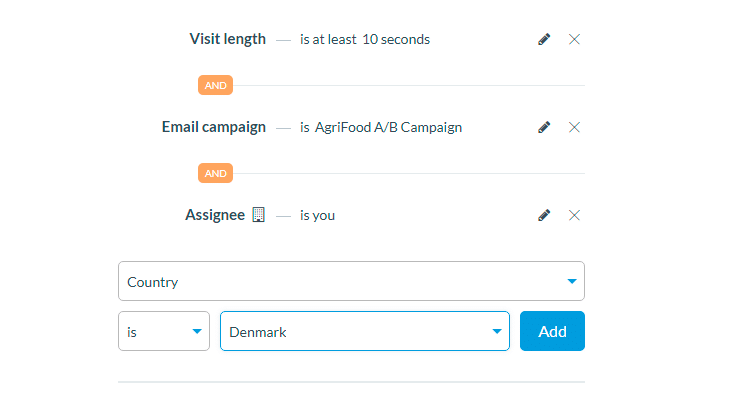 Compliance with GDPR

Doesn't the ability to collect such an amount of information sounds too powerful to be legal? Well, it would if Leadfeeder also provided you with the name of the person, however, this is not the case — the service does not collect nor provide any personally identifiable information. Nevertheless, Leadfeeder tries to help you to find the right person behind the visit. For this purpose, not only it links your account with your LinkedIn account, but it also browses databases of 3rd-party data providers and shows employees from the respective company together with their email address and social media accounts.

Price

The Lite version with limited features is available for free, the Premium version of Leadfeeder starts from €53 per month and depends on the number of leads per month.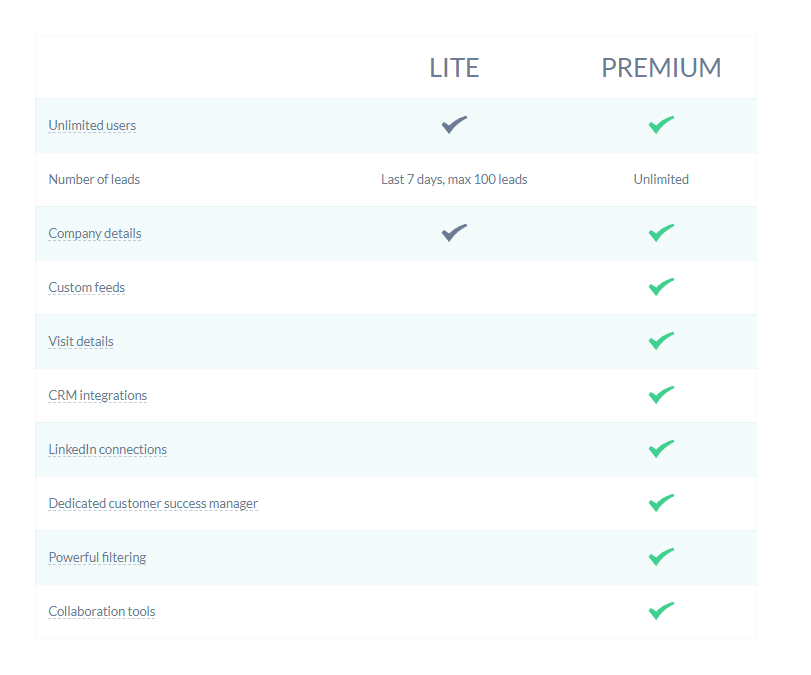 Prospects by HubSpot
Prospects is a tool available free of charge for the users of HubSpot (incl. users of the free version of HubSpot CRM). Quite a pleasant bonus for those who already use or consider HubSpot.

How It Works

Similarly to Leadfeeder, HubSpot Prospects uses a tracking code to identify the IP address and define the associated company using publicly available information. As with Leadfeeder, this constraints the identifiable companies to medium and large companies, while small companies and individuals will be shown only with the name of their internet service provider.

All the companies which were identified by the tool can be sorted by the company name or domain, number of page views, number of visits, the last time the company was seen on the website. It's possible to mark any campaign as "favourite" (use it if you wish to receive notifications about future visits from specific companies).

Prospect Visit Information

HubSpot Prospects tool is connected to HubSpot CRM, therefore you can easily add any company from the "Prospects" report into your CRM. The tool can't be connected to any other CRM.
HubSpot Prospects tracks campaigns created in the HubSpot Email Marketing tool, and if your HubSpot is connected to Mailchimp, the email campaigns will be recognized as well and appear as the "Source" of a lead.
HubSpot Prospect's card includes rather limited information: the company's domain, name and location, source of the lead. Unfortunately, you will not be able to go deeper and see the actual list of viewed pages for a company with the time spent on each page.
But that is not what worries me most. HubSpot Prospects wasn't able to identify one of the leads registered in the HubSpot CRM, who has visited the website after our latest email campaign.
Probably, HubSpot Prospects has masked this lead with the Internet Service Provider. I have found a visit with matchable Source data and the same "First seen" time. At the same time, Leadfeeder has managed to identify the lead, highlighted that the contact matches the lead in HubSpot CRM, provided me with the contact name, the company name and the detailed information on the visit. That's a Leadfeeder win.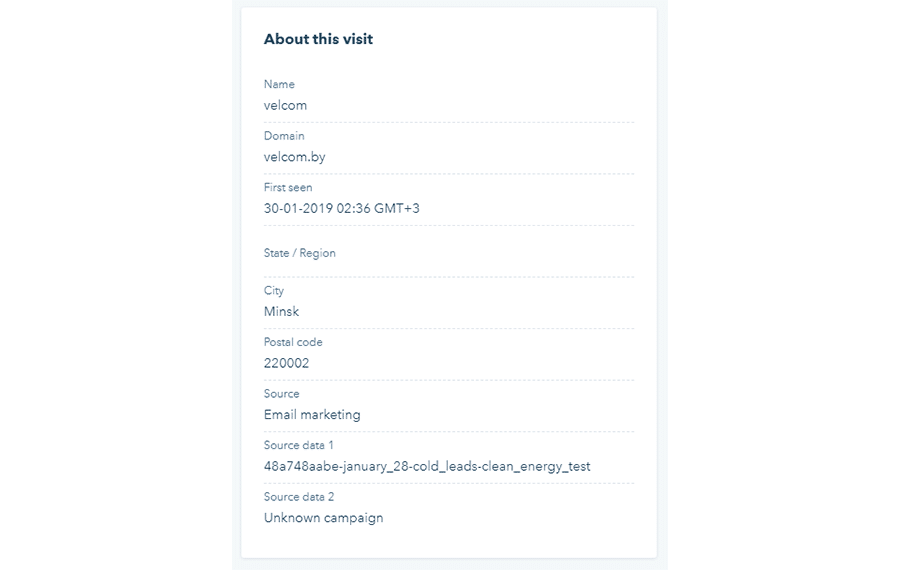 Custom Reports

In HubSpot Prospects you can set up notifications for new visiting companies and for companies from the lists you indicate in case they revisit your website.
If you wish to have personalised notifications, you can use custom filters to create custom views and then add notifications for companies from this view.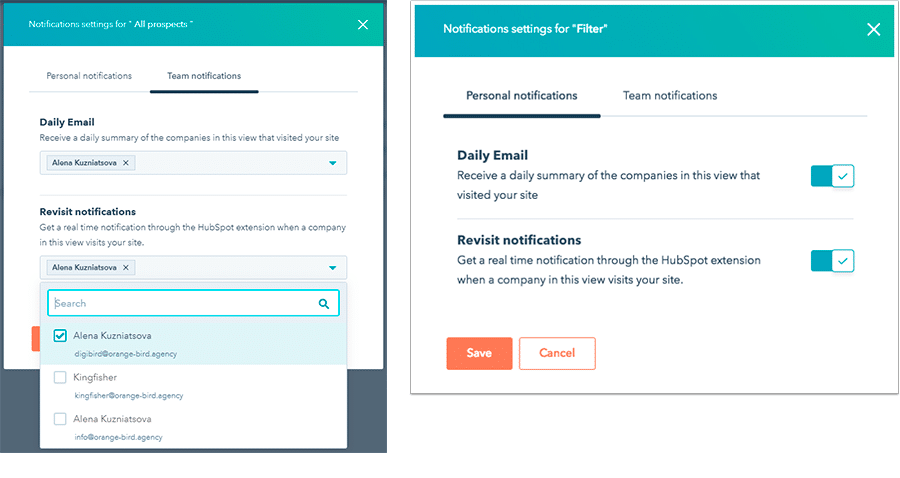 For example, you are a sales manager of RePack, the company producing reusable and returnable packaging. You are responsible for enterprise-grade leads in the European region. You may want to create a filter with the following parameters: "European Union" as the "Country", the minimum number of employees, and your target industries. Depending on your preferences, the filter will be available for you or your team members. As soon as the filter is saved, you can create Daily or Revisit notifications for this particular set of companies.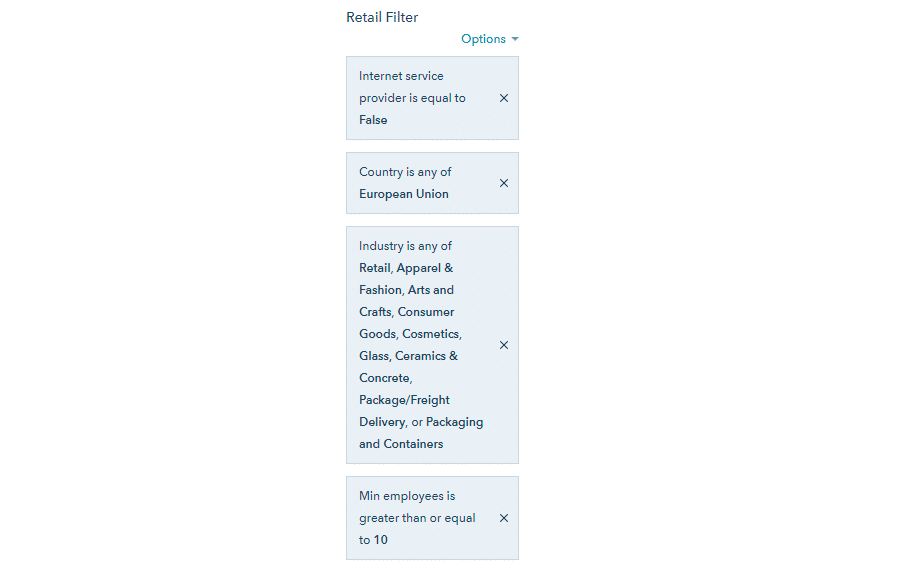 Related Companies List

HubSpot Prospects offers you a list of companies similar to the ones who are visiting your website. HubSpot uses AI to find lookalike companies in its database of over 20 million businesses. That might help you to find potential customers in a more efficient way.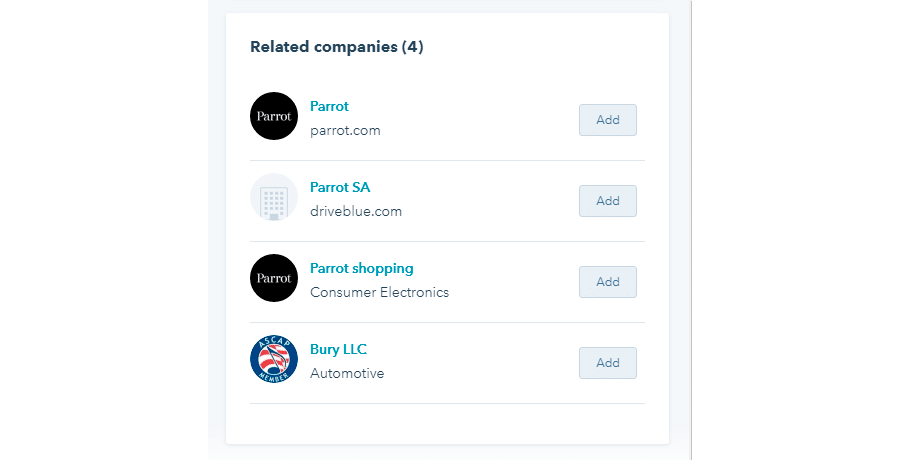 Compliance with GDPR

HubSpot Prospects doesn't reveal any personal details of the contacts, therefore the solution is fully GDPR-compliant.

Price
HubSpot Prospects is absolutely free for the users of HubSpot CRM or HubSpot Marketing Hub.
LinkedIn Website Demographics
Website Demographics is a feature of the free of charge LinkedIn Campaign Manager and provides information on what kind of professionals (registered in LinkedIn) and what kind of companies visit your website.


How It Works

LinkedIn uses its LinkedIn Insight Tag to get information about your website visitors (you should add this tag to your website code) and enriches this information with the data such as job titles, company names, sizes, and industries available in LinkedIn databases. Therefore you get this detailed information only on the leads who already use LinkedIn.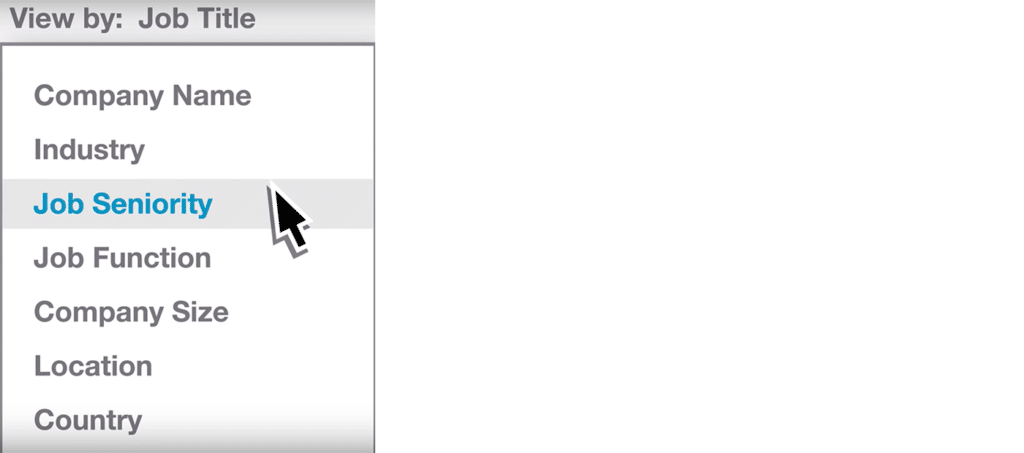 In any case, this helps to understand your website audience much better and to adjust the content to meet the needs of your audience or to attract your target audience more effectively.
You start with installing LinkedIn Insight Tag to your company's website. Further, in LinkedIn Campaign Manager, you create audiences which you want to track or to reach out to with tailored content and resonating messaging: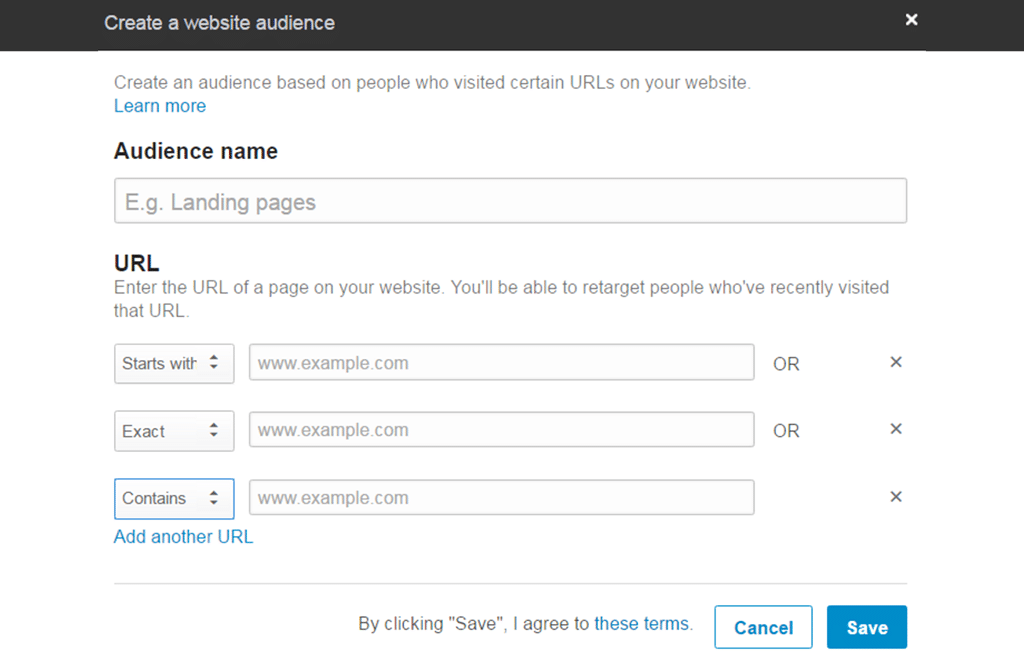 Please note, that your website audience should be at least 300 LinkedIn members before you can work with the LinkedIn Website Demographics feature. For this reason, if the daily traffic to your website is low, try creating audiences for the whole website and not for specific landing pages.

Audience View

In contrast to Leadfeeder and HubSpot Prospects solutions, LinkedIn Website Demographics gives you the data in the form of a table. No detailed information on the visits for specific leads.
You have access to the data like the Names and Sizes of visiting companies, your visitors' Job titles, Locations, and Industries.

That will be very helpful if you wish to understand what type of companies and/or professionals visit your website. For example, you are responsible for marketing and lead generation at Slimbox, the company which sells a smart machine for custom-sized packaging. You have created a landing page and an advertising campaign in Google Ads, email and several other channels to promote your special offer. With the help of LinkedIn Website Demographics you have created an audience to track, then you launched the ad campaign in diverse channels. Website Demographics will let you see people from what companies have visited your website thanks to this campaign, what their company size, job seniority and job functions are. This will not only help you evaluate whether the ad campaign brings the right type of audience but also equip you with the list of company names and job titles to call. With proper preparation for each call, it will not be cold calling – you will be calling those who got engaged with your ads and most likely have an interest or even the purchasing intent. You can also retarget all these website visitors afterwards by means of LinkedIn ad campaigns in order to nurture the leads and to pique their interest.
Since the tool is neither linked to your CRM tool, nor to an email marketing tool or any other "lead generation" solution, it won't enrich the data about leads or customers in those tools and, consequently, you cannot expect data from those tools in Website Demographics of LinkedIn.
However, there is one know-how which can help you track website visitors from your marketing campaigns: use utm codes as an identifier (for example, create a website audience with "utm_campaign=Special-Offer-5&utm_medium=Google-Ads" in the "Contains" field). Thus, you can retarget everybody who has visited your website after this campaign and uses LinkedIn.

Compliance with GDPR

LinkedIn Website Demographics doesn't reveal any personal data like visitor name or surname, location, phone number, for this reason it is GDPR-compliant.

Price

LinkedIn Website Demographics is a part of LinkedIn Campaign Management and free for its users.
Prospects by HubSpot vs. Leadfeeder vs. LinkedIn Website Demographics
My initial impression that Leadfeeder is a more advanced tool has proved to be true. It is no wonder, if we take into consideration the fact that Leadfeeder is designed and developed specifically for website lead tracking, while the Prospects tool from HubSpot and the Website Demographics from LinkedIn are part of the respective software platforms. Anyway, here is an attempt for a structured comparison of these tools: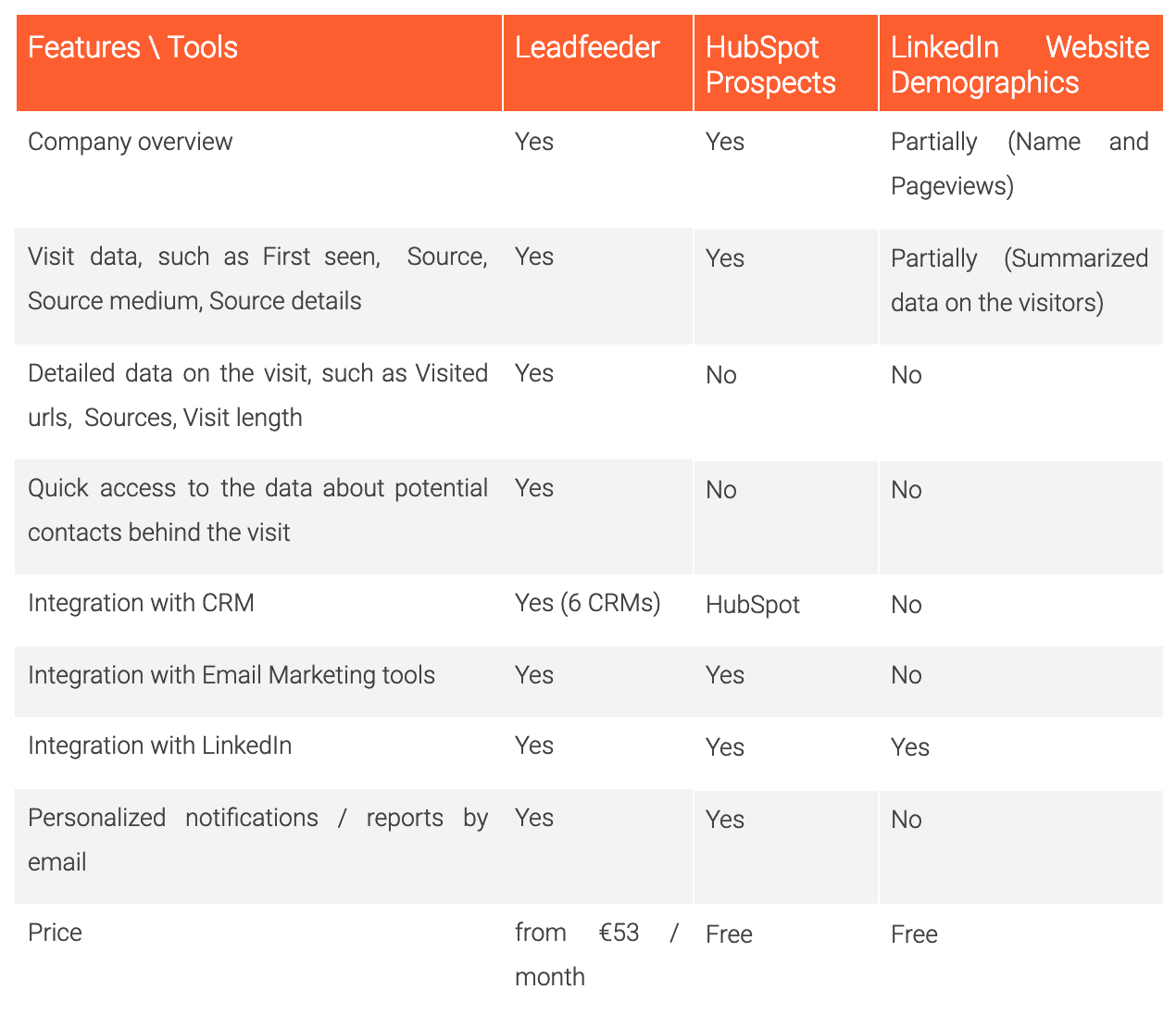 Clarification about Visit Data:

Leadfeeder provides detailed information on each visit, incl. the visit date, source, visited urls, time spent.

HubSpot Prospects gives more general information: the lead (company) details, first time the lead visited the website, the source of the visit, but no details on particular visits.
LinkedIn Website Demographics shows us how often (the number of pages) a certain group of leads visited the chosen landing page or group of pages. Leads can be grouped by the Job title, Industry, Company, or some other parameters.

Clarification about Potential Contacts Overview:

Leadfeeder shows us a list with the company's employees, including their names, titles, emails, profiles in LinkedIn when available.
HubSpot Prospects offers no data on the employees. I can search for the company's name in the LinkedIn by myself, but Leadfeeder definitely saves much of my time.
LinkedIn Website Demographics doesn't assist me in looking for contacts as well.
Conclusion
Leadfeeder
You will benefit from Leadfeeder if you wish to have a deeper understanding of your website visitors (what companies they represent, what brought them to the website, what keywords they used, what pages they visited, in what sequence, for how long they stayed there), if don't wish to be tied to HubSpot CRM, if you wish to have custom feeds for following and channeling the leads as well as to ensure your salespeople are notified when existing leads or customers visit the website.
HubSpot
You will benefit from Prospects if you use HubSpot CRM, you wish to gain insight into who is visiting your website, but you don't need detailed information on each visit and will be satisfied with the total number of pages viewed.
LinkedIn Website Demographics
You will benefit from LinkedIn Website Demographics if you have over 100 LinkedIn members at your website everyday, if you wish to understand who are the visitors (their job seniority, job function, company name, location and company size), and if you plan to use LinkedIn for advertising.
Contact Orange Bird in case you need help with selecting the right tool for your organization, implementing and using it or if you need an additional boost for your lead generation and lead nurturing activities.
Previous post
Next post