How Orange Bird helped
SEO research
Semantic Core. Drawing on our usual data-driven approach to developing marketing strategies, Orange Bird began by building a comprehensive semantic core to inform future marketing campaigns and activities. Using tools like Google Keyword Planner, Ahrefs Keywords Explorer and Google Trends, our team helped Deko Eko identify search trends and keywords with the most traffic and lowest competition. As a result, we compiled an extensive list of around 250 keywords in three languages (Polish, Dutch and English) in accordance with the brand's priority markets. Subsequently, these were divided into several groups via the creation of Buyer Personas and Topic Clusters.
Brand awareness and advertising campaigns
To increase Deko Eko's visibility online and ensure a steady growth of web traffic to their re-branded platform, the Orange Bird team proposed and carried out a series of creative and successful campaigns across various social media and online platforms. Our role wasn't limited to simply setting up campaigns and managing the budget, we also took on the creative part of the process, including preparing landing pages in English and Dutch and developing copy and images for the ads.
KPI dashboard. Orange Bird's CleanTech Advertising Specialist followed the campaigns throughout their whole "life cycle", closely monitoring their performance against various indicators: impressions, clicks, CTR, CPC, registrations, cost per registration and spent budget in every channel. Our Marketing Analyst created a dashboard in Google Data Studio to track the campaigns' KPIs across different channels in real time.
We used the data to increase the efficacy of Deko Eko's advertising campaigns and made recommendations on how to increase engagement and boost registrations and sales. This strong emphasis on monitoring and data analysis enabled us to achieve the desired marketing objectives in a cost-effective way for the client.
Christmas advertising campaign.There is no better time to promote a platform that sells unique designer products than during a holiday season, when everyone is on the lookout for gifts. Excited by Deko Eko's beautiful Christmas gifts made from upcycled materials, Orange Bird launched a marketing campaign in several digital marketing channels with a twofold goal:
urge businesses to join the platform by presenting them with the opportunity to upcycle their company's waste by turning it into Christmas gifts through Deko Eko
encourage individuals to order presents from Deko Eko
We started by targeting business audiences on LinkedIn as companies usually begin planning their corporate gifts well in advance. Then, in early December, we switched to Google, Facebook and Instagram to target B2C audiences since consumers tend to purchase gifts closer to Christmas. Here is what the campaigns looked like across different platforms:
LinkedIn Campaign. On LinkedIn, we launched a Lead Generation Campaign that allowed users to download an Upcycling Christmas catalogue directly from the ad after entering their name, company name and email. The catalogue was essentially a guide to upcycling for companies, with examples and illustrations of how they can collect and re-use their non-recyclable branded waste streams turning them into unique eco-friendly gifts and how Deko Eko facilitates this process.
To ensure that we get the ads in front of the right decision makers, we selected target groups based on a job title and membership in relevant LinkedIn groups. In this case, we targeted:
a) heads of marketing and HR with a proposition to strengthen the company's green identity by upcycling marketing waste into unique gifts for customers, partners and employees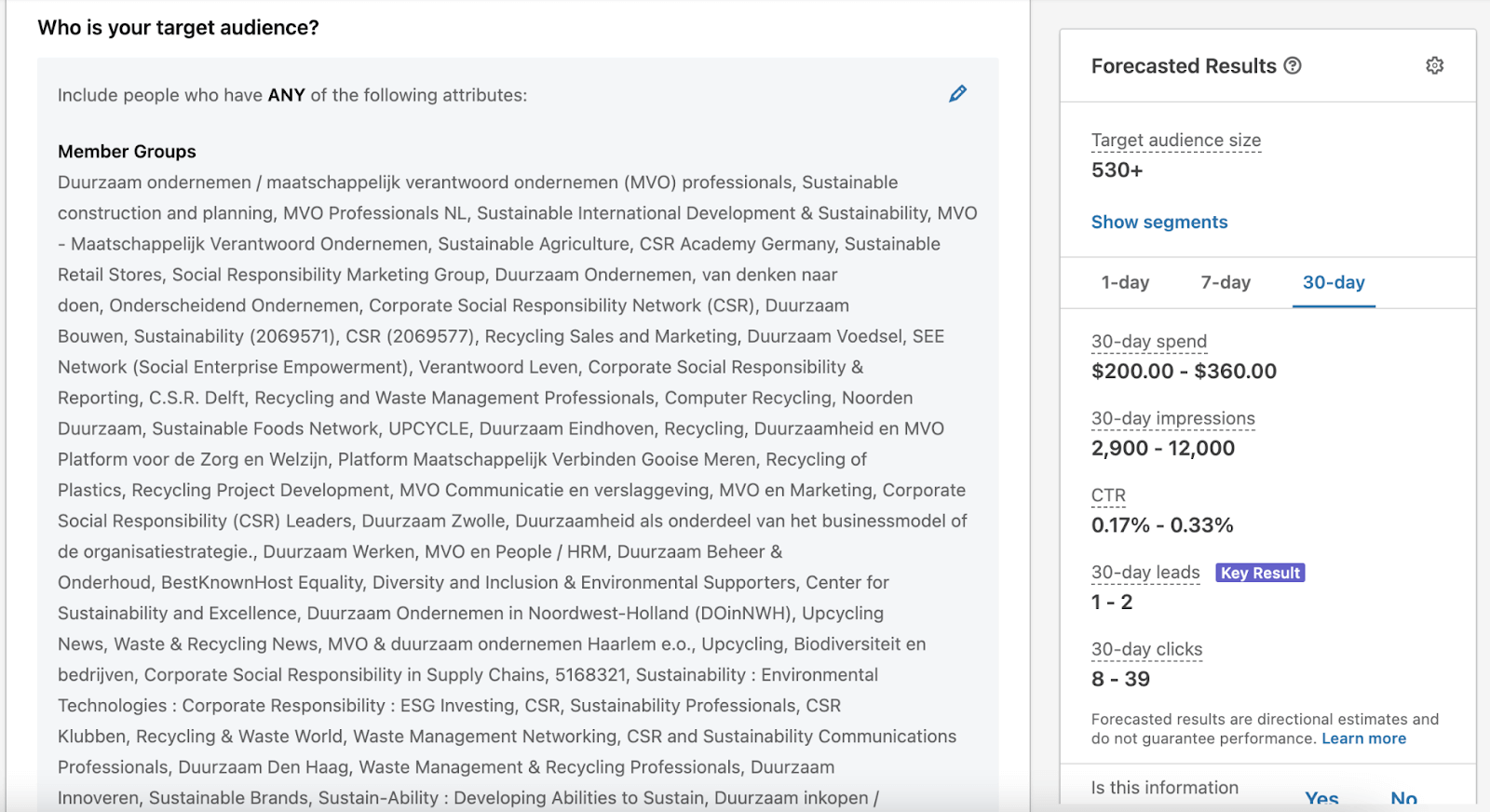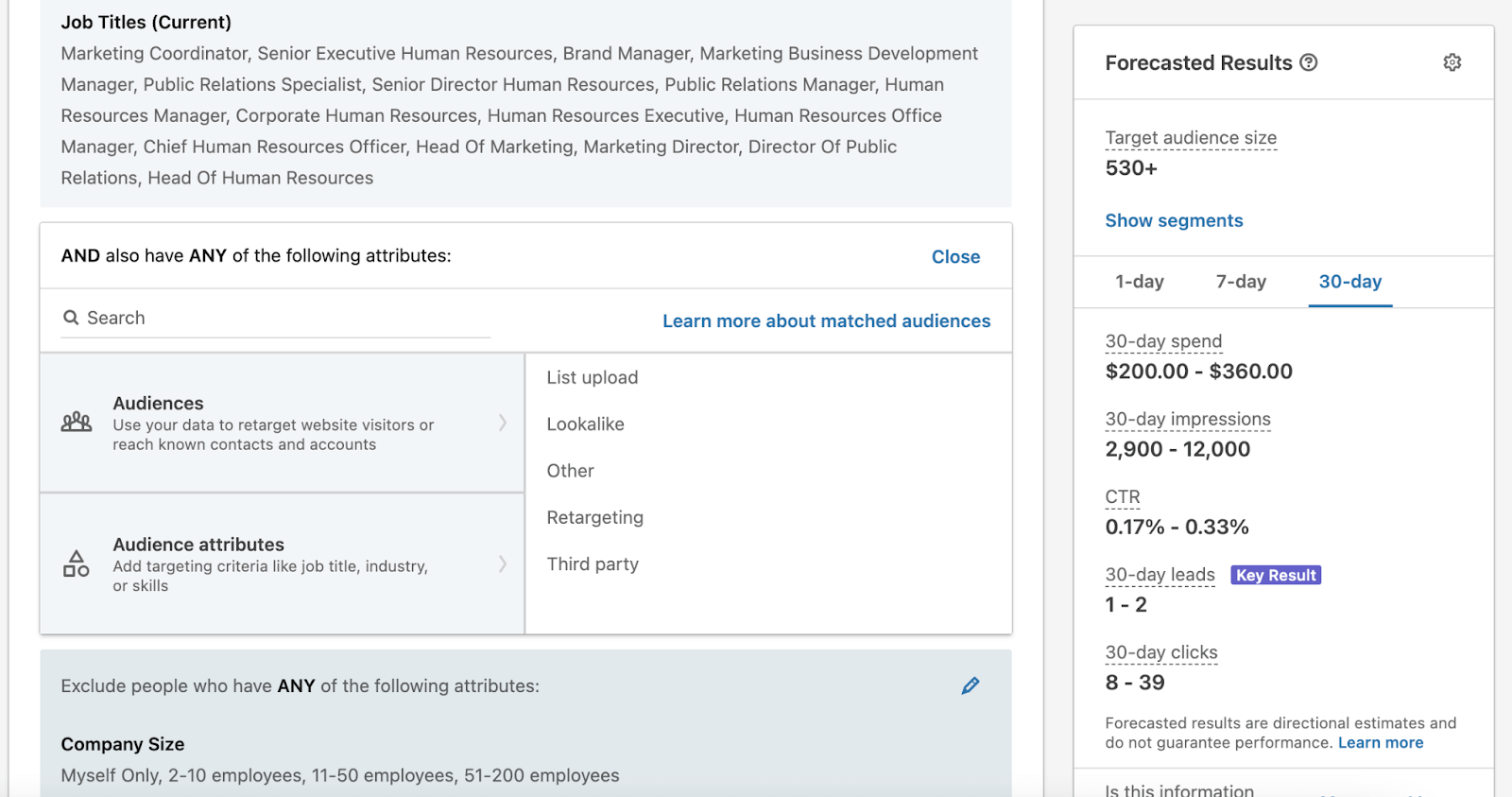 b) corporate social responsibility (CSR) specialists with a proposition to achieve corporate sustainability goals by organising upcycling of their companies' waste streams into eco-friendly gifts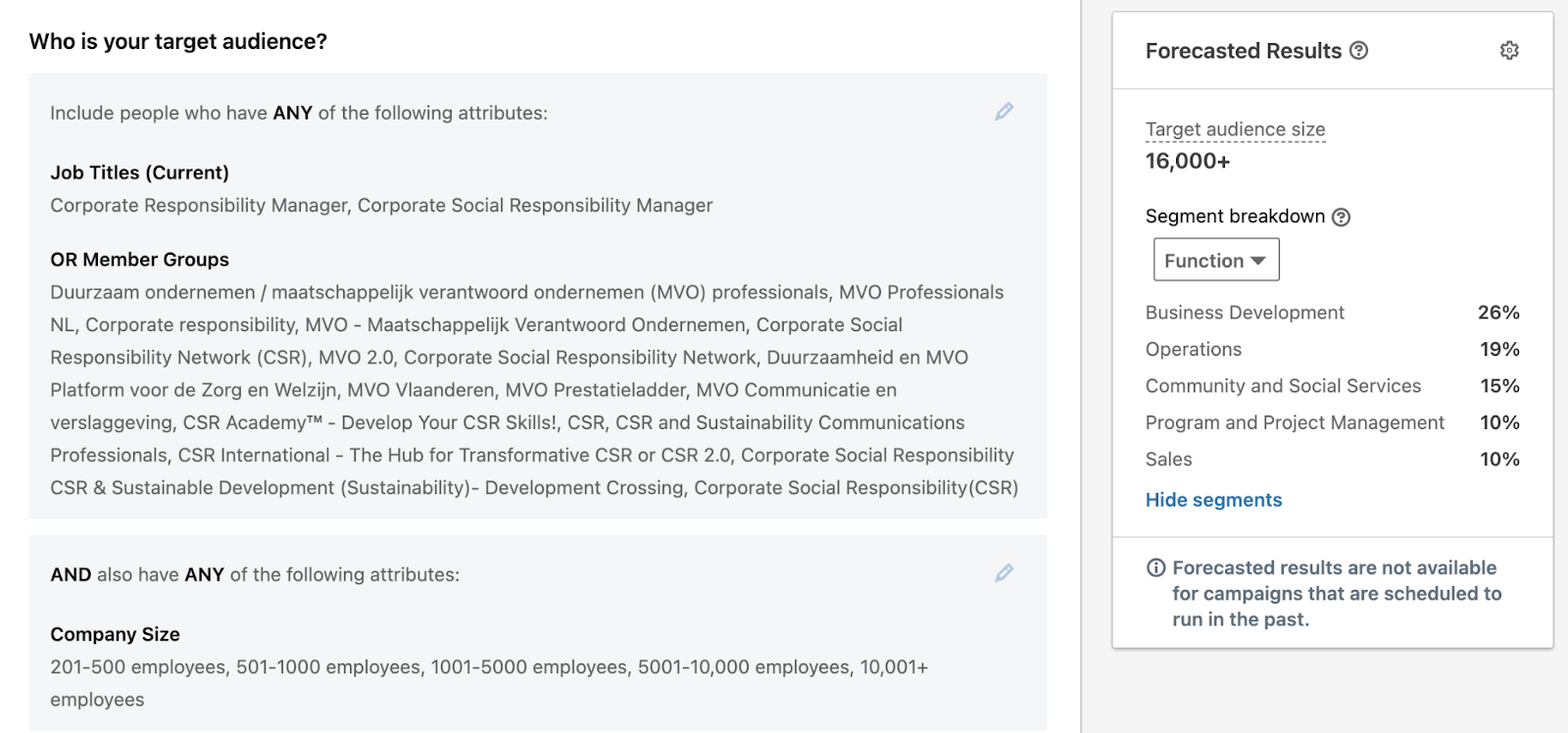 c) waste managers and sustainability managers with the proposition to reduce their companies' waste by upcycling it into unique and charming Christmas gifts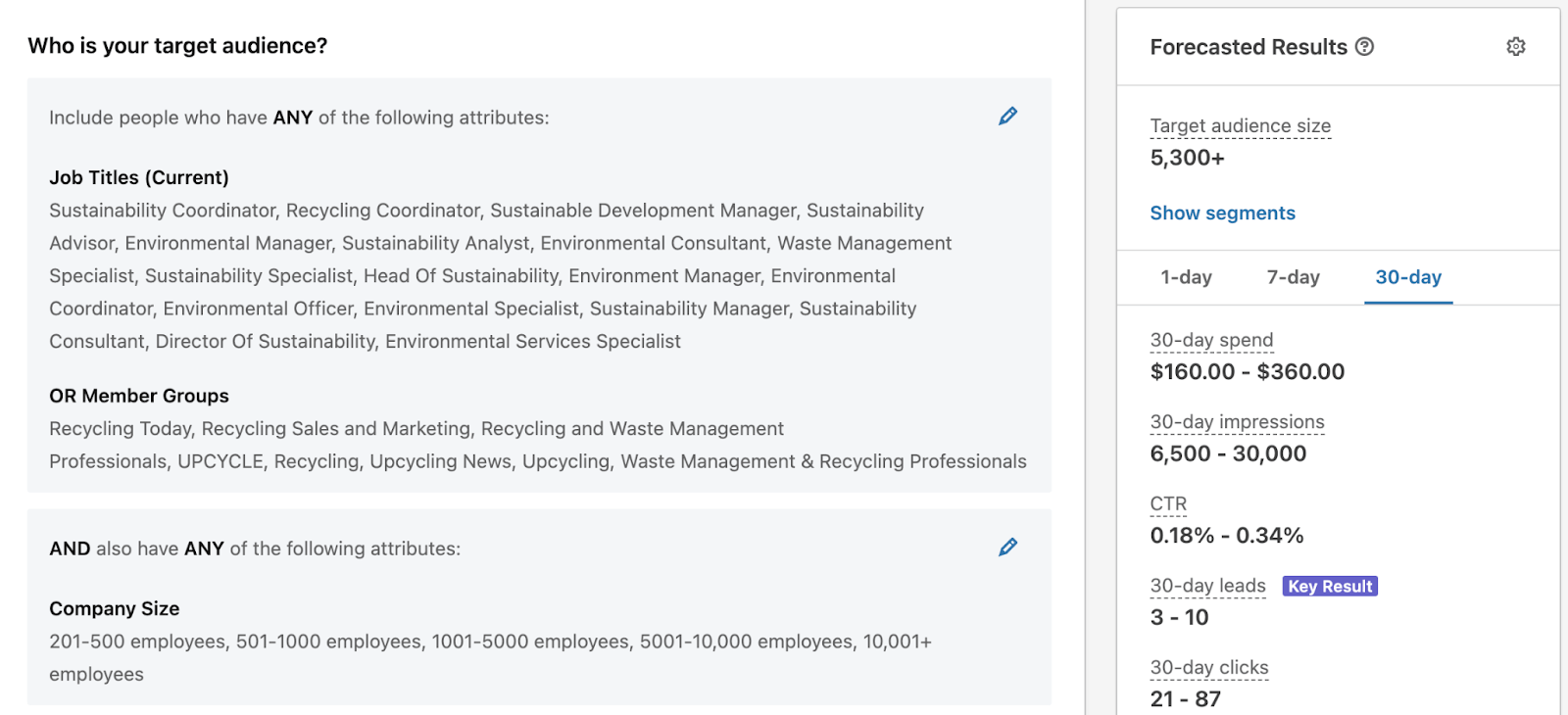 For each target group, our sustainability marketing copywriter wrote compelling copy, while our in-house designer worked on visuals. In the ads, we aimed to showcase the variety of eco-friendly corporate gifts available but also emphasise how Deko Eko makes upcycling so much easier for companies and how it can be used to foster meaningful relationships with customers, partners and employees who are concerned about sustainability.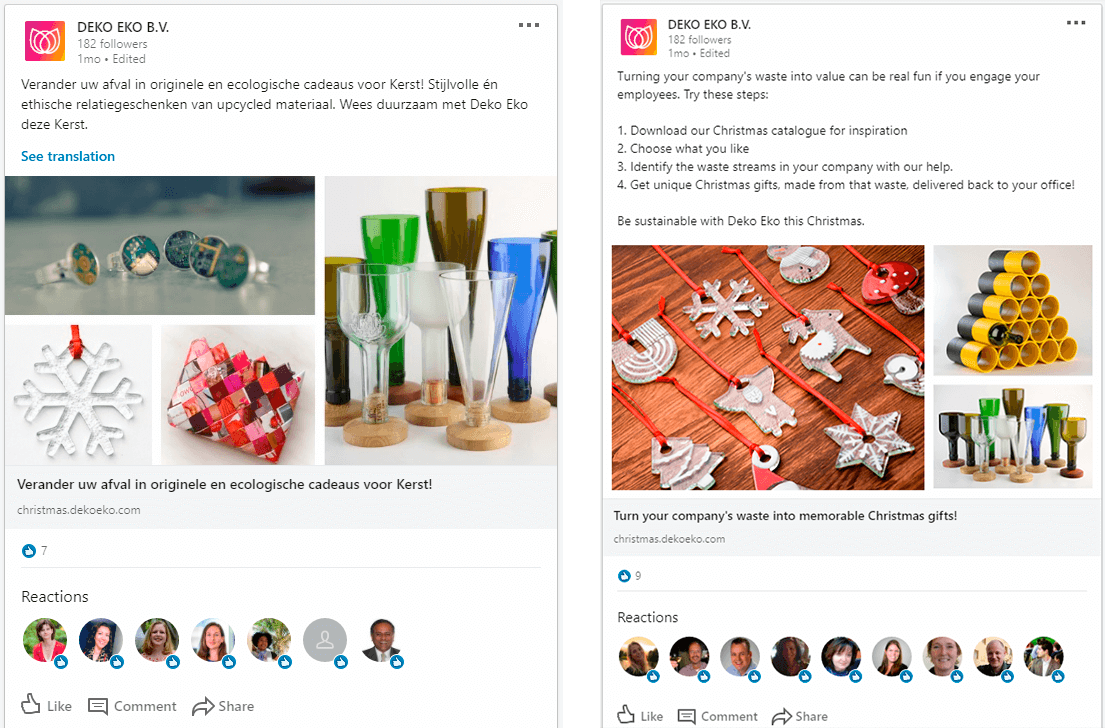 As a result, 78 business customers expressed interest in Deko Eko's upcycling services and left their contact information — company names and emails — in the span of 8 weeks of the campaigns running. The average cost per lead equaled 36 Euro. On top of that, the campaigns provided Deko Eko with valuable insights for future marketing and advertising endeavours on LinkedIn.
Google Campaign. The campaign on Google kicked off with ads in both Search and Display. The Search campaign relied on the keywords from the semantic core. The Display campaign targeted in-market and custom intent audiences interested in sustainability, green design and eco-fashion.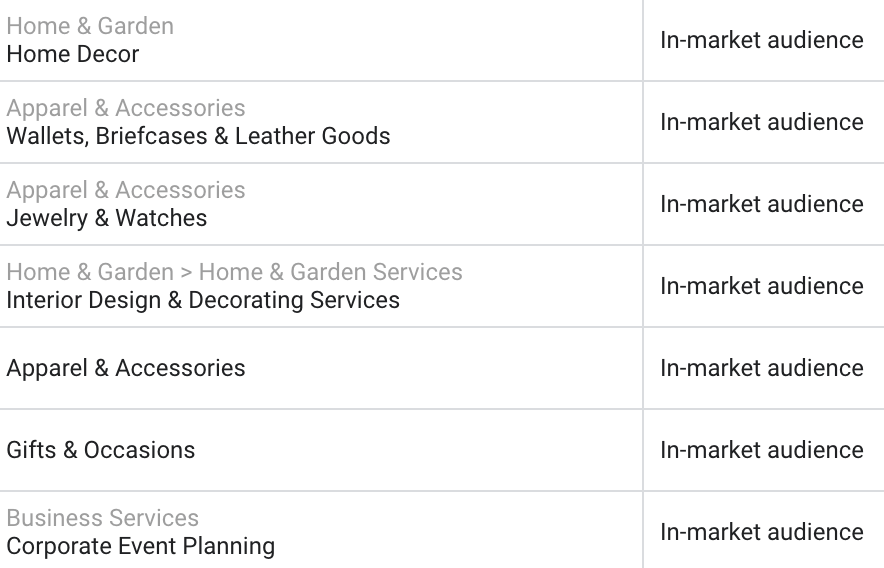 The campaigns were set up by our certified Google specialist, with separate campaigns for the Dutch and Polish markets and for each individual segment (by offering, topic & intent). To increase the CTR, we used ad extensions, such as sitelinks, callouts, promotions, and price. We also used Dynamic ads to provide highly relevant results for the users.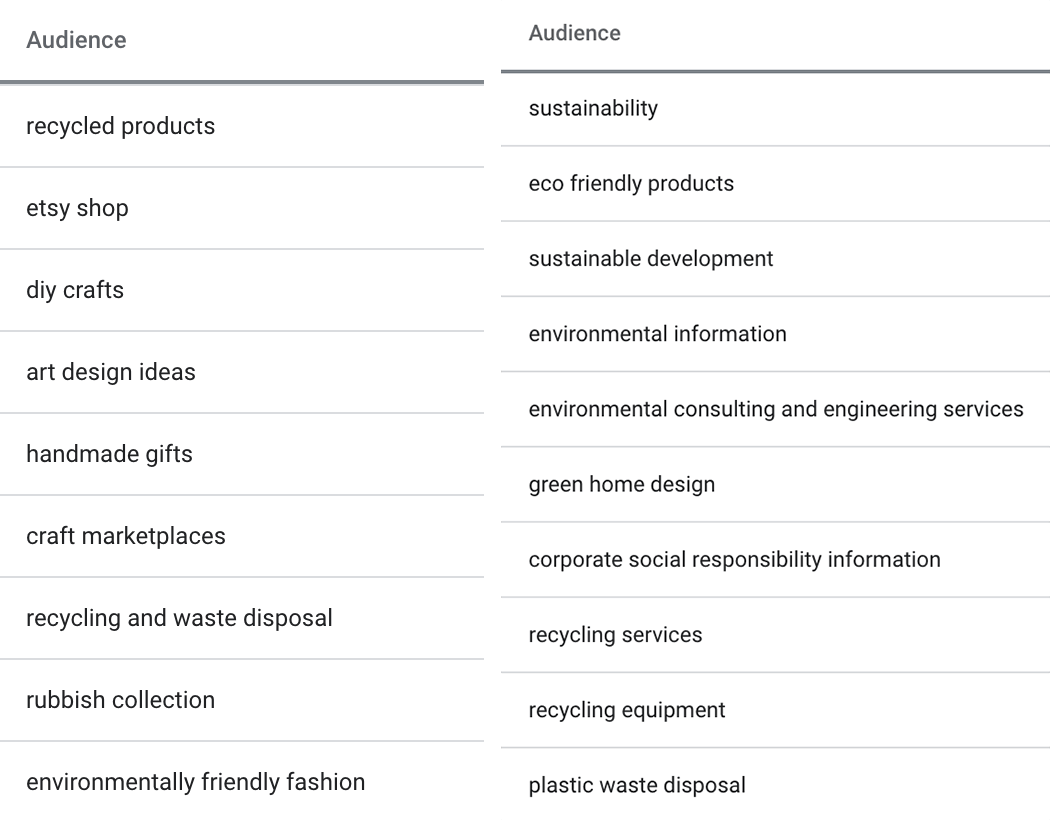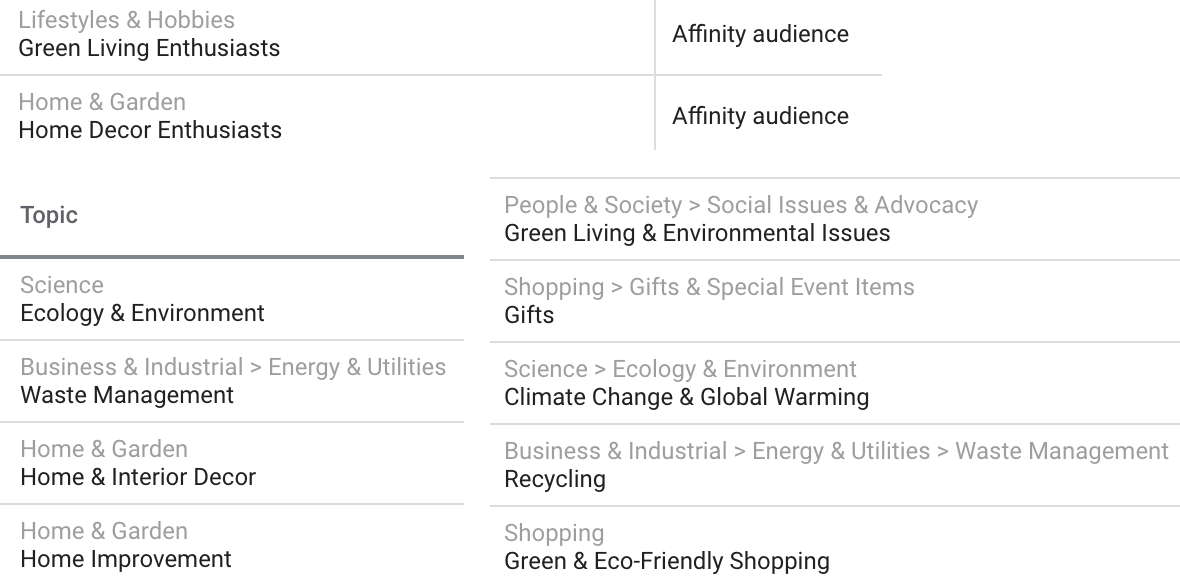 The first analysis showed that the Search campaign generated more conversions and better quality leads, prompting us to switch off the Display campaign and focus more resources on Google Search.
Facebook and Instagram Campaigns. Starting from early December, our focus shifted to B2C audiences. For this campaign, it was crucial to use image-based ads to convince customers of the value of Deko Eko's products. We prepared a series of ads showcasing a variety of gifts available for purchase. We did our best to encourage customers to switch from traditional Christmas gifts to upcycled gifts to spare the earth's resources and foster sustainability.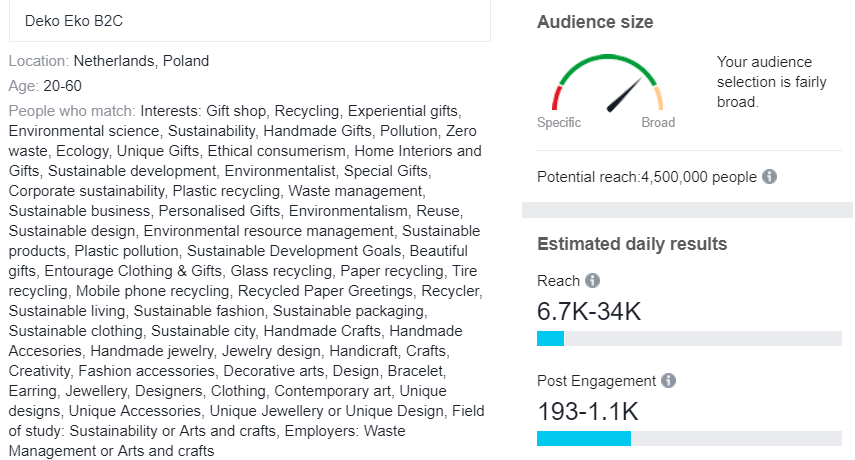 Facebook was also used to re-market to the most engaged audience: previous visitors to the Deko Eko Christmas landing page and those who had interacted with Deko Eko's posts, videos and page on Facebook. We prepared ad copy encouraging customers to order in time for the coming holiday season.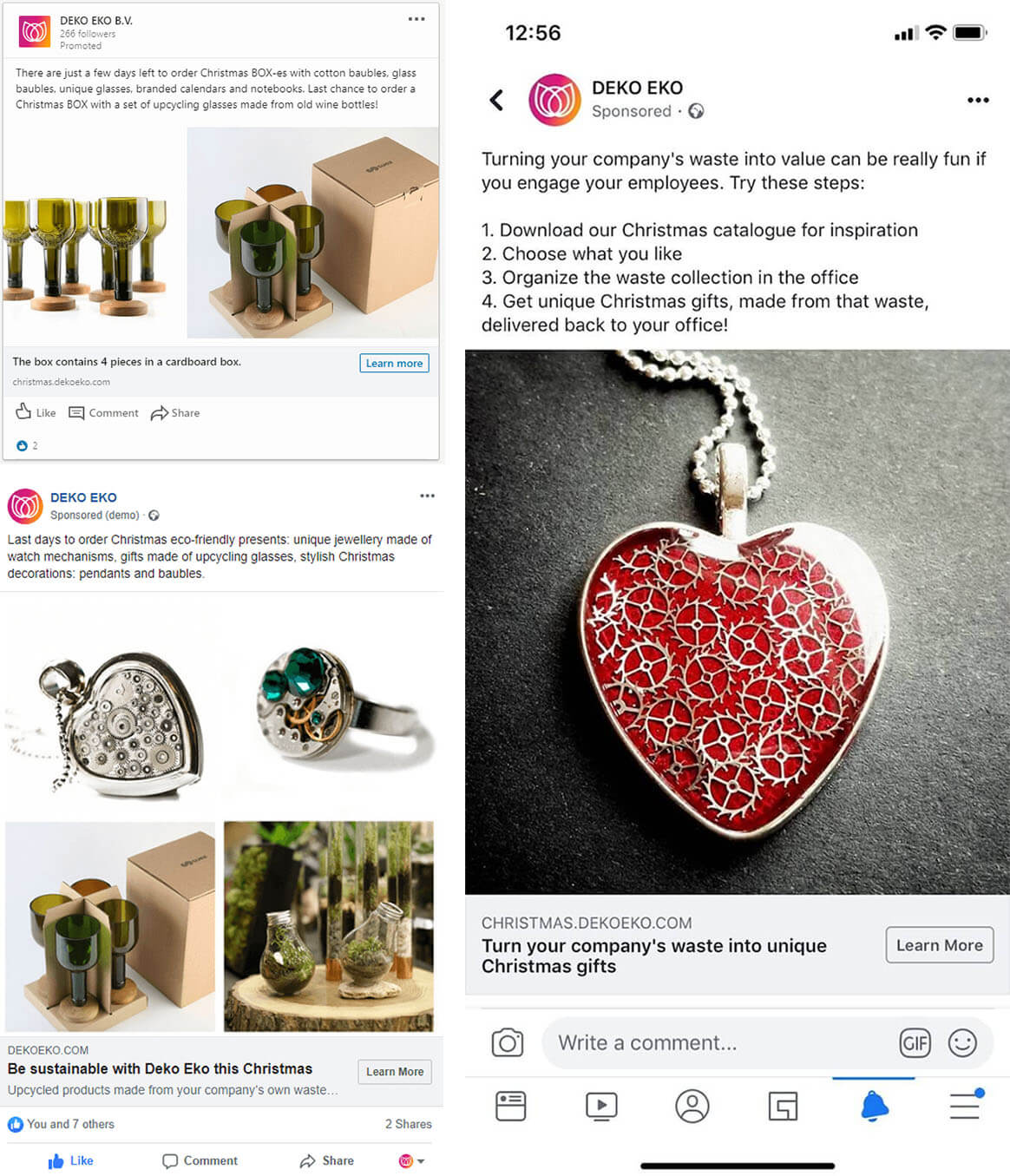 Brand awareness campaign on Facebook. In addition to the Christmas advertising campaign, an awareness campaign was launched on Facebook and Instagram in order to acquire more followers. It's a fact that video content tends to attract more engagement on Facebook than images. With this in mind, we used an inspiring short promotional video as a visual for this campaign. The campaign resulted in 424 new page likes for the Deko Eko account in three months, at an average cost of 0.25 euro per like.
Eureeca campaign on LinkedIn. Looking for investments to further develop their marketplace, Deko Eko launched a crowdfunding campaign on the Eureeca platform. To boost their crowdfunding efforts, Deko Eko asked Orange Bird for help in attracting more potential investors to the landing page. First, we used Crunchbase to research suitable investors: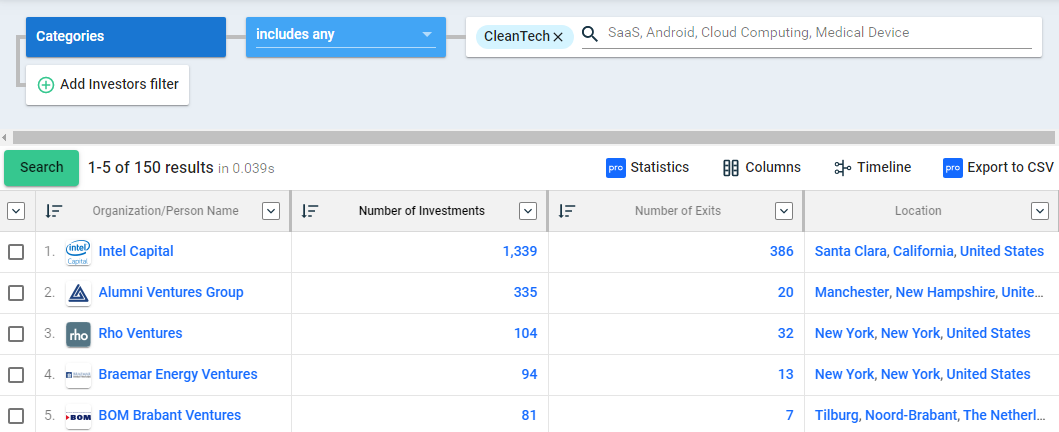 Then we applied filters to select investors interested in impact investing in Europe and having European companies in their portfolio. Further, we used the company names we found on Crunchbase in a LinkedIn campaign (you can target LinkedIn users by "Company name"), supplementing them with job functions (like "Business Development", "Finance" and "Product Management").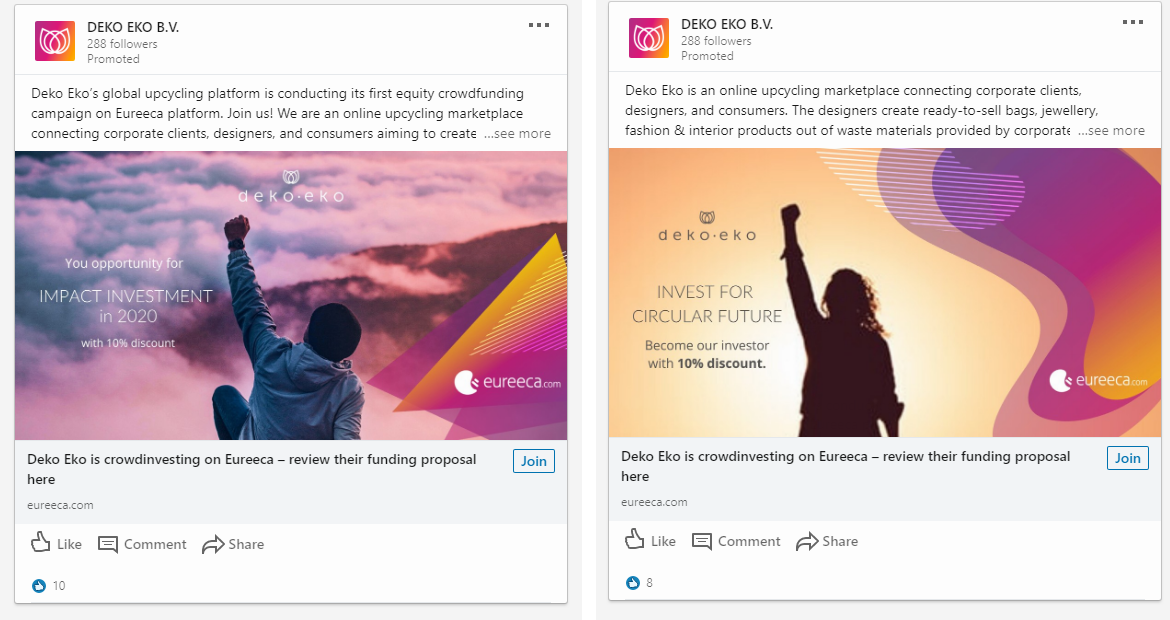 Designers Scouting Campaign. Orange Bird also developed and executed a campaign to scout designers in order to encourage new eco designers to join the Deko Eko platform, particularly those from the brand's new strategic markets like the Netherlands and Belgium. Initially, we launched the campaign on Google Display, Facebook and Instagram, yet soon it became clear that, with a limited budget, we needed to focus on Instragram, which halved the cost per lead in comparison to Facebook and Google.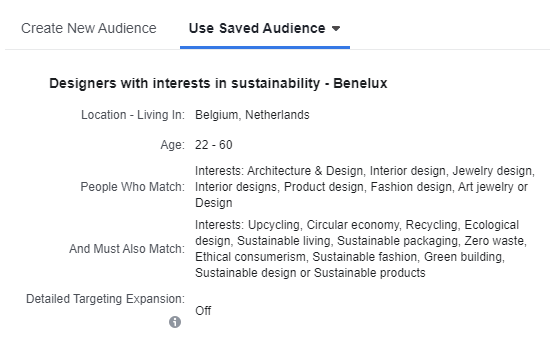 To keep the audience interested and engaged, we regularly updated and optimised the ads by changing images and copy, experimenting with messages and emojis, eliminating inefficient placements and pausing ads with a low CTR. Within a few weeks, the campaign started to bring around 20 new registrations of designers per month, with a monthly budget of approx. 400 Euro.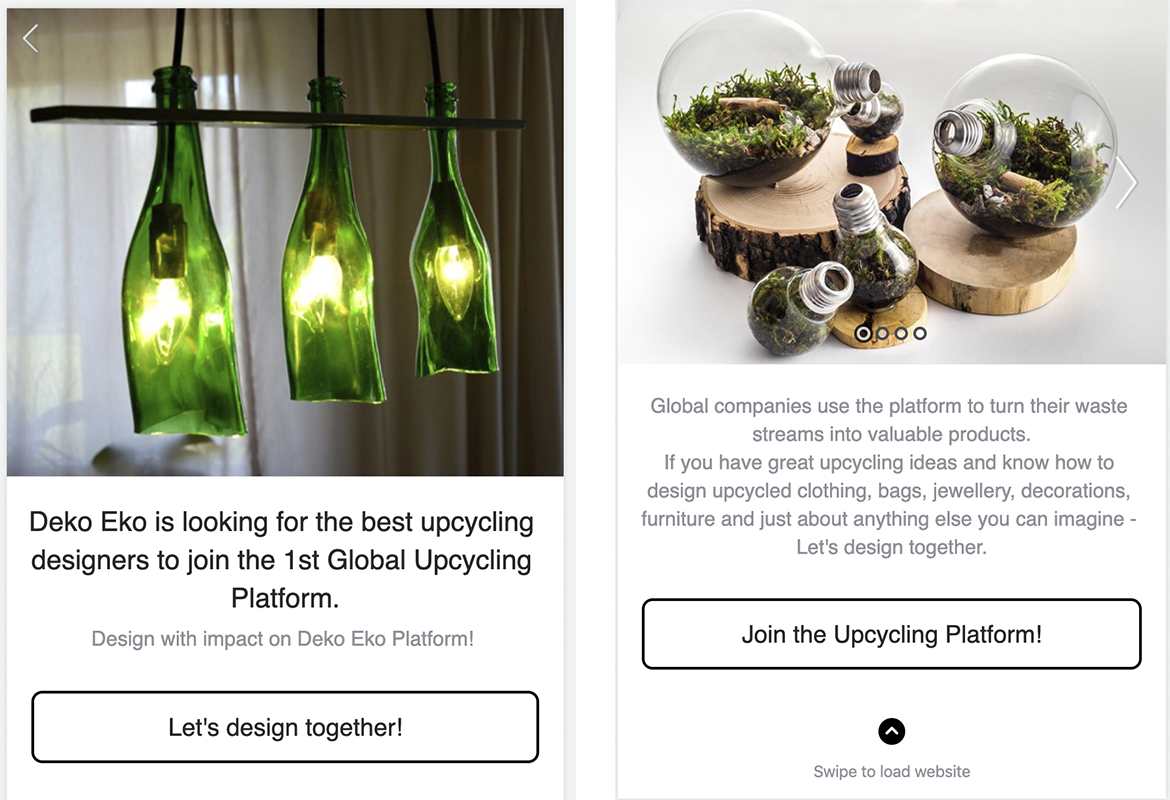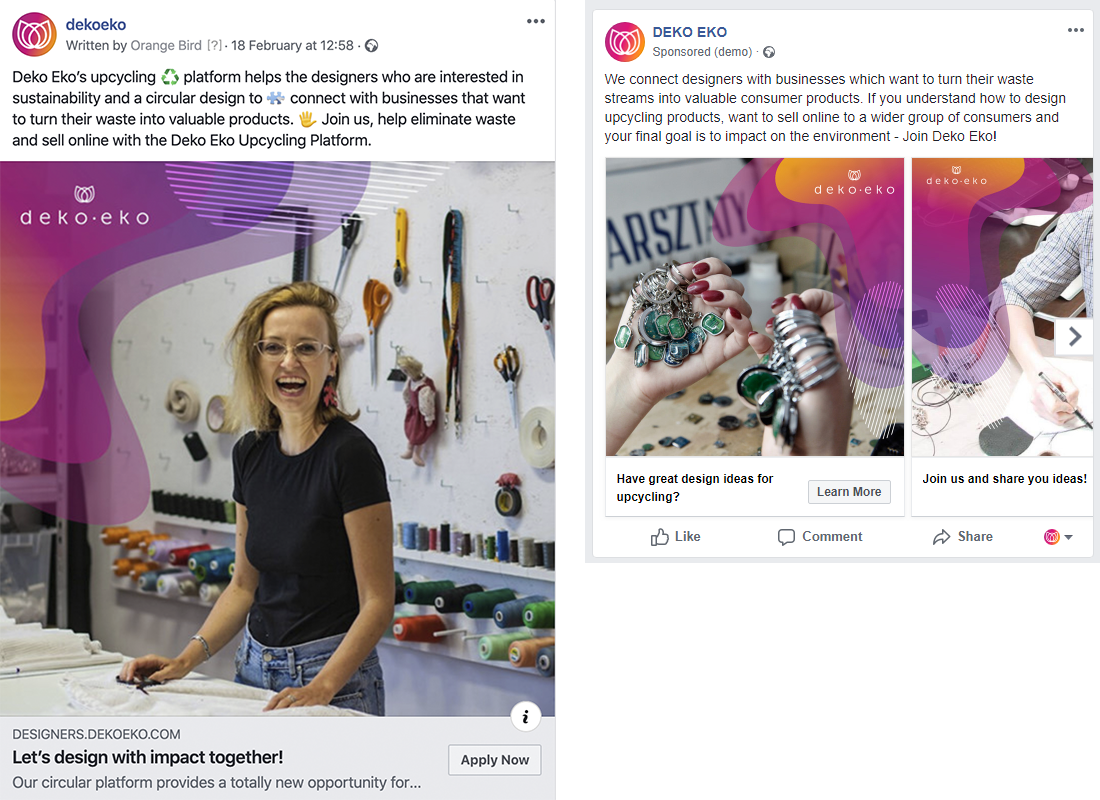 Content marketing and copywriting
The Orange Bird team assisted Deko Eko in developing content for their blog and website in general. In particular, our native English and native Dutch sustainability copywriters edited and proofread articles and landing pages to ensure they read smoothly and naturally. To make Deko Eko content more pertinent and newsworthy in high priority markets, we drew up a calendar of events for B2B and B2C audiences so that the brand's SMM and content strategy would centre around holidays and events celebrated in the target Dutch market.