Why Orange Bird
Expertise in sustainability and greentech. Orange Bird is a sustainability marketing agency, which works exclusively with companies that contribute to the transition to a clean economy. This enables us to accumulate and build on a solid expertise in cleantech and greentech marketing and communications.
Multinational team. Orange Bird has a diverse multinational and geographically dispersed team, which provides us with first-hand insights into various markets and allows us to implement campaigns around the world easily and successfully.
Flexibility and responsiveness. Orange Bird strives to accommodate all client requests and goes above and beyond to complete urgent and unforeseen tasks diligently, even under time constraints.
Accountability and transparency. Orange Bird is committed to providing its clients with top-notch services in the most transparent and cost-effective way possible. For example, clients have full access to all project details on our side and receive detailed reports on how our team achieves desired outcomes.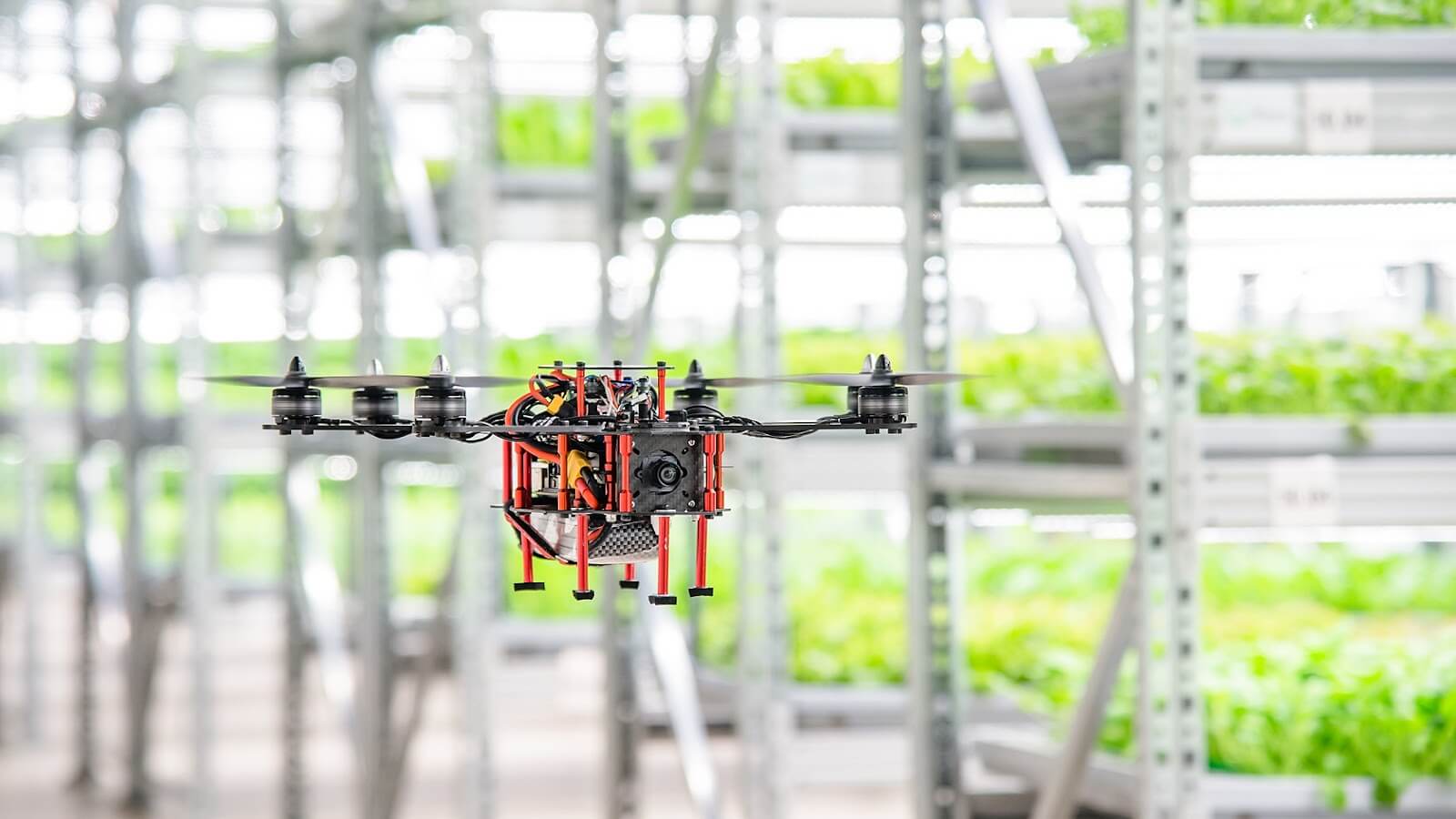 How Orange Bird helped
Content Marketing
Content strategy. To ensure that the iFarm English blog is aligned with and works toward the overall business goal, we embraced a data-driven and evidence-based approach to the development of its new content strategy. Our team began by conducting an extensive audit of existing content to assess what works and to build on these "best practices" going forward. Using Google Analytics, we reviewed the webpages that generated most leads from European markets and, drawing on the results, formulated recommendations for the content strategy and editorial calendar.
Then, our team analysed target segments and singled out Buyer Personas, listing possible questions and pain points for each group. With this approach, we aimed to ensure that every piece of content in the blog has a strategic value. In turn, this prevents time and resources being used on content that doesn't contribute to the overriding marketing and business objectives.
Editorial calendar. Based on the proposed content strategy, we put together a comprehensive editorial calendar for the blog. Here, the Orange Bird team stuck to the same evidence-based and result-oriented approach. For each article idea, we defined a target audience and specific buyer personas, which the article aims to reach, and outlined the end-users' problems and questions that the article answers. We also thought through and carefully selected keywords and calls to action for every article. With this, we strive to ensure that each article will reach its targeted audience, help them resolve their problems and result in action.
Content creation and copywriting. Despite having an in-house editorial team for its Russian blog, iFarm does not have full-time staff working on the English one. Therefore, Orange Bird also took the initiative to establish and put in place workflows for content creation, publishing and publicity. Our native English copywriters now provide a steady and regular supply of new articles in accordance with the editorial calendar. Besides preparing content for the blog, they also help proofread and edit other communications materials for iFarm, including presentations, pitches, website pages, and scripts for videos.
For depth, consistency and timely delivery of all required elements in each article, our team created guidelines and templates for authors and put together a content library with numerous materials relating to iFarm technology and vertical farming in general.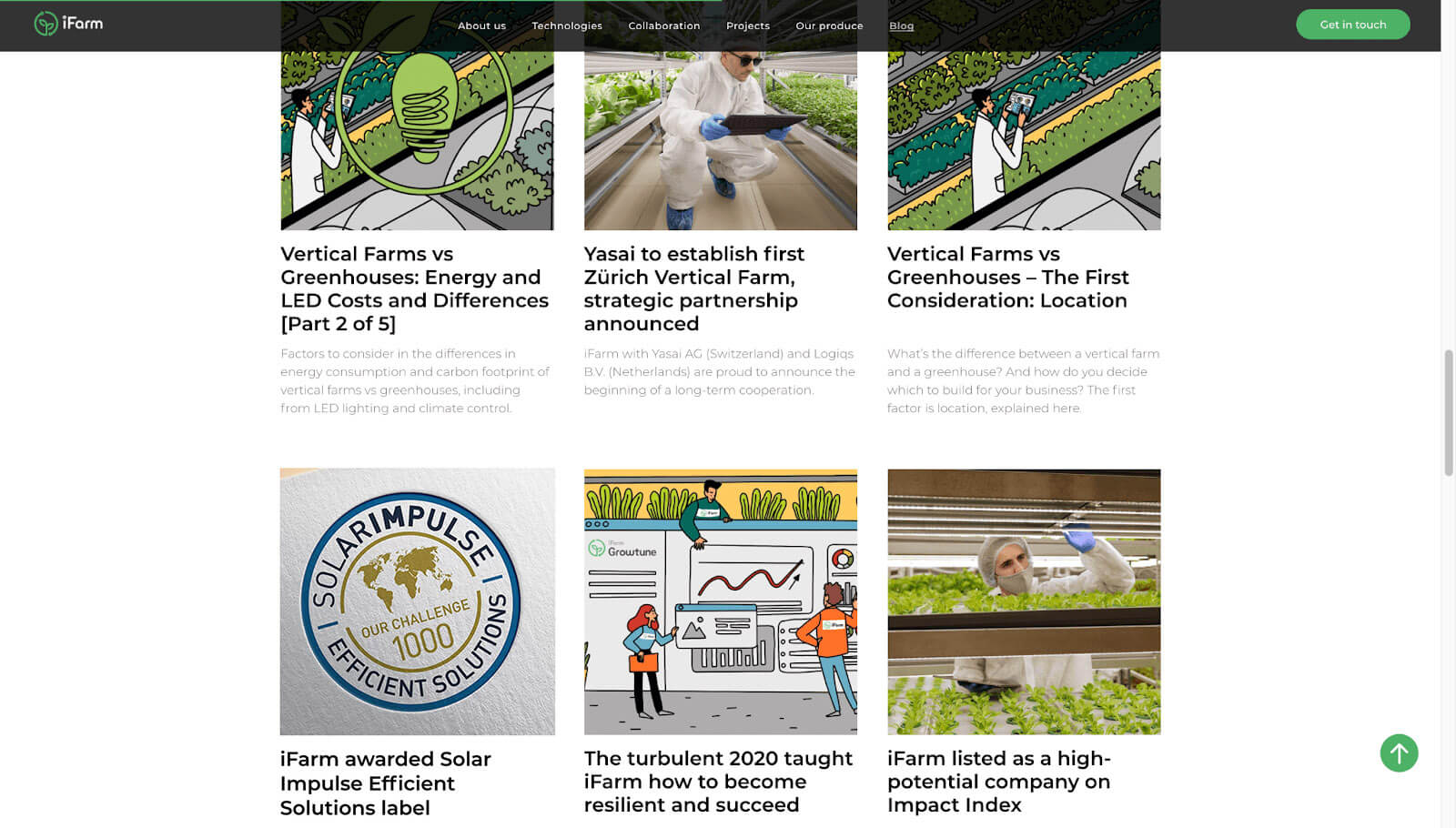 Web analytics. Orange Bird pays close attention to monitoring the blog's performance. We conduct a review of web statistics, including post views, shares, leads, and cost per lead, to assess the new content performance, and provide recommendations on how to optimise the editorial calendar and make the content even more engaging. In addition, by measuring the rankings of core keywords, we can monitor changes and improve the blog's "searchability".This data-driven approach provides us with the evidence needed to fine-tune the content strategy and helps to ensure good visibility of the published content.
Public Relations
Keyword research. Our data-driven approach found its way into PR activities too. In particular, our team conducted keyword research for iFarm to better understand what iFarm's target segments search for online and figure out ways to reach them. In other words, we used keyword research to identify platforms and media outlets that iFarm should use to maximise its reach within specified target audiences.
Media relations. To keep iFarm on the radar of greentech journalists and influencers, we researched and created an extensive database of relevant media outlets, bloggers and social media communities to use for the distribution of news releases and other stories about the company.
Orange Bird assists iFarm in preparing media-oriented communications materials. Keeping abreast of the latest trends and developments in the vertical farming industry, we gather ideas, initiate conversations with subject matter experts, and work with journalists to collaboratively prepare articles, interviews, and case studies that will increase iFarm's profile in top-tier agtech media outlets.
On top of that, Orange Bird develops and executes pitches on behalf of iFarm and manages the distribution of press releases and other newsworthy announcements. For example, Orange Bird pitched the press release on the launch of iFarm's joint venture with Sadarah, which was picked up and published by 17 leading industry publications across Europe and the Middle East.
Events and Awards. Orange Bird initiated iFarm's participation in various professional events and awards to boost its brand recognition within the expert community. For example, we assisted iFarm in obtaining the Solar Impulse Efficient Solution Label, the prestigious accolade that proves the financial profitability of clean technologies. In particular, the Orange Bird team helped to prepare a submission form and facilitated communication during the rigorous assessment process undertaken by a panel of independent experts, which companies undergo in order to receive the Label.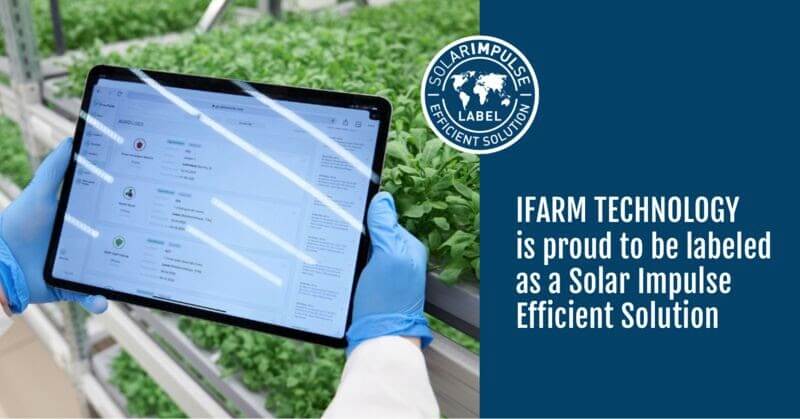 Results
iFarm obtained the Solar Impulse Efficient Solution Label, proving that its clean technology is environmentally friendly and financially profitable
A comprehensive editorial calendar for the iFarm blog in English has been developed and is currently being implemented
Prepared and published numerous articles of various types on the iFarm Blog, including a series of five articles, 'Vertical Farms vs Greenhouses', which answers key questions about profitability and feasibility of iFarm technology, announcements and news releases, case studies, and long-form feature stories.
17 leading industry publications published the press release on iFarm's joint project with Sadarah, including media outlets like AgFunder, The Spoon, Food Navigator, Vertical Farm Daily
Materials for the quick onboarding of new sustainable copywriters and marketers were drafted and introduced in the content development process
The readers of the new articles prepared by Orange Bird made up almost 20% of all new website users since the publication date of the 1st article. It means that the articles play a role in the journey of at least ⅕ of website visitors.
The bounce rate of those who read the articles is 32.08% lower than for other users of the website.
20.3% of those who have read the articles have returned to the website.
The article readers made up 11.45% of online conversions since the 1st article was published.
"Orange Bird's focus on sustainability and greentech projects drew us to the Agency and, since joining forces, we have carried out many effective marketing activities together. The team is always available, meets deadlines and provides innovative ideas and original strategies that are tailored to our audience.
Their knowledge of sustainability, CleanTech and AgTech is second-to-none, while their transparency, attention to detail and dedication shine through in every assignment and communication. As a global company, it's important for us to implement campaigns in different markets and Orange Bird's multi-national team facilitates this easily and successfully.
In short, we're thrilled to be partnering with Orange Bird Agency and highly recommend them to other organisations looking for a sustainability marketing agency."
Max Chizhov,
CEO, iFarm