Customer Profile:
Offering (as of 2018): An AI-powered software platform for precision farming that is free of charge for all farmers and agronomists
Target audience for the project in question:small-to-large scale farm owners and agronomists from Europe, America, Africa, Australia, South and South-East Asia
Background
OneSoil team is building a digital farming platform that helps to monitor fields, plan farming operations, increase productivity and save agricultural resources based on machine learning for farm data and computer vision for spatial imagery. OneSoil turned to Orange Bird when carrying out customer development for their SaaS product with a limited budget.
The challenges we faced:
Develop a clear, concise and to the point agricultural survey that would engage farmers and elicit a sufficient number of responses for OneSoil to understand the farmers' problems, pains and real gaps at the market
Reach out to farmers and elicit as many survey responses as possible via free channels
Target the right audience from all over the world via various paid channels and social media networks
Drive mobile app installs
Strategy
Benchmark, translate and improve the Custdev survey
To achieve this, we reviewed competitors' surveys, selected a survey platform, translated the client's survey into English and Dutch and tested the surveys in various channels, analysing response rates.

All along we tried to heed every feedback on the survey and to proactively interview respondents in order to polish the survey. This has proved how easy it is to assume that the survey is clear to end users if it is clear to you. The target audience may use other terms or understand survey questions quite differently than you intend. Only communication with representatives of the target audience can help to reveal weak points and improve the survey.
Scout for the target audience in free channels
We found over sixty related Facebook and LinkedIn groups, 180+ farming associations and dozens of events, and hundreds of reputable farmer discussion boards and forums. We registered and got in touch with their members and administrators to distribute the survey.

In addition, we arranged an email marketing campaign for existing subscribers of OneSoil, increased visibility of our client in social media, exploited various messaging options of the social media networks and got involved in communication with farming associations and conference organisers to make sure the survey reaches the target audience.
Select paid channels, prepare and run sponsored campaigns to maximise the number of survey responses
We identified Facebook, LinkedIN, and Twitter as the most suitable social media for OneSoil's ad campaigns, set up and continuously optimized the campaigns to achieve better results. Always remember you can always be wrong, so test various ideas. This time we were dead sure LinkedIN cost per conversion would be higher than that in Twitter (can you imagine a lot of farmers using the white-collar LinkedIN?), however, with approximately the same number of conversions, the cost per conversion was even lower in LinkedIN.
Accompany the survey with a strong motivational message with evident value for respondents
When distributing the survey we did our best to create simple and powerful messages customised for each audience segment in every channel we used. In the messages we focused on how respondents will benefit from taking time to fill in the surveys.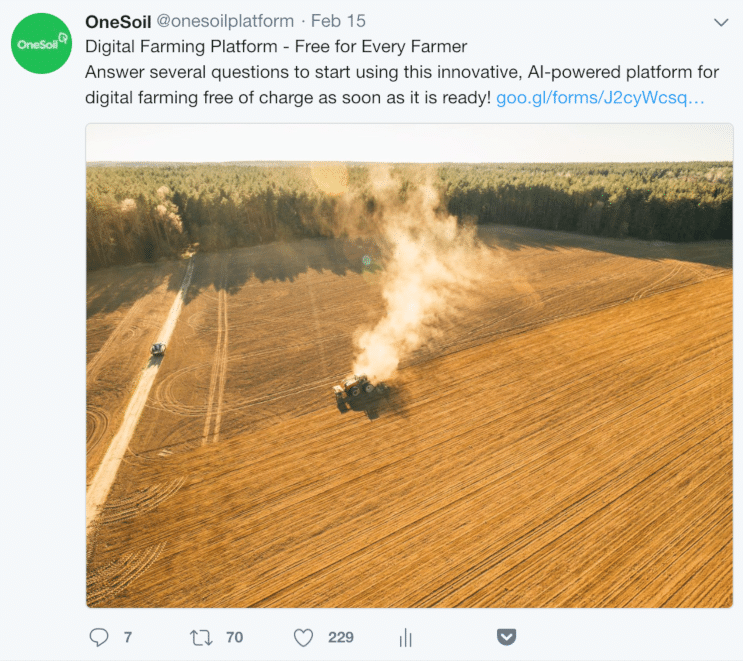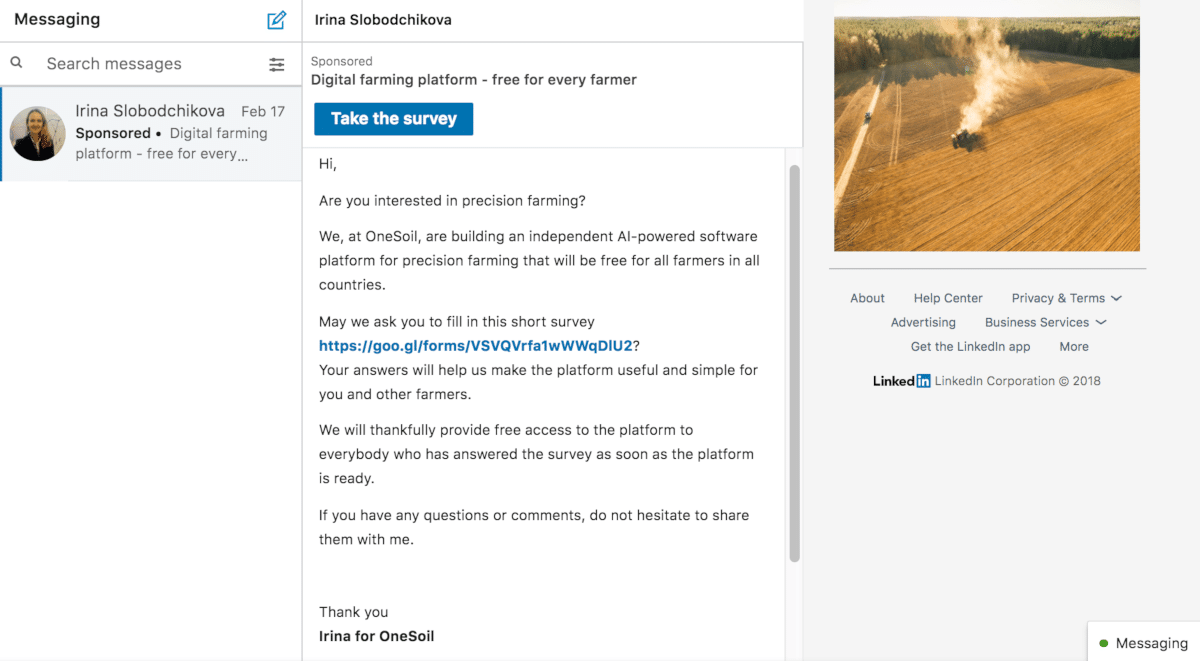 Set up mobile app install campaigns
To focus on the right metrics and KPI's we started with a Customer Journey Map where we identified the stages of user involvement and interest in OneSoil's mobile app, the actions users might take and the channels for completing them. After OneSoil approved the Customer Journey Map, we launched Universal App Campaigns via Google Ads and various campaigns in Facebook as well as implemented event tracking to keep an eye on the target user actions.
Optimize campaigns to achieve a higher ROI
We set up Firebase to collect usage and behavior data and to optimize those ad campaigns which drove less engaged traffic while boosting the campaigns with high user engagement.

We also used Google Play and Facebook Analytics to identify and test various funnels and created dashboards in Amplitude to track in-app events and compare the outcome in each of the considered funnels. In Facebook, we optimized the app install campaigns for registration and used Lookalike audiences to extend the reach.

As for the formats, video ads have proved their highest engagement potential and had the lowest cost per action.
Results
OneSoil received more than 120 survey responses from farmers all over the world with the average cost of 7 EUR per filled in survey (12 extended questions in the survey)
60 related farming groups were found in Facebook and LinkedIN, 180+ farming associations and 45 relevant farming forums were contacted for cooperation
Twitter account has been set up and developed. OneSoil brand awareness has been increased in Facebook, LinkedIN, Twitter
Low cost per install in ad campaigns (with the average CPI 1.5$ and starting from 0.05$ for some of the placements)
Media plan was developed with suggestions for other channels and with ideas and topics for blog posts
Required content for the mobile app, website landing pages and Google Play was translated into English and German
"We're developing a technologically complex AgTech product. Orange Bird has helped us to find respondents to do Customer Development for our product.
We appreciated that the tasks were performed quickly while the communication was enjoyable and informal. With full confidence I recommend Alena and Irina of Orange Bird Agile Marketing Agency as responsible professionals ready to immerse themselves in your business, suggest solutions to non-standard problems and implement them diligently."
Sasha Yakovlev,
Co-founder of OneSoil