Customer Profile:
Name:
Vrije Universiteit Amsterdam
Industry:
Higher Education
Website:
www.vu.nl
Offering (2018-2019): modern Bachelor degree programs (18 in English), exciting and varied Master degree programs (120 in English)
Target audience for the project in question: Young people in Russia who are 18-35 years old, have a very good command of English, are willing and able to follow a study program abroad, and have the financial means to pay a tuition fee of around 13,000 Euros per year.
Background
Vrije Universiteit Amsterdam is a leading European research university in the Netherlands. They started working with Orange Bird to help them increase the number of qualified students enrolled from Russia for its English-speaking degree programmes. A simple goal, yet not such an easy task. It is a real challenge for a Dutch university to target a country where the average income is four times lower than in the Netherlands. What this meant for us was that however big Russia's market is, it would take a lot of scouting to find and attract a significant number of young Russians that can afford a degree program in Amsterdam.
To rise to the challenge, we developed and executed a strategy with three components at its core:
1. Increase brand awareness for Vrije Universiteit Amsterdam in the Russian market
2. Ensure a steady flow of quality traffic to the client's website
3. Support potential students with direct communication in different channels
What helped to generate and increase brand awareness in Russia for Vrije Universiteit Amsterdam
Visibility online
After conducting a practical market research and interviewing representatives of the target audience in Russia, we compiled a substantial list of keywords and phrases which are most frequently used to find the degree programs offered by our customer. A check of websites and portals scoring high on these keywords in Google and Yandex (the Russian counterpart of Google) prompted a few of our first steps, such as profiling the customer in Wikipedia and at numerous academic websites in Western Europe.
To ensure that potential students would be reading authentic and useful information when making such an important decision, we interviewed Russian students and alumni of the customer, and published their interviews and stories at relevant websites.
Social media marketing
Realizing that our youthful target audience actually lives online, we created and continuously nurtured Russian speaking communities on Facebook and Vkontakte (the Russian counterpart of Facebook). Our goal was to make sure we were helping potential students at all stages of the selection, preparation, and application process, so we worked out a list of topics to cover for every stage. To keep the posts varied, we brainstormed different kinds of content to post:
Informative posts with a photo, link, or video
Checklists
Inspirational and historical posts
Problem – solution tips
Research results
Comparisons with Russia
Short reviews, video interviews, stories, and quotes from students and alumni
Student jokes, commentary on why certain songs and videos are popular with Dutch students
Video interviews with members of the Admission Committee
Mini-presentations of programs
Q&A
Polls
Riddles
Quizzes
Memes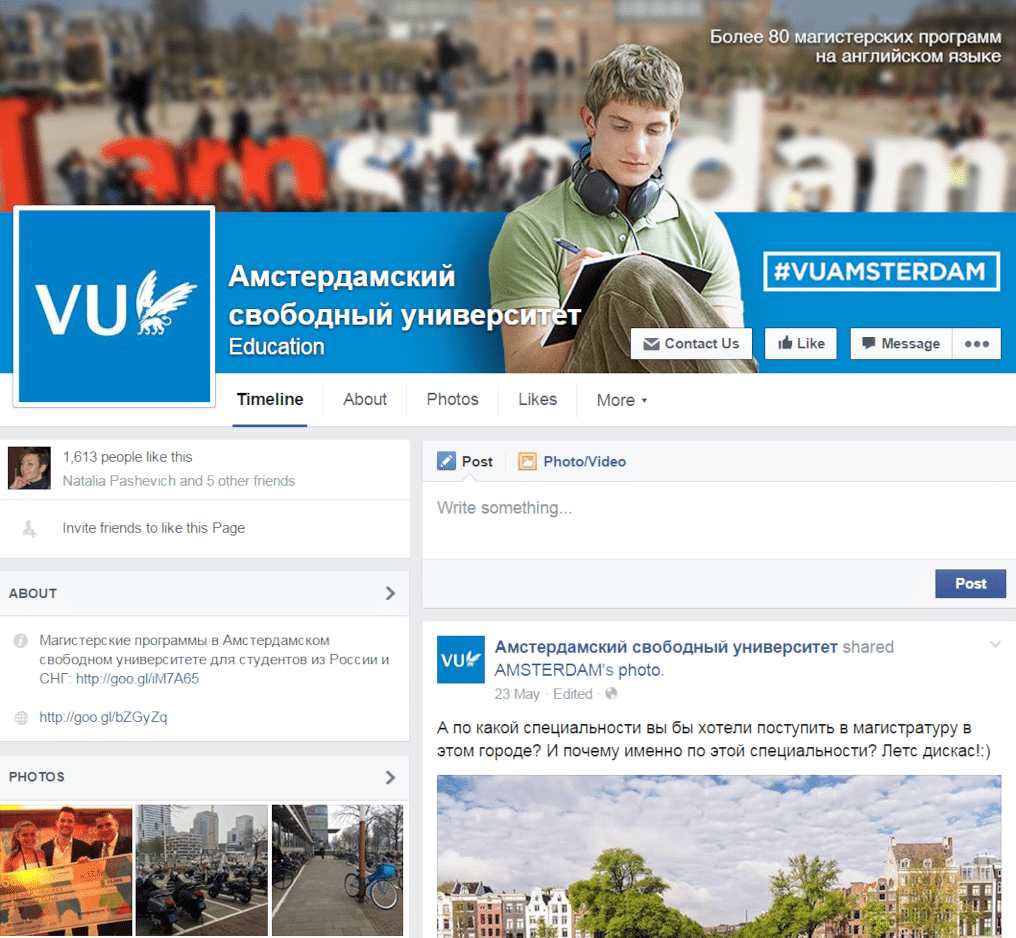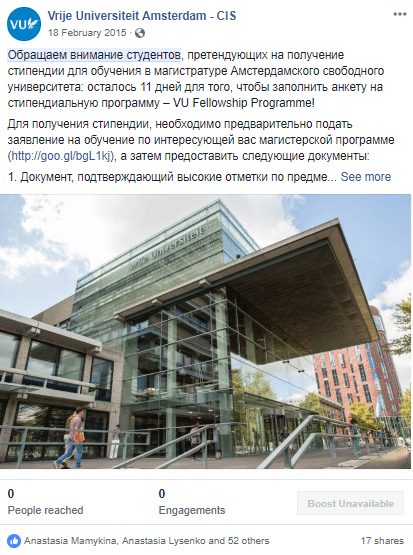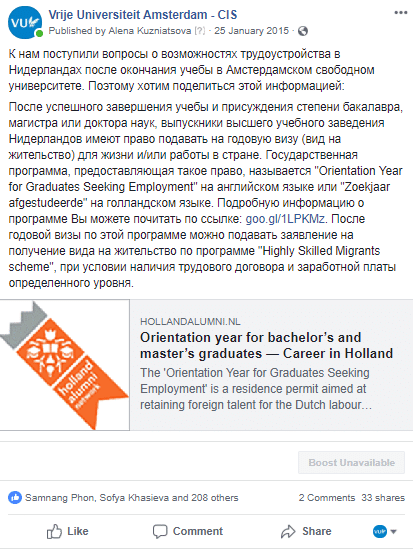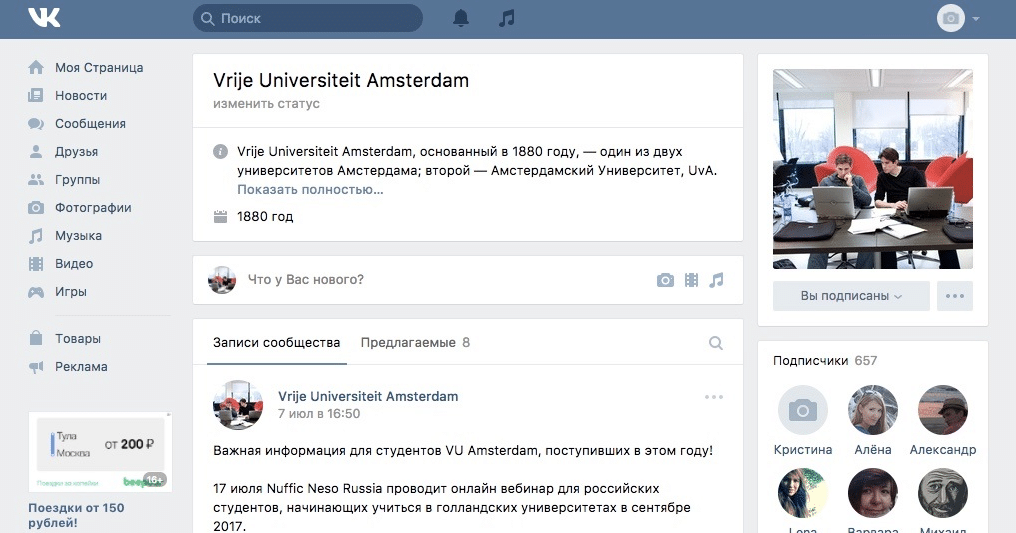 Driving targeted traffic to VU Amsterdam website
From our research and interviews, we understood that potential students conduct their university research almost exclusively online. This made clear that we need to ensure a steady flow of target visitors to the client's website in order to help the University reach the project goals. Accomplishing this required constant A/B testing on our part. These continuous data-driven improvements allowed us to optimize our advertising campaigns in channels such as Facebook, Instagram, Vkontakte, Google Search, and YouTube.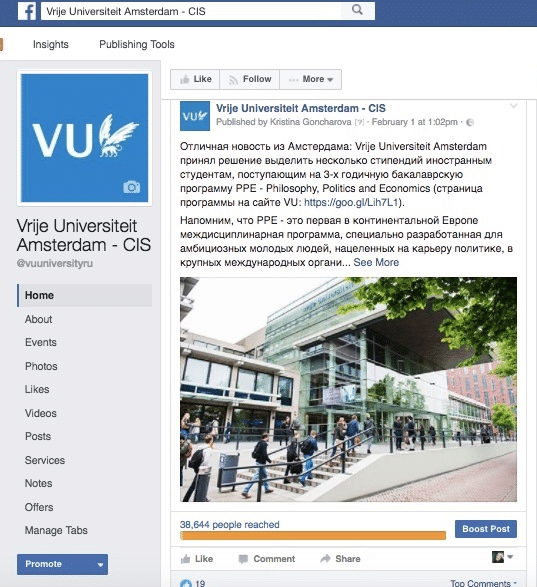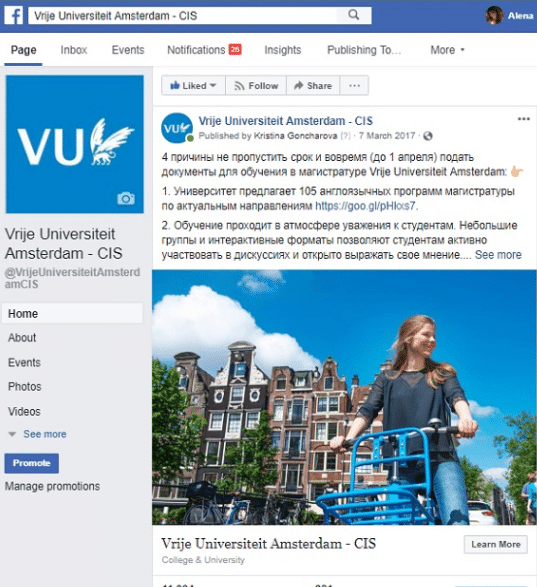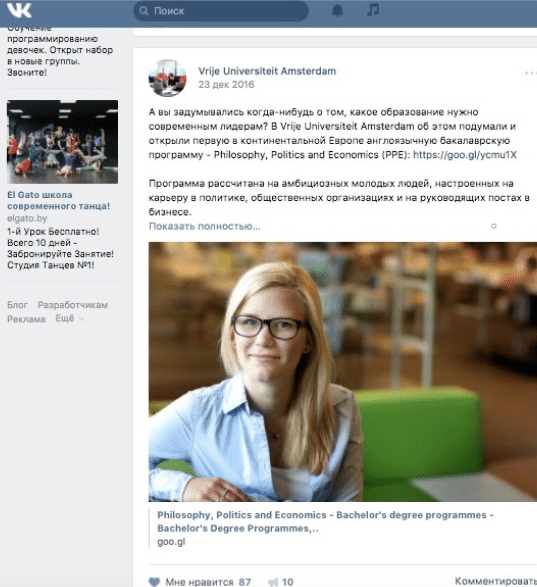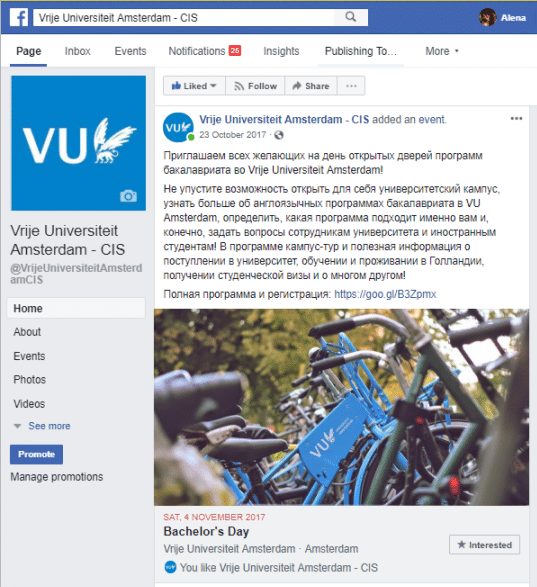 Media campaigns
To spread the word about Vrije Universiteit Amsterdam across Russia, we decided to partner with media outlets that are popular among our young educated audience. We worked with these organizations to deliver our customer's message in an original, clear, and relevant manner, via a series of interactive media campaigns and third-party publications. These channels were hugely effective at striking a chord with our savvy and demanding audience, and paid off with lasting peaks in online traffic and lead inquiries.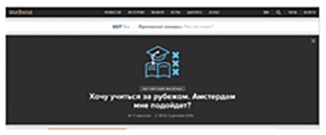 https://meduza.io/cards/hochu-uchitsya-za-rubezhom-amsterdam-mne-podoydet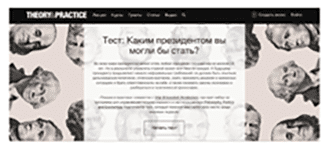 Questionnaires about presidents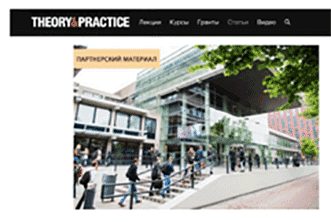 https://theoryandpractice.ru/posts/15774-instruktsiya-kak-postupit-vo-vrije-universiteit-amsterdam
At some stage we realised we'd better focus right away on the people who already have a good command of English and launched many of the campaigns in English though we targeted the Russian market and published articles in Russian media.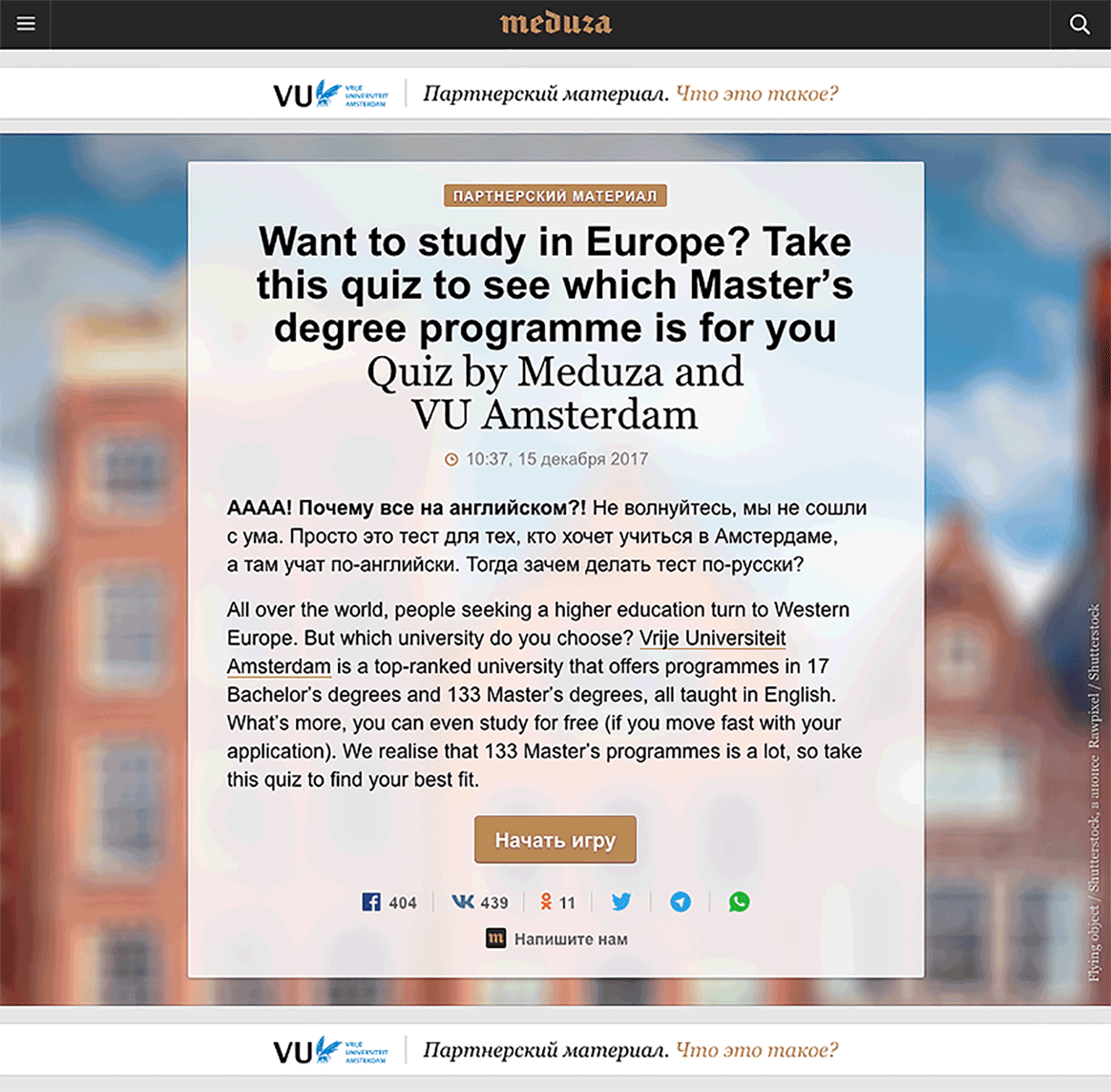 Direct communication with the target audience
Our customer offers a wide choice of study programs, and the application procedure is quite different than in Russia. Taking this into account, we anticipated a lot of questions, confusion, and doubts from prospective students. To be proactive about this fact, most of our advertising campaigns offered the option to send an initial inquiry to us early in the process with any questions they might have. In order to provide helpful answers, we trained and coordinated a team of native Russian speakers. After responding to over 800 inquiries (each containing specific questions about various programs, application requirements, procedures, deadlines, accommodation, and other burning issues for a potential student), we came to the idea to summarize all our team's knowledge in a Q&A presentation, which was promoted in online channels to help increase visibility for our customer.
In addition to our campaigns in other channels, we also organized webinars to let young people voice their questions and get live answers from representatives of the Admissions Committee. We recruited Russian students and alumni to share their tips and recommendations with our audience. To be honest, it was our first experience with webinars at this scale, so we were rather nervous in the beginning. But, good planning, a well-thought-out agenda, and the expertise and reliability of our invited guests paved the way to success.
Everyone who showed an interest in the customer's offering subsequently received email newsletters in accordance with the areas of interest they had indicated in written inquiries.
Results
Since Vrije Universiteit Amsterdam hired Orange Bird, the number of Russian students enrolling for Bachelor and Master programs has raised 40%. However, since a number of Vrije Universiteit Amsterdam's partners in Russia and its internal team are actively involved into the recruiting of students as well, it would be incorrect to claim a definite portion of this increase for our agency's behalf. Still we are very pleased with the continued cooperation with Vrije Universiteit Amsterdam and are sincerely happy to hear these words from Vrije Universiteit Amsterdam about our work:
"Orange Bird is a professional marketing agency, working independently, thoroughly and accurately.
Their knowledge of online marketing in combination with Russian native speakers makes the agency attractive for the Russian market."
Sylvia van Vliet-Hoogendijk,
Senior Specialist international Marketing and Communications
Vrije Universiteit Amsterdam
What we would recommend to other customers in a similar setting:
Start early! The best students start choosing their degree and university at least one year in advance. Do not miss them.
Continuously check and optimize your website to make the selection, preparation, and application process as smooth as possible for potential students.
Single out Buyer Personas, listing possible questions and doubts for each of the Personas, and testing your website from the perspective of this Persona. As simple as this sounds, it will often prompt new insights for website optimization, and also generate ideas for advertising campaigns, social media posts, and newsletter topics. Immerse yourself in your target audience's website experience and polish it.
To pre-screen and filter for candidates who are proficient in a foreign language, you may want to run all advertising campaigns in that language. This will also help you save money on clicks from those who do not know the required language, but might click on the ads if they were in their native language.
Regularly analyze web statistics to see which sources and which media perform best. Pay special attention to the advertising campaigns that generate visitors who return to your website for multiple sessions; this is a key metric, because it is not possible to make such a critical decision (where to get your degree) within one or even several visits to a university's website.