Customer Profile:
Offering:
modern software to manage complex work, software development projects and project portfolios in an Agile and visual way
Target audience:
CTOs, Software Delivery Directors, Heads of Software Delivery
PMOs, Portfolio Managers, Program Managers
Product Owners, Product Managers, Project Managers
Scrum Masters, Agile Coaches
Background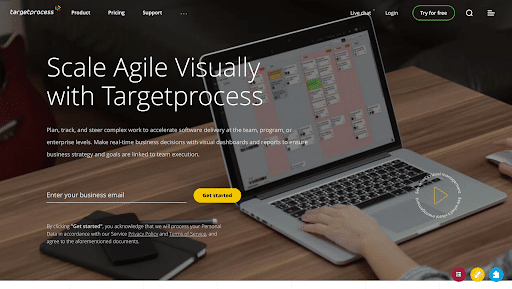 Targetprocess is an innovative, brave and exciting software company of 130+ employees. Their SaaS product is also called Targetprocess and is in direct competition with the software giants such as Atlassian JIRA, Microsoft Team Foundation Server and 240+ other direct and indirect competitors from the project management software category. What was even more daunting when Orange Bird was engaged by Targetprocess was the task for Orange Bird to double the number of new leads for new software sales within 6 months from the start of the cooperation (it did turn out feasible!).
Strategy
However staggered with the task audacity and our inner doubts and quivers, we were so enthusiastic about the Agile methodology and Targetprocess, that we did not want to miss the chance of making more users familiar with the Agile ways of working and of managing their work with Targetprocess. To make this happen we devised the following strategy:
1. Get an intimate understanding of the product, the problems it solves for the target audience and its unique advantages over competitive products. Learn to manage all marketing activities using Targetprocess 2. As soon as we are quite familiar with the product, define the Buyer Persona's and start producing the content: landing pages, articles for the company blog, guest posts for other websites, presentations to support the sales team, case studies, etc. 3. Focus on promotion channels which can:
start generating results within several months. Hence, the choice on advertising in Google Search, LinkedIn, Xing, Facebook, and Twitter
increase the market share for the enterprise segment. As a result, we worked fervently with analysts from Gartner, Forrester and built authentic relations with agilists, journalists, bloggers and other opinion leaders from this niche
4. Work closely with existing end users to understand their changing needs, share insights with the product development team. Serve as a link between the market and the company
First Steps
In order to fully understand our customer's situation, their end users, the unique advantages of the product and to propose the most valuable methods of promotion, we have done the following:
Made an inventory of current lead generation channels of Targetprocess and its competitors
Interviewed the founders and the sales team
Conducted a survey with phone interviews with all the customers who matched the ideal customer profile (so grateful to Targetprocess for arranging this! It provided us with so many insights and was so helpful in all the further work!)
Updated product information at visible project management related websites, software comparison websites and portals like Wikipedia
Reviewed and fixed all the issues Google, Bing & Yahoo might have with the website
Search Engine Marketing
Google AdWords
Further we focused on revamping the AdWords account of the customer. It was rather basic since it had been maintained by the founder of the company, who, being a real visionary and a genius in everything related to software product development, had little time to delve into the intricacies of Search Engine Marketing. We cleaned up the account and extended it with numerous campaigns for each segment supported by the product and targeted by the customer, including for those who:
search for tools by job to be done
search for tools by team size or by company size
search for tools by project type
search for tools by access type
are comparing various tools
We also elaborated separate sets of campaigns for every agile method supported by the product and launched extensive display and remarketing campaigns.
As a result, this channel was the first to show the required growth in new leads: from 161 to 763 conversions within the first five months of our work for Targetprocess:

To benefit from the long tail and improve the conversion rate we created over 200 landing pages. Elementary in the beginning (e.g. Targetprocess vs Jira), they soon evolved into the landing pages like Scale Agile with SAFe and Project portfolio management.
Bing Ads
It was clear from the web statistics that traffic from Bing converts pretty well that spurred the idea to boost the traffic with Bing Ads. We elaborately set up and extended ad campaigns for Bing Search, however, it soon became clear that the traffic volume in Bing is rather limited. Consequently, we focused on other channels where the value per invested effort was higher for the customer.
Referrals
When analysing the performance of our ads, we took special care to note down all the websites that pop up high in Google for the keywords used by our target audience. This has resulted in discovering new lead generation channels for Targetprocess, such as CapTerra, G2Crowd and SoftwareAdvice. Subsequently we started to collaborate with these and other parties and tested out different formats, incl. cost per click ads and free product listings, swapping guest blog posts, content sponsorship and reaching out to end users with requests for posting uncensored product reviews. This work has helped to enhance visibility of Targetprocess at referral websites with high conversion rate. Several of the uncovered channels have entered the top 5 lead generation channels for the customer.
Social Media Marketing
Before working on this project, we had used Facebook advertising mainly for advertising B2C products and services. When evaluating this channel for Targetprocess, we were tempted to test it after looking at these statistics for the target titles in Facebook Audience Insights:

Nonetheless, the tests have proved that the people targeted this way rarely had such titles in reality and it remained unclear how Facebook tracks business titles (few people add them to their profiles) and builds such audiences. Soon we focused on targeting these titles in LinkedIn and Xing only: in these media people consistently fill them in and you have more certainty you show ads to the right audience. The results testified to this conclusion.
By this we do not want to say that Facebook should be disregarded in B2B marketing. It is a great channel to stay in touch with your fans, existing B2B clients and users, reinforce their loyalty, inform about new features and opportunities: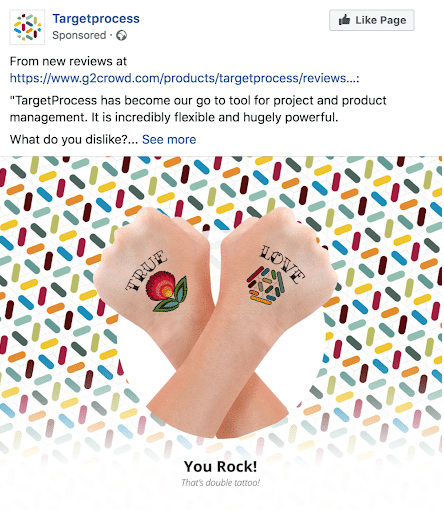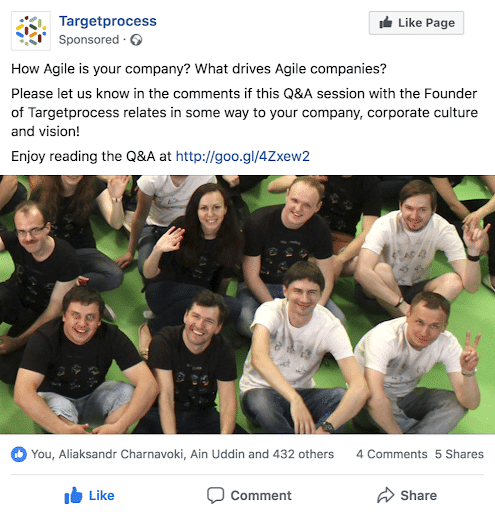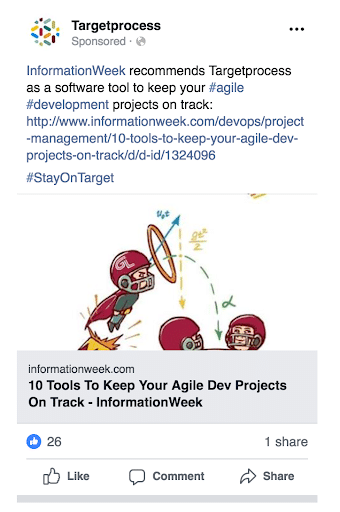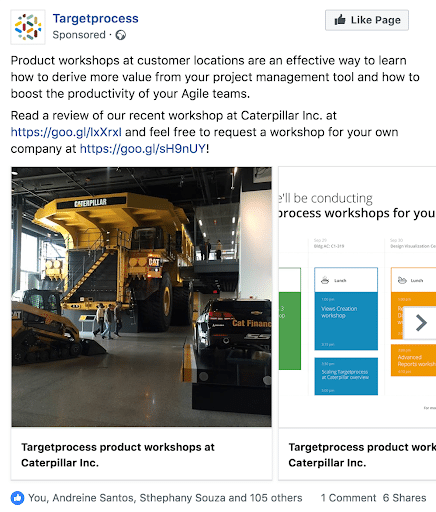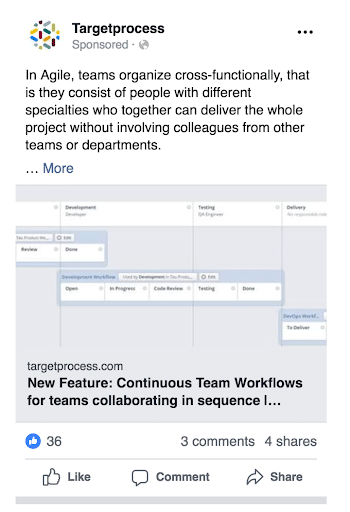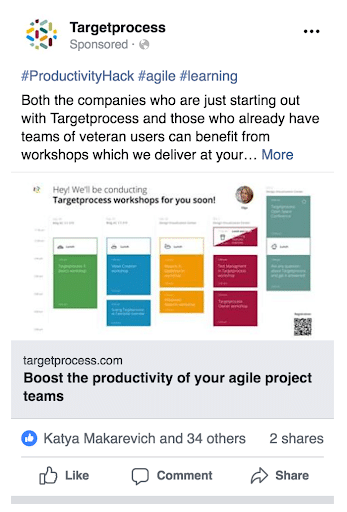 Product Reviews & Visibility
Analyzing web statistics and the most popular search queries, we soon realized that potential users frequently search for "targetprocess reviews". We checked out which websites are on top of Google search results for this query and then burrowed every single internal database and channel through which real users have ever provided feedback on Targetprocess. We reached out to all of them with the request to post a review of Targetprocess at those websites. We have tested different messages and repeated the review campaigns several times. This has produced 460+ validated user reviews within half a year.
From zero to 300+ product reviews at Capterra.com: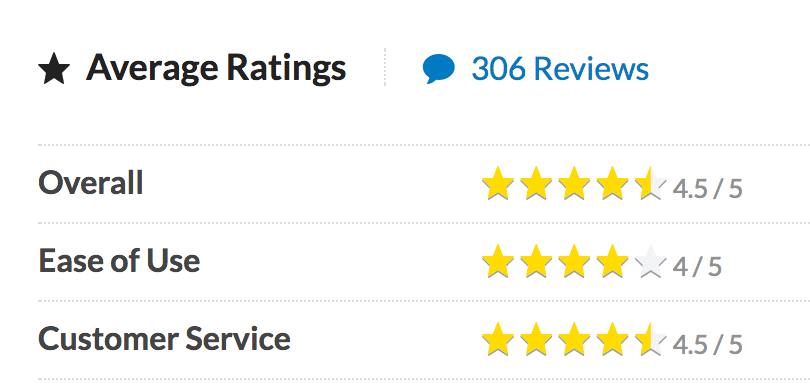 From several to 160+ product reviews at G2Crowd.com: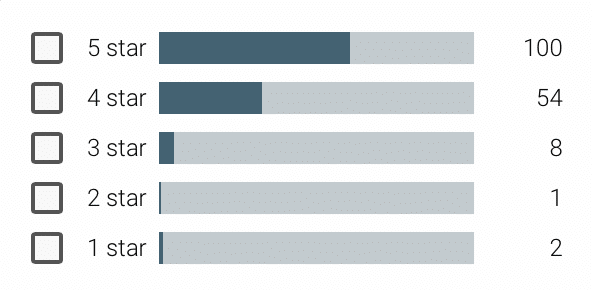 Nowadays visibility is mostly about being visible online for any potential user across portals and channels. Third parties' reviews in large quantities and at various websites are most convincing in this respect. Various product listings and awards often contribute to it as well, that is why we took time to seek out relevant ones for Targetprocess and to make sure Targetprocess gets listed and recognized.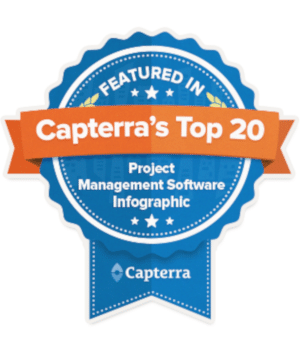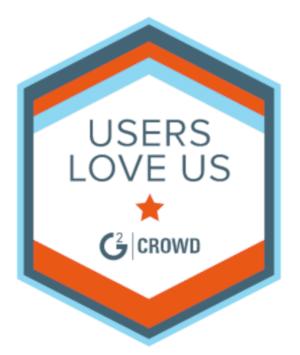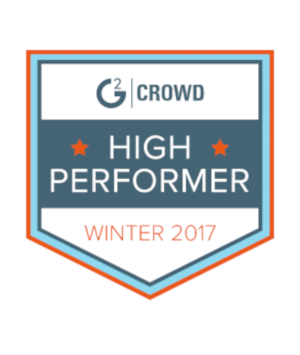 Analyst Relations
Another thing we are truly proud of: we managed to single out relevant analysts and build authentic relations with Gartner's and Forrester's analysts who cover agile software delivery and project portfolio management and whose market reports serve as the most authoritative reference for enterprise-grade companies looking for new vendors and tools. We have helped Targetprocess to get featured in:
The Gartner Magic Quadrant: Enterprise Agile Planning Tools
Forrester's New Wave: Value Stream Management Tools
Public Relations & Influencer Marketing
To keep our client on the radar of other influencers and opinion leaders, we have researched and created a database of prominent agilists, bloggers and journalists covering relevant topics for our target audience. We steered clear of any blasts or template-based communications, all the contacts with the media and influencers were always one-on-one to make sure we provide relevant and valuable information to them. As a result, this work has helped to generate publications and news mentions like: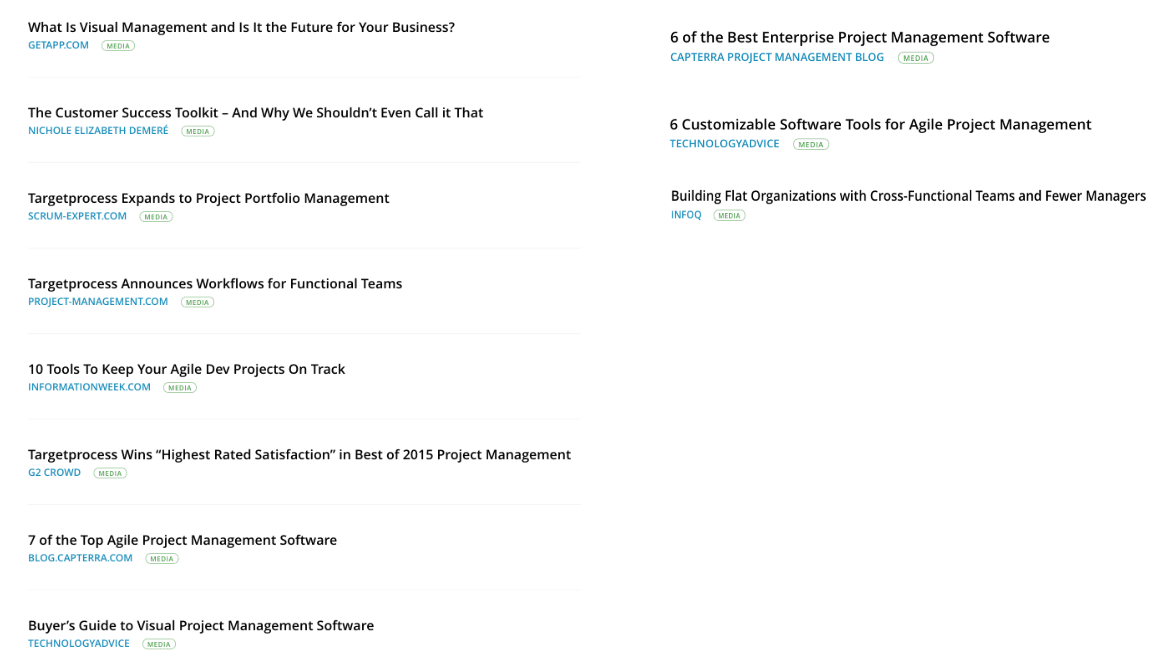 Trade Shows
We have helped Targetprocess to prepare and participate in the trade shows and conferences, such as Gartner PPM Summit in London, Agile Toronto Conference, Agile Open Florida. This work included:
Communication with the organizers, selection of sponsorship options, booths, accommodations, etc.
Preparation of booth materials and equipment
Development of creative and engaging marketing materials (landing pages, handouts, presentations, giveaways)
Pre-scheduling meetings with attendees and eventually with media/influencers before the event
Coordination and logistics
Follow-ups with booth attendees and media/influencers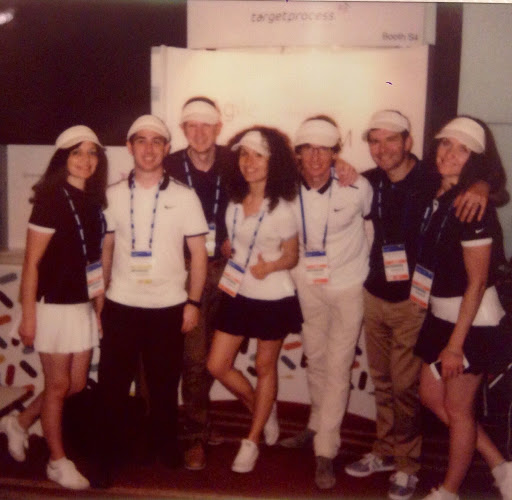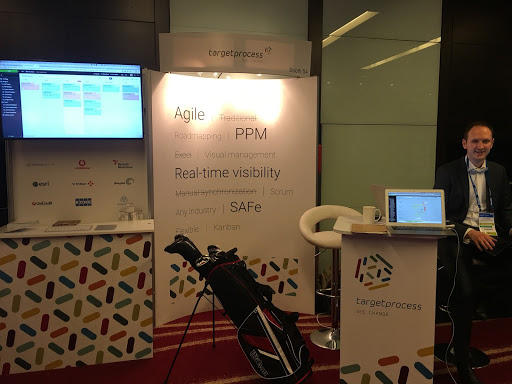 Results
It turned out realistic to double the number of new leads within the 6 months and it did not seem a heroic deed in the end 🙂 What is more difficult is to make sure the leads convert into prospects and into customers and this entails so much thoughtful work with product onboarding and lead nurturing! Without these ingredients all the investments in lead generation will just scratch the surface.
It was a very challenging project but you feel it was definitely worth it when you are rewarded with the praise we received from Targetprocess:
"Orange Bird stands out not just through a very high degree of professionalism and meticulous work in everything they do, but also through the passion and enthusiasm with which they focus on delivering value to their customers.
They vigorously tackle any challenge, proactively offer solutions and implement them with the utmost care and attention to every detail.
I heartily recommend the Orange Bird Agency."
Andrey Mihailenko,
Co-CEO and Co-Founder, Targetprocess
What we would recommend to other customers in a similar setting:
It is extremely important to work hard and to generate new sales. It is not less important, however, to continuously work with existing customers by proactively trying to understand their new needs and any problems they might be having with the product or service. Every time we surveyed or interviewed Targetprocess end customers, we were impressed how much valuable information this provides to:
us as marketers: what real advantages of the product to highlight in marketing materials and in advertising; the information sources the customers use to look for such products and for industry news (this helps to prioritize Public Relations and advertising activities)
the sales team: which customer organizations present upsell and cross-sell opportunities
the product development teams: which pain points are recurrent across customer organizations and have the highest priority to fix, what are the new needs of the customers to steer product development plans