on Friday February 22, 2019
10 CIRCULARITY & WASTE MANAGEMENT EVENTS IN 2019
The third post in our CleanTech Events series lists events for circularity and waste management. As mentioned in our article about sustainability circular economy can not only reconcile economic development with environmental protection, but maximise the chances of avoiding the most dangerous impacts of climate change. That is why we hope so much these events will help circular businesses, their potential investors and partners to meet each other and join forces.
If you need any help with preparation for these conferences and want us to design booth materials, handouts or propose original giveaways, please feel free to contact Orange Bird. We can also pre-schedule and follow up on the meetings with attendees and media.
(All events are listed in order of date in 2019)
World Resources Forum 2019

Date: 24-27 February 2019
Location: Antwerp, Belgium
The event unites international organizations like UN Environmental, local authorities, environmental companies and universities. The key theme of the conference is 'Closing Loops – Transitions at Work' which means the focus is on practical application of knowledge and theories. Attend inspiring sessions, challenging workshops and benefit from practical site visits.
To find out more about World Resources Forum 2019, click here!
GreenBiz 2019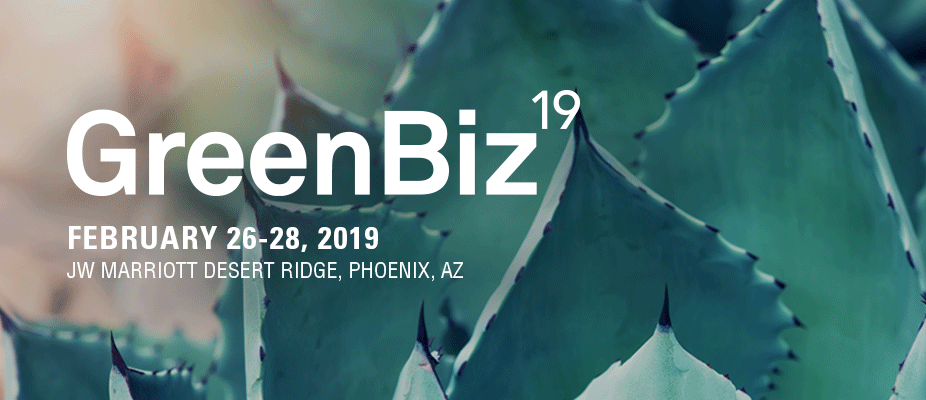 Date: February 26 – 28, 2019
Location: Phoenix, AZ, USA
Annual 4-day event to join 1,200+ of the world's brightest thinkers and most influential sustainability leaders for an unparalleled look into the pressing challenges, emerging trends and biggest opportunities in sustainable business today. The Circular Economy track will demonstrate how to be innovative in designing business models for zero-waste products and processes. The Finance & ESG track invites investors interested in sustainable companies. The Stakeholders & Storytelling track includes tutorials and sessions for increasing stakeholder engagement and making your communications more effective.
To find out more about GreenBiz 2019, click here!
World Bio Markets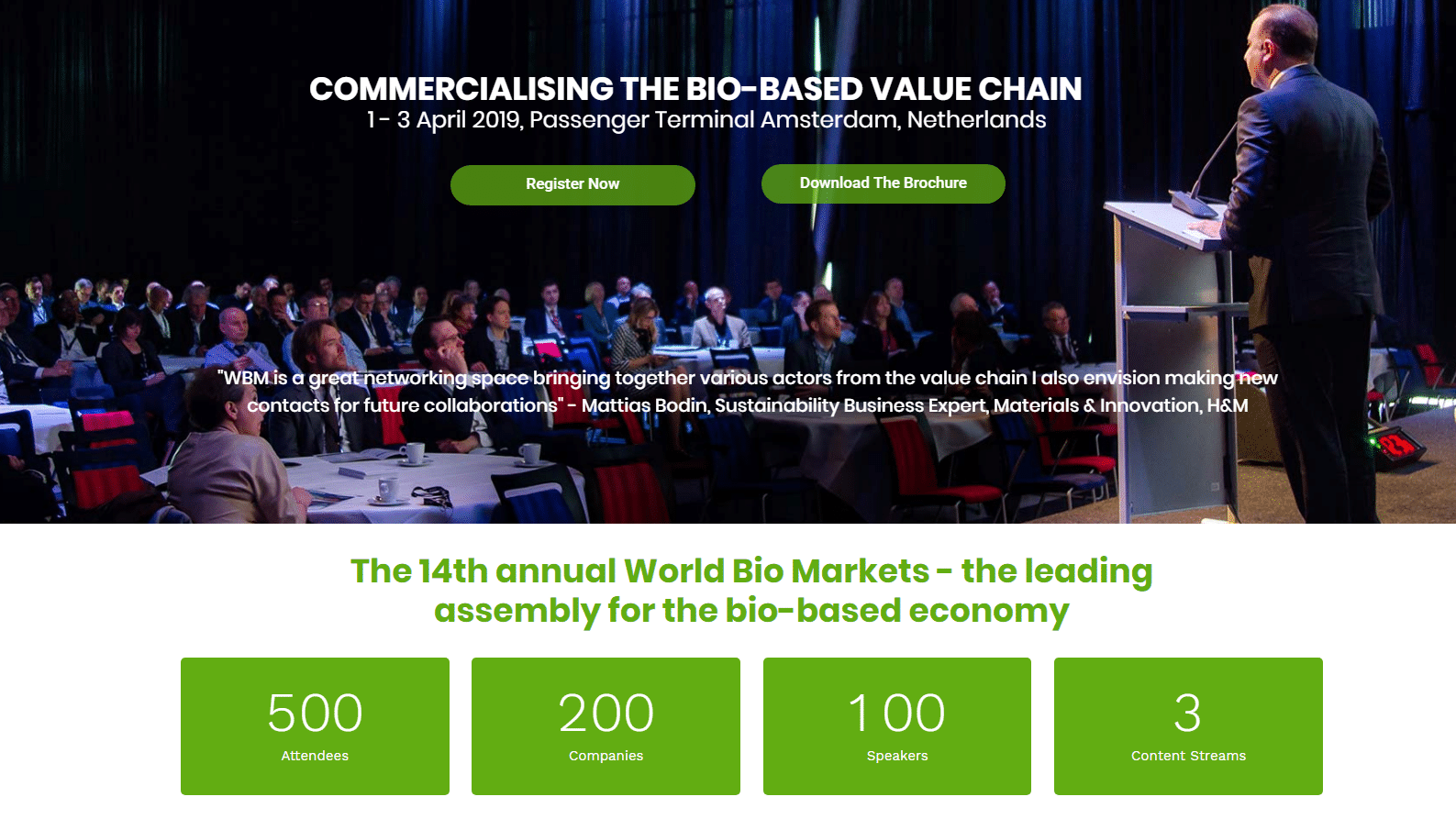 Date: April 1 – 3, 2019
Location: Amsterdam, the Netherlands
The event brings together start-ups, global brands, and organisations interested in moving towards a bio-based supply chain. 500 attendees and 100 speakers will talk about sustainable solutions for the supply chain. Roundtable sessions will enable informal discussion of practical case studies like "Bringing a bio-based product to market: lessons from a real world journey". Workshops like "Customer workshop" will help to understand how to present and boost the value of sustainable solutions for the customers.
To find out more about the World Bio Markets, click here!
The Plastics Recycling Show Europe 2019

Date: April 10-11, 2019
Location: Amsterdam, the Netherlands
This is the third edition of the Plastics Recycling Show (PRS) dedicated specifically for plastics recycling experts in Europe. In 2018 the event had 2,000 visitors and more than 100 exhibitors over two days. This year the event will combine a conference, an exhibition and a plastics recycling award for the leaders in the recycled material usage, product design and innovative manufacturing.
PRS is free for visitors. Exhibitors should pay for the space or the stand package. If your business is closely related to plastics recycling or waste management, PRS is the place to get to know the trends, meet investors, or find partners. The agenda doesn't include 1-on-1 meetings with investors, but the format of the event presupposes there will be seekers of the promising companies, especially at the Exhibition and the Awards part. Don't miss your chance to meet your investor!
To find out more about the Plastics Recycling Show, click here!
Sustainable Brands

Date: 23 – 25 April, 2019
Location: Paris, France
The main goal of the Sustainable Brands event is "to inspire and to deliver tangible ideas and solutions". The key themes of the event will be:
Home
Lifestyle
Nutrition
Cities
Sport
Finance
Science & Tech
The conference is not typical and on the face of it does not seem to be a "must attend". However, give it a chance and pay more attention to the agenda. Sustainable Brands will help sustainable companies to be more visible, more reachable and more valuable for their customers. For example, the "Fair & Inclusive" plenary will explain how to innovate by addressing differences, the "Call to Action" workshop will teach how to maximize impact without upscaling systematically.
To find out more about the Sustainable brands, click here!
Ceres Conference 2019

Date: April 29 – May 1, 2019
Location: San Francisco, USA
The three-day program is centered around sustainable living and sustainable companies with special attention to corporate sustainability strategies. Even though some topics are linked to the USA (like "Food for Thought: Mitigating the Risks to California's Agriculture Industry"), most of the topics have a global reach (like "In Sight of the Clean Trillion: The Urgent Need to Finance Climate Solutions Now"). The event targets senior executives, policy makers, capital market leaders, and investors.
This is one of a few events with investors declared as a target audience. The conference where you have a viable opportunity to meet your investor, pitch your idea, and get financial support for your sustainable solution.
To find out more about the Ceres Conference 2019, click here!
The World Circular Economy Forum 2019

Date: June 3 – 5, 2019
Location: Helsinki, Finland
The World Circular Economy Forum (WCEF) 2019 is expected to bring together 2,000 leaders in circular economy all over the world. The key themes of the event will be:
Innovations and investments required for expanding
Circular economy solutions for different industries
Strategies on national and local level
Social impact of the transition to a circular economy
The tracks will be covered in keynote speeches and thematic discussions. Additionally, there will be an Expo Area.
To find out more about the World Circular Economy Forum 2019, click here!
Circularity 2019

Date: June 18-20, 2019
Location: Minneapolis, USA
The goal of the conference is to unleash the potential of the circularity for businesses. The event will demonstrate why nowadays it is more logical and economical to keep the business sustainable, be innovative, and reduce waste.The event will have six tracks:
Business Strategy & Innovation
Design & Materials
Next-Gen Packaging
Logistics & Infrastructure
Food & Water Systems
Standards & Metrics
The agenda is packed with breakout sessions, networking receptions, intensive design activities, and tutorials.
To find out more about the Circularity 2019, click here!
Recycling & Waste Management Exhibition & Conference 2019
Date: 11- 12 September, 2019
Location: Birmingham, UK
This Recycling & Waste Management (RWM) сonference is UK's largest recycling event. Nevertheless it is attended not only by UK companies, but also by European and the world's leading companies like TerraCycle and Procter&Gamble. The agenda and the speakers' list for 2019 are not yet available, but you can judge by last year's data: 500 industry leading exhibitors divided into seven sectors, 350 seminars, 30 panel sessions.
Tickets for the RWM exhibition are completely free, but you may want to buy stand space at the exhibition, gain exposure and meet prospective clients. If you are a young start-up and don't have much to present yet, RWM is still a great place for networking.
To find out more about the Recycling & Waste Management сonference, click here!
Verge 2019

October 22 – 24, 2019
Location: Oakland, CA, USA
The VERGE 19 conference and expo is the platform for accelerating a clean economy. The event convenes a high-powered audience of more than 2,500 leaders — from companies and utilities, city and regional governments, policymakers, NGOs, solution providers and startups — to explore scalable solutions at the intersection of technology and sustainability within three dynamic and influential markets: clean energy, transportation and mobility and the circular economy.
Verge 2019 welcomes everyone who is shifting towards more sustainable business practices or creates sustainable solutions.
To find out more about the Verge 2019, click here!
Found the blog post useful?
If you enjoyed this piece and want to occasionally receive news like this, don't forget to sign up for updates below.
Previous post
Next post