on Thursday July 4, 2019
Customer Journey Mapping for Volksuniversiteit Amsterdam
Customer Journey Mapping in 4 steps
Once upon a time there was… a young woman from Amsterdam, her name was Anna. Anna is 33 years old, spontaneous, taking steps in her career and very much interested in personal development. This is the story of Anna, who in the end turned out to be Sophie.
Anna represents the large group of female inner-city young adults (25-40) in Amsterdam. A rapidly growing target group, interesting for many companies. Our client Volksuniversiteit Amsterdam offers a wide range of courses and workshops, including language and personal development courses.
Volksuniversiteit Amsterdam wants to increase Anna's awareness of its courses. To achieve this goal, real knowledge of the target group is required. What are Anna's interests and needs? Only by getting to know Anna can it become clear how to best adjust the range of courses and to connect with Anna. In which channels lie new opportunities and where is Anna already being served well?
Google Analytics showed the Volksuniversiteit Amsterdam website is already well visited by visitors such as Anna. To determine how to attract as many Annas to its courses as possible, we advised Volksuniversiteit Amsterdam to join us in the adventure of Customer Journey Mapping.
We divided Anna's ideal customer journey into 7 stages:
1. I realize that I want to learn new knowledge or skills
2. I'm looking for options to achieve this
3. I compare different providers
4. I register for a course at Volksuniversiteit Amsterdam
5. I follow the course
6. I enjoyed the course and I become a return visitor
7. I recommend Volksuniversiteit Amsterdam to friends and acquaintances
Why is it so important to get a complete picture of the different phases of the customer journey? If you look closely, you understand that Anna uses different channels for every stage and has a different purpose for each phase. For example, Anna will use one channel to look for ways to learn something new and another channel for recommending Volksuniversiteit Amsterdam to friends and acquaintances. If you have a clear picture of these channels and goals, you can better assist Anna on her customer journey.
The birth of Anna
Anna was born after mapping our clients and our internal knowledge, and studying existing materials about the target group. What did we already know about the young adult, inner-city woman from Amsterdam? What goals does she pursue, what motivates her, what is it she wants to learn? We got a clear picture of our persona, and named her Anna.
Our next step was to fill in the customer journey. We noted down all assumptions about the steps Anna takes before she finishes a course and recommends it to others. For this we used UXPressia's online tool, which makes it possible to create personas, create and visualize the customer journey, and analyze the various touch points.
example of a Customer Journey Map in UXPressia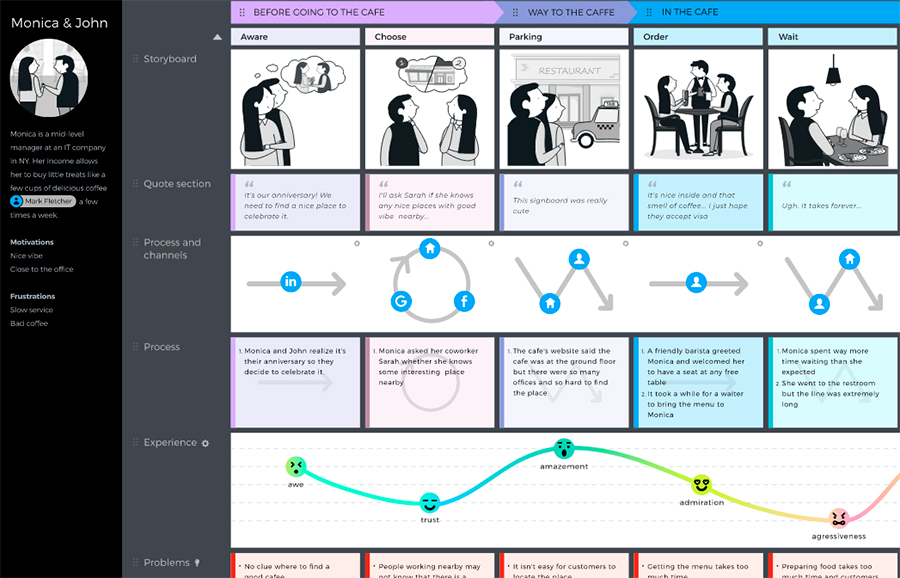 Now that we had mapped Anna and her expected customer journey, it was time to put our assumptions to the test.
A dialogue with Anna
This must be the most inspiring part of Customer Journey Mapping: actually speaking with the target group! At the same time it can also be a challenge: how do you get to speak to Anna? Anna is busy with her work and social life, does she have the time to be bombarded by our questions?
We decided to interview 7 of Volksuniversiteit Amsterdams' existing customers and 7 non-customers. We invited the target group via advertising in Facebook, by mail, via the newsletter and direct messages on LinkedIn. It was quite a request we made: we invited participants to come to a central location in Amsterdam and be interviewed for an hour on all sorts of topics.
We were delighted when the registrations came in quite quickly. In the end we even spoke to 15 participants and still had registrations on the reserve list. Participants thought the offered course discount coupon was a nice gesture, but the coupon was by no means the reason to participate. Each and every one of our participants was happy to help Volksuniversiteit Amsterdam to increase awareness for its courses.
When devising the script for the interviews, we relied on Anna;'s expected customer journey. For each step in the journey we came up with questions that could reveal insights, new possibilities and stumbling blocks.
A practical tip for anyone considering starting with Customer Journey Mapping is to first test the script on a colleague and the client! Assumptions are the mother of all failures, and questions can be interpreted in different ways. A rule that we always keep in mind at Orange Bird Agency!
Conducting the interviews is hard work: but it is also energising and inspirational to actually speak with your target audience!
Anna becomes Sophie
Armed with all our new knowledge, we used the UXPressia tool to create a realistic profile of our persona and completed her actual customer journey. The new persona could have been a friend of Anna, but wasn't her. This is why our Anna became Sophie.
We know Sophie all the way: we know what her needs are, what she does in her spare time and how she uses social media. Sophie feels like a friend who occasionally looks over our shoulder and sends us in the right direction when we are stuck.
While noting the touch points and identifying the stumbling blocks, we got many unexpected insights, as well as confirmation for some problems we were already aware of. Of course we cannot tackle all areas for improvement at once. Our advice is to first tackle the low-hanging fruit. The projects that take more time can be scheduled in order of importance: what costs are involved and what are the expected results?
An example of low-hanging fruit for Volksuniversiteit Amsterdam is the course description on the website. Sophie would like to know which methods and resources are used during the course and what she will be able to do with her newly gained knowledge. Adding this info to the website will be an easy improvement that can lead to more registrations.
Our respondents also proposed many new channels for advertising. The new insights help with more targeted advertising in the existing channels and with posting on social media. Sophie is a busy person. One of the reasons that Sophie is not registering for a course is a lack of time. Volksuniversiteit Amsterdam is tackling this on social media, letting prospective students know that there are also short workshops, or lectures and walks.
Sophie also wants to learn about group size and group composition: is there enough individual attention? Instead of just writing about group sizes are and who is participating, we post photos of the students on social media more often:
In addition to the low-hanging fruit, more improvements are to be made. They take more time, effort and budget. For example, it turned out that Sophie and her friends often share information about interesting courses. This can be directly, through word of mouth, but more often the information is shared via social media.
At the moment, there is no quick way for Sophie to share her experience with Volksuniversiteit Amsterdam. There are no WhatsApp and Facebook share buttons she can use. Students are not invited to share their experiences by, for example, posting an online review. Thus, Volksuniversiteit Amsterdam misses out on a lot of recommendations and therefore potential enrollments. Sophie's friends are not made aware what interesting courses are available to them. It requires investments to facilitate step 7 of Sophie's customer journey: "I recommend Volksuniversiteit Amsterdam to friends and acquaintances."
Another clear insight we gained from the interviews is that Sophie more often that not uses Google in her search for a suitable course. Sophie is a critical Internet user and relies heavily on organic results. To quote a participant: "I never click on an ad, I always scroll to the first free results." This insight reinforced Volksuniversiteit Amsterdams idea to focus on SEO even more in the near future.
We also received valuable insights into how we can improve the website and the registration process. Furthermore, during the interviews we presented some new concepts and (wild) ideas from Volksuniversiteit Amsterdam to the participants. We can use the initial reactions to the plans to decide whether to move forward with them, or not.
The list of insights is too long to be fully explored in this article: we are eternally grateful to all our participants for the insights they have given us!
And they lived happily ever after…
Volksuniversiteit Amsterdam and Sophie are heading towards a bright future. Thanks to Sophie, Volksuniversiteit Amsterdam can really work in a customer-oriented way.
We, as marketers, always strive to help our clients focus on the customer. Volksuniversiteit Amsterdam agreed with our proposal to establish a set of KPIs for each stage of the customer journey. We document and analyze these KPIs every month. This way we can assess our work through Sophie's eyes, so that we can help her in every step of her customer journey by providing her with the right information.
One is a lonely number, which is why we will find some friends for Sophie. We are going to map additional personas and their customer journey for Volksuniversiteit Amsterdam. We expect that they too will provide us with a lot of valuable information.
We would recommend any company that really wants to focus on the customer to embark on the Customer Journey Mapping adventure. The insights you'll gain will help to fully understand the customer and his needs. It ensures that you are found in the right way at every stage of the customer journey: on your website, on social media, in advertisements.
Are you excited to truly put the focus on your customer and mapping out the customer journeys for your company? Contact us, our knowledge is up-to-date and we will be happy to think along with you!
Previous post
Next post