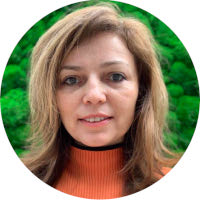 Alena Kuzniatsova, Orange Bird Founder
"As the mother of three boys, I have always wanted the best future for my children and was searching for the most valuable I can do to provide it. I decided to put my marketing expertise into practice for the companies whose products and services help to transition to the clean economy and thus contribute to the preservation of the planet for our children and all humanity.

At Orange Bird Agency, we strongly believe we can turn over the stereotypical understanding of marketing and advertising (too often they are seen as forces to stimulate consumption) and link them to the solution of global problems, such as climate adaptation. The professional knowledge and skills of our marketers, analysts, designers, and developers will foster a clean future for next generations".
Alena Kuzniatsova,
Orange Bird Founder
We realize:
The global warming effect is part of the natural cycle of our planet (actually, there have been five Ice Ages in the planet's history so far)
It is not possible to stop or combat it
Everything the humanity can do about it is to adapt to the climate change and to stop accelerating it so that the planet remains livable longer
We are concerned about:
The rate at which the planet is getting warmer this time. It is critically faster due to industrialization and human carbon footprint
The climate change will negatively and radically affect all parts and all economies of the world
It will displace millions of people from their homes and will disrupt many ecosystems
We need to act now to preserve the planet. See the warning and conclusions of the UN.
How we can help:
Many people understand the global warming is happening, but very few people realise how soon and how catastrophic the consequences can be and are not ready to take action against it
In our turn, we do not want to seek for justifications. However, as marketers we cannot invent breakthrough technologies or products to help avoid acute cataclysms at a global scale.
But, as professional and experienced marketers, we can help cleantech and greentech companies to find their target audience faster and serve it better.
We hope that this way we contribute to the transition to clean economy and to sustainability of the human civilization.